Amsterdam 416 Urban Wheat
| Amsterdam Brewing Company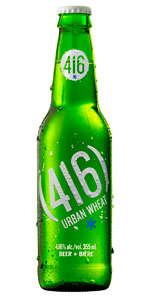 BEER INFO
Brewed by:
Amsterdam Brewing Company
Ontario
,
Canada
amsterdambeer.com
Style:
American Pale Wheat Ale
Alcohol by volume (ABV):
4.16%
Availability:
Year-round
Notes / Commercial Description:
The modern taste in beer - (416) Urban Wheat is an all natural, unpasteurized, unfiltered wheat beer with a distinct citrus aroma and mild taste. We brewed this beer in celebration of our 25 years of brewing in Toronto and as a way to commemorate this great city in which we grew up. (416) Urban Wheat is brewed with a delicate combination of Sorachi Ace, Galaxy and Cascade hops giving it a beautifully citrus aroma all balanced with a full wheat body. Wonderfully refreshing and brewed to 4.16% ABV, (416) Urban Wheat is a beer fit to celebrate any occasion.
15 IBU
Added by peensteen on 07-07-2011
Reviews: 9 | Ratings: 31

2.83
/5
rDev
-3.1%
look: 3.25 | smell: 2.75 | taste: 2.75 | feel: 3.25 | overall: 2.75
473 mL can from the LCBO, one of four beers in their Entertainer sampler pack (and one of two within the pack that I have not yet tried). This beer seems to have gone through some sort of re-imagining over the last few months - the packaging now refers to it as 416 Local Lager rather than 416 Urban Wheat, which would seem to imply that this has gone from an American Pale Wheat Ale to a light lager. Served ice cold.
Pours a bright, clear golden-yellow colour, highly effervescent, and topped with about one finger of frothy, white head that soon sublimates into a thin, dense cap. It leaves behind a few smears of sticky lacing, but in general it's a pretty standard-looking pale lager. Subtle, clean aroma with no interesting features - grainy malt sweetness, yeast and grassy hay are the only things I can confidently identify. Quite bland, really.
And bland might as well be the word of the day, because the flavour is every bit as uninteresting as the aroma. Pale malt sweetness provides the bulk of the flavour, which gradually gives way to the light, citrusy, somewhat grassy finish. Finishes on the dry side, with some metallicity. Thin-bodied and quite watery, with moderate carbonation for a pale lager. It starts off fairly crisp and refreshing; well-suited for a hot summer's evening, although you'll want to polish off the glass quickly before it starts getting warmer and less enjoyable.
Final Grade: 2.83, a mediocre C. I never had a chance to try Amsterdam's 416 Local Lager prior to its apparent recipe change, but I seriously can't imagine the old version being any worse than the current incarnation. To be fair, it's fairly clean-tasting, and has no truly offensive features. It's just extremely bland. That being said, at 4.16% this is pretty much just a light lager, so this probably isn't being brewed to cater to the beer geek crowd. The only reason I'd recommend this to anyone is if they're in the market for a decent light beer; otherwise, you're better off spending your money on something else.
2,030 characters

2.34
/5
rDev
-19.9%
look: 3.5 | smell: 2 | taste: 2.5 | feel: 2.5 | overall: 2
A rather underwhelming brew. Pours a slightly hazy golden yellow with a moderate head that quickly settles away to a thin partial film. The immediate impression on opening the beer bottle was of sharp grassy hops or skunkiness. The aroma is quite pronounced and not real appetizing, but I'll end up applying a personal mercy rule and trying this again just to make sure I didn't just get a skunked bottle. Past the skunk is a whiff of wheat, but understated for the style.
A little grassy/grainy. Thin-bodied. Just uninspired. Not really any different from any other macro brew. Dull. Used the last half of the glass to wash down some corn chips. <sigh>
660 characters

2.5
/5
rDev
-14.4%
look: 2.5 | smell: 2.5 | taste: 2.5 | feel: 2.5 | overall: 2.5
Pours a slightly cloudy, grassy yellow colour with a small white head that reduces to a collar within a minute, leaving little to no lace behind.
Smells of wet grass, yeast, earth and burnt wheat. Subtle clove and citrus notes.
Taste is very similar. Burnt grains, earth and yeast dominate, with hints of banana, cloves and orange rind. Really dirty finish.
Medium-bodied with a mild carbonation. Earth and burnt grains again on the tongue, with a mild syrupy quality. Very tart, astringent and slightly metallic aftertaste.
This beer successfully captures the essence of downtown Toronto in the summertime. It's dirty, gritty and it kind of stinks. I can't find a reason to ever drink this again and I was unable to enjoy it with any food pairings I tried. This is a real step back for Amsterdam after some recent promising offerings.
843 characters

2.65
/5
rDev
-9.2%
look: 3 | smell: 3 | taste: 2.5 | feel: 2.5 | overall: 2.5
12oz bottle from the Ottawa LCBO for 2$
Appearance – Hazy amber colour with an average size fizzy white coloured head. I can't make out the amount of carbonation and there is some faint lacing. The head lasted for around 3-4 minutes before it was gone.
Smell - Grains/wheat, lemon, spices
Taste & Mouth - The beer has a below average amount of carbonation. I can taste grains/bread mixed with quite a bit of lemony citric flavours. It reminds me a bit of the lemon juice in the squeezable plastic lemon you get at the grocery store. There is also a touch of corn and some herbal notes. It ends with tart artificial lemon aftertaste.
Overall – I really liked amsterdam boneshaker so I figured I'd give this a try. This one is a miss... I wouldn't buy this again.. nice packaging though.
793 characters

2.93
/5
rDev
+0.3%
look: 3.5 | smell: 3 | taste: 3 | feel: 2 | overall: 3
Pours a creamy head of foam, retains some decent lacing. Colour is a sort of pale yellow.
Aroma is mostly of malty wheat, bread, with some hops thrown in.
The taste is very light, a quite noticeable touch of citrus. Some hoppy bitterness toward the end, and the finish is dry, a bit grainy.
Mouthfeel is quite thin, a very watery mouthfeel under a thicker, more chewy and cloying element.
Seems that this wheat beer is very much tailored to be sessioned on hot summer days. Somewhat drinkable, but not interesting, mouthfeel is not pleasant, drinks like a cheap beer with lime flavouring thrown in. Time is better spent elsewhere.
636 characters
2.85
/5
rDev
-2.4%
look: 3 | smell: 3 | taste: 3 | feel: 2.5 | overall: 2.5
Wychwood Barns pint. Initially I had some hoppy aromas and taste and was lead to believe it would be interesting, but then just thin for a wheat beer. Yellow, not offsensive, just not too interesting or that drinkable.A bit disapointing for a special event beer.
262 characters
3.23
/5
rDev
+10.6%
look: 3.5 | smell: 3 | taste: 3 | feel: 4 | overall: 3.5
Poured in to Founders tulip.
A - Pale straw yellow. Expected some cloudiness but there isn't any. Half a finger of foamy white head formed with decent retention.
S - Strong yeast notes up front that dominate the nose. Subdued clove and citrus aromas in the background but they are overpowered by the yeast aroma.
T - Very strong yeast flavours up front, as the nose indicated. Some clove and citrus flavours are evident in the background and are complimented by a bready malt backbone.
M - Medium body and slightly creamy. Moderate carbonation.
O - Pleasant tasting but too much of the yeast dominates the beer without enough contribution from the other flavours.
672 characters
3.2
/5
rDev
+9.6%
look: 3 | smell: 3 | taste: 3.5 | feel: 3 | overall: 3
355ml bottle...
A - Looks like a slightly cloudy, golden-coloured lager. Okay head but pretty poor head retention.
S - Slight hints of citrus, some honey and some bready wheat.
T - Bready, with hints of lemon and orange and a bit of honey. Nothing close to European-style wheat beers, but still a bit more than an American blonde ale. Some subtle hops in the finish, giving the taste a slight bitter touch. Nothing to write home about but fairly nice.
M - Light-to-medium bodied. Feels more or less like a lager, with a little less carbonation and a little more smoothness to it.
O - I wouldn't call it a great anniversary beer, but it does the job, it is refreshing and quite highly drinkable. Probably good in the warmer months.
736 characters

3.3
/5
rDev
+13%
look: 3.5 | smell: 3.5 | taste: 3 | feel: 3.5 | overall: 3.5
Lightly hazy pale blonde, one finger white head, light lace. Smell is malty with yeast and light banana, light spice, subtle citrus, not too much going on here but it is quite clean. Taste is malty with bread and cereal at the forefront, light banana, lightly spiced and at points citrusy orange notes. Nice creamy feel, soft and quite smooth, med-high carb. Not bad really, I could have a couple of these on a hot day with some buddies, pretty refreshing but nothing spectacular.
480 characters
Amsterdam 416 Urban Wheat from Amsterdam Brewing Company
2.92
out of
5
based on
31
ratings.