Amsterdam Avalanche
| Amsterdam Brewing Company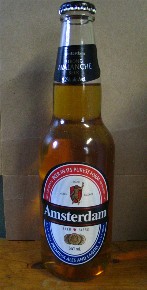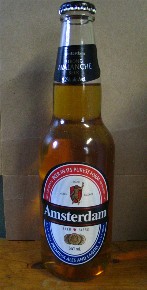 BEER INFO
Brewed by:
Amsterdam Brewing Company
Ontario
,
Canada
amsterdambeer.com
Style:
Euro Strong Lager
Alcohol by volume (ABV):
8.20%
Availability:
Year-round
Notes / Commercial Description:
No notes at this time.
Added by BeerAdvocate on 02-14-2003
This beer is retired; no longer brewed.
HISTOGRAM
Ratings: 6 | Reviews: 6
Reviews by pootz:

3
/5
rDev
+34.5%
look: 3 | smell: 3 | taste: 3 | feel: 3 | overall: 3
Bottle...clear shows a pale gold beer small rocky head from a hard pour leaves quickly...bit of lacing...low carbonation . Aroma of boiled grains, some musty woodsy smells. Grainy thin mouth feel, moderately hidden alcohol..dry finish...not great beer but a better than average strong lager. Perhaps this is champagne for the St. Ides 40 oz crowd.
347 characters
More User Reviews:
2.43
/5
rDev
+9%
look: 2.5 | smell: 2 | taste: 2.5 | feel: 3 | overall: 2.5
A boozy version of their blonde. Dominant booze in aroma, and some regular beer. A bit creamy. Malt taste and malt aftertaste. Competes with malt liquors. Thanks for the sample Pootz/Pootzboy. My experience with this brewery is fair, getting people upscale from national brands.
278 characters
2.03
/5
rDev
-9%
look: 2 | smell: 1.5 | taste: 2.5 | feel: 2.5 | overall: 1.5
Like drinking rubbing alcohol. This beer is like 1930's comic strip one dimensional. Pours clear yellow amber, big head forms but is gone in a few seconds. Some lacing. Smell is light malt and alcohol, thats it. Taste is sweet and alcohol, thats it. Maybe a little bit of fruitiness coming through. After initial alcohol assault some floral hoppiness is present as well. Medium mouthfeel, smooth feeling but not very good tasting.
430 characters
2.38
/5
rDev
+6.7%
look: 3 | smell: 2.5 | taste: 2 | feel: 3 | overall: 2.5
Very bright and clear, medium gold with a thin white lace of head. Aromas of grainy, sweet malt, light fruity esters and floral hops, with alcohol thrown in as well. Light bitterness with a thin malt sweetness. Alcohol becomes pronounced at the finish and becomes a bit solvent-like. Finishes on the sweet side as well. Lower carbonation than expected, slightly sticky and slick texture. Not a complex beer at all with too much alcohol for the malt to balance. Thanks Viggo.
474 characters
1.35
/5
rDev
-39.5%
look: 2 | smell: 2 | taste: 1 | feel: 1.5 | overall: 1
I stole this from a fridge at a party, poured it into an empty Red Hook bottle i was drinking from, and then tried it. However, i insist that this did not affect the taste or drinking experience and thus feel comfortable reviewing it.
this beer looked no good from the start. Hugh head but it was gone in mere seconds. Looked like pee. and not that good, im-dehydrated-so-its-all-cloudy-and-orange pee color. i could drink a beer that looked like that. This was like someone already drank the beer and peed it out. twice.
Smell was like skunky, warm beer even though it was newly store-bought and very cold.
Taste was like licking feet dipped in alcohol and rubbed briefly on some ground up malts and then spit on.
mouthfeel thin and bubbly. like MGD + water
No drinkability. i wouldn't even steal another one.
825 characters

2.17
/5
rDev
-2.7%
look: 2 | smell: 2.5 | taste: 2 | feel: 2.5 | overall: 2
No head, no lace, looks like dark apple juice. Lots of carbonation to start, but that goes away pretty quick. Nothing special to look at.
Powerfully sweet malt smell, some alcohol. Same thing with a swallow - real sweet, a bit of an alcohol burn and that's it. pretty one-dimensional. No real aftertaste except for a hint of sticky sweetness.
I hate drinking tasteless, syrupy beers like this one. Give it a pass.
419 characters
Amsterdam Avalanche from Amsterdam Brewing Company
Beer rating:
2.23
out of
5
with
6
ratings