The Beale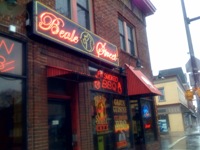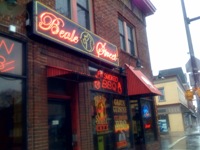 Bar, Eatery
689 South Ave
Rochester
,
New York
, 14620-2201
United States
(585) 271-4650 |
map
thebealegrille.com
Notes:
Reviews: 6 | Ratings: 7
Reviews by slander:
3.93
/5
rDev
-1.5%
vibe: 4 | quality: 4 | service: 4 | selection: 3.5 | food: 4.5
Just back in town, I showed up here one night for din on John's recommendation and found it crazy packed. I mean mad jumping crazy packed. "Curious", I thought. Amazing how oblivious to the real world I am most days, having found myself unwittingly in a Cajun joint on Fat Tuesday. Months later, I did a lengthy run up around the lake one night that had me feeling run down some the next day, and as such, was of the mindset to lay low that night. Mind you, all that went out the window when I got the shout about the last Wednesday (of the month) beer social, so naturally I got thinking that suppin' down the road first at Beale Street would be in perfect order...
Corner location there, things happening inside. A rounded & lipped "L" shaped wood bar seating 10 holds the inside wall back to the break leading into the side dining room. Tiered booze on the barback counter over stainless steel coolers below, Cupboard pieces above house wines & booze, and bottled beer selections line the top. Dangling glassware in a rack over the bar heavily adorned with ribbons, feathers and garland. Wood slat walls over wider wood painted lower pieces, archways yellow, red & orange, and the back wall painted yellow with a large Beale Street jazz mural. Mardi Gras play (masks, beads & balls) intermingled with beer & booze pieces and music prints. Neon macro signs in the windows, mounted TV's in the corners. Dark green pressed tin ceiling, neon light strips & strung glow beads, and drop fan lighting.
6 raised roundie bar tables in an area adjacent to the bar, and some side room seating; a dozen tables running up around a small stagey area. Brick over wide painted slats and a similar décor to that of the bar, and a rear paneled wood room off there holding another 10 tables or so.
2 towers of 5 each below the bar pouring some micros (Beale Street Mojo Magic Stout & Amber Ale, Roosterfish Nut Brown Ale, Bear Republic Racer 5, Sam Adams Summer Ale), blah imports (Bass, Labats Blue & Blue Light) and wherever Yuengling and Blue Moon fall in between. I contemplated a Bear Republic Racer 5 but it was pouring reeeeal murky, so I opted for the Beale Street Mojo Magic Stout, done for them by Custom BrewCrafters. It was a solid offering, but it was no Double Dark Cream Porter. And had I seen the Roosterfish Nut Brown up front, I would've started there, so that was my second beer. Always tasty, but pouring strangely murky, too. Wound down with a shorty of the Beale Street Amber Ale, they make some very nice beers at CB's, they do. Also, upwards of 2 dozen bottled selections, all macros and blah imports save the pair of obligatory Abita or two, and oddballs Victory Old Ho and Flying Dog Gonzo Impy nestled in the mix.
Foodhead. Started with a warming cup of gumbo (seafood and pork, it was good, but a bowl of it would've been better). And then the combo, a ¼ rack of ribs (fall off the bone) and blackened chicken (had some good heat), with Cajun corn, beans with sausage and a little cornbread. An excellent base for beer to come.
Bartender Thomas ran the bar and everywhere else from his side; seemingly understaffed but he kept up well. Some character patrons to be sure, but working girls gotta eat too. Very good food first and foremost, and a couple of nice beers thrown in there to help it along.
3,321 characters
More User Reviews:

2.86
/5
rDev
-28.3%
vibe: 3 | quality: 3 | service: 3 | selection: 2.5
This place is in a rougher part of town. I happened to be in the area so dropped in, but wouldn't prefer to come within miles of this area. A tougher looking bartenderess, a small bar. A couple of ables outside. I saw about 8 taps, with the same names of previous reviews of others from months ago. Nothing I have not had in the last few months.I suppose if you live in the area, this is the best place to go for beer, particulaly with the local McGreggor being closed. Overall a smaller than average bar.
505 characters
4.38
/5
rDev
+9.8%
vibe: 4.5 | quality: 4.5 | service: 4.5 | selection: 4 | food: 4.5
I wish Buffalo had a place like this! What a fun atmosphere. I visited here on a Friday night. I was spending the night in Rochester so I had checked out the BeerFly for some good spots. Thanks to the previous reviewers for giving this place a good rating. Great atmosphere, music and food. We were told that it would be a 45 minute wait for a table but we were seated in 10. I love a small but excellent beer selection. Anytime you've got about ten handles and they include a nice Colorado offering (Downtown Brown), a California offering (Racer 5, one of my favorite IPAs), 2 good contract house brews, and others to round it off, this is reason enough to visit. Throw in excellent food (we both had the tuna special prepared different but tasty ways), a good blues band and a diverse, happy crowd and you've got a memorable experience. I've never been to New Orleans. Is there a Beale Street there? I know Memphis has one and that's the place for blues.
956 characters

3.93
/5
rDev
-1.5%
vibe: 4 | quality: 4 | service: 4 | selection: 3.5 | food: 4.5
Great place to go, especially after a "session" at Gregory St., for a little bite of bbq.
Atmosphere was exceellent. Tiny place with 3 seperate rooms. One housed the bar and the performance area for local blues bands. The other two were for dining. Both had adequate access to the bar room.
Cool, but tiny beer selection mostly filled with CBC numbers including their own Mojo Magic Stout. Couple others plus guinness and some regular euro selections.
Food was excellent. For some reason Rochester has absolutely ridiculous bbq. Pulled pork was fantastic(not as good as Dino, but still delicous) all the sides went well with the food and the beer complemented everything well.
This is a great place to go for a little of Rochester's finest bbq and a good beer to wash it all down with. Tucked away, but well worth the trouble seeking out.
851 characters
4.25
/5
rDev
+6.5%
vibe: 4.5 | quality: 4.5 | service: 4.5 | selection: 3.5 | food: 4.5
I will start by saying that had Wish not added this place to BeerFly, I certainly would've. I am here frequently and often bring my family. The place strikes a unique balance between a drinking, dining and family establishment (during the dinner hour). The atmosphere is lively (sometimes loud) but fun as hell. Blues, Cajun food and BBQ is the name of the game here and it is indeed some of the best. Service has always been friendly and attentive. Beer selection is good featuring two of their own house beers - Beale Street Amber - a nice hoppy amber that goes great with the chow, and Mojo Magic Stout - a tasty dry stout. Both are brewed by a local micro - Custom Brewcrafters. In addition to those, the last visit also featured CBs Hop Harvest Ale, their tasty fall seasonal. Yum. SN Pale, Bass, Sam, etc., can also be had. Friday happy hours (live Blues) are a blast but it can get crowded. Two thumbs way up on this joint.
930 characters
4.3
/5
rDev
+7.8%
vibe: 4.5 | quality: 4.5 | service: 4.5 | selection: 3.5 | food: 5
Sometimes you want to get out to a place that has everything. This is that place. The atmospere is of a New Orleans Blues bars including the blues band. They serve a good line up of beers including their own Beale Street Amber Ale made by Custom Brewcrafters. Their food is, as far as I'm concerned, the besr food in Rochester. The jambalaya is to die for, the pulled pork is the best I've ever tasted, and the corn bread is of heaven. All this with fast curtious service.
472 characters
The Beale in Rochester, NY
Place rating:
3.99
out of
5
with
7
ratings