Belgian Beer Café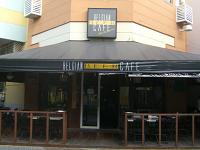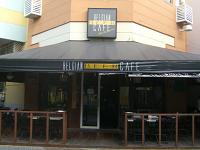 Bar, Beer-to-go
Av. das Américas, 500 Bloco 9 Loj, Barra da Tijuca
Rio de Janeiro - RJ
, 22640-100
Brazil
+55 (21) 2494-2200 / 3153-7675 |
map
beerparadise.com.br
Notes:
Recent ratings and reviews.
Reviewed by BeerResearcher from Massachusetts
4.44
/5
rDev 0%
vibe: 4 | quality: 4.5 | service: 4.5 | selection: 4.5
Belgian Beer Café (Paradise) 500 Av Americas Barra Da Tijuca Rio de Janeiro, Brazil
Located in the middle of a quaint, upscale, village-style shopping mall in the Tijuca neighborhood of Rio, The Belgian Beer Cafe (BBC) (Belgian Beer Paradise-according their logo and manager, Tom) offers shoppers the unique and highly unusual experience of sampling a bit of Belgian culture in the midst of this bustling tropical city.
The curved L-shaped bar section is made up of dark wood and is accentuated by lit glass cases displaying their large bottled beer selections. There is a capacity for perhaps 16 taps. Tom informed me that 11 taps were active, and 4 of the 7 Belgians offered were empty (an explanation later in this review). Half of the tabled seating is within the cozy confines of the bar area and the rest spills out into the awning covered, open-air mall area.
The tap selections are as follows;
Bel Pils
Maredsous 6 & 10
Karmeliet Tripel (out)
St. Feuillien Tripel
John Martin Pale Ale
Gordon's Finest & Gordon's Scott
Kwak
Westmalle Dubbel
also on tap, and far less expensive are local brews;
Lokal Pils & Dunkel
The Belgian bottled selection is impressive!
Once your eyes glance past the Stella and Hoegaarden, you'll notice, as your eyes widen, Titje, Delirium, Duvel, Divine and Orval. You'll break into a silly grin when you see the nearly full offerings of Trappists from Achel, Chimay, Rochefort and Westmalle. Abbeys of Leffe, Maredsous, St. Feuillien (including Noel). Lambics from Timmermans and Cantillon Gueze. And speaking of silly grins, BBC has Silly Saison and Scotch Ale. As your eyes scan the refrigerated showcase you'll notice a full array of Double Enghien and Gouden Carolus, along with a dated 2000 - 2004 Cuvee van de Keizer selection. And ooooh! What's that I spy? Yes! Westvleteren 8 and 12! I think these are only a special, before Christmas offering, but something was lost in translation here concerning its availability.
There is a small representation from Germany, including Lowenbrau, St. Francizkaner, Warsteiner, Erdinger and Ustersbacher.
Should I even bother to mention Sol, Budweiser, Dos exquis (Brazilian spelling) Fosters and Grolsh? Too late!
The Brazilians are experiencing a small, yet promising craft-brew revolution (an article about finding good beer in Rio is presently being developed). Among the Brazilian beers worth trying at BBC are; from Eisenbahn - Pils (Organic), Dunkel, Pale Ale and Weiss. Schmitt - Ale (Pale) and Barley Wine.
Devassa - Pils and Tropical Lager.
Baden-Baden - Cristal, Golden, Bock, Red Ale (I highly recommend this one), Stout, and Celebration Ale.
I can't really comment on the food as my girlfriend, Kathy and I only shared a large plate of mixed sausages and cheeses. It was well presented and full of rich and diverse flavors. The plate was accompanied with several different tasty mustards for dipping.
The service was friendly and prompt. Although the waiter and manager spoke very little English, and we, even less Portuguese, we managed to converse flawlessly in Beerinese.
If there was a flaw, and I did mention that I would get to the topic of the 4 empty Belgian taps, it is that the importation of European beers can be quite difficult and at times, costly for the Brazilian bar owners. The owners/managers must be extra careful of making sure that their beer supplies arrive as fresh as possible and that it is consumed in a reasonable amount of time. Otherwise large quantities of expired beer must be discarded, and as the General Manager of another beer bar in Rio told me, it isn't easy getting beer from Europe or the US on a normal schedule.
So, the problems of delivery and managing freshness aside, I have to give BBC an extra .5 in quality and selection department, because they need to work extra hard to get beer lovers like myself a good selection of not only great beer, but also well cared for beer.
My only other regret about my visit to BBC was that I wasn't born twins or, better yet, triplets so that I could have enjoyed more tasty beers!

Ps – There is another BBC located in the Copacabana section of Rio…another reason to visit!
Jan 09, 2005
Belgian Beer Café in Rio de Janeiro - RJ, Brazil
Place rating:
4.44
out of
5
with
1
ratings