Red Horizon 3rd Edition
| Nøgne Ø - Det Kompromissløse Bryggeri A/S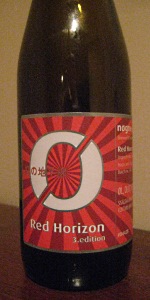 BEER INFO
Brewed by:
Nøgne Ø - Det Kompromissløse Bryggeri A/S
Norway
nogne-o.com
Style:
American Strong Ale
Alcohol by volume (ABV):
12.50%
Availability:
Limited (brewed once)
Notes / Commercial Description:
No notes at this time.
Added by biboergosum on 02-16-2014
This beer is retired; no longer brewed.
Reviews: 6 | Ratings: 17
2.91
/5
rDev
-26.5%
look: 2 | smell: 4.75 | taste: 2.5 | feel: 2.5 | overall: 2
Murky iced tea brown. No head. But what a lovely, unusual aroma. Enoki mushrooms, wisteria, cola syrup, musty apples, Concord grape jelly, muskmelon. Highly strange (and very sweet) but also really appetizing. Shroomy fruity goodness.
Not so appealing to drink, sadly. Exceedingly sweet. Like, liqueur-sweet. With a hint of earthy mold. Not really a pleasant combo – brings to mind rotten fruit. The flavors are mostly grape, date, cheap port, and inedible cheese rind. Oh and sugar. Lots of sugar. I'd like to say brown sugar, but no, not really – just pure sweetness.
This is definitely not good, which is a shame because it holds promise. It needs something – more hop bitterness, more spice, even more carbonation – to complete it. It has a flavor profile similar to a Trappist quad, but without any nuance or balance. As it is, it's a sugarbomb that might be nice with cheese, but not much else.
912 characters

3.64
/5
rDev
-8.1%
look: 3.5 | smell: 3.75 | taste: 3.75 | feel: 3.25 | overall: 3.5
Picked this up at La Capsule Cave à Bière in Nancy, France. Murky mahogany-brown pour with essentially no head and very little lacing. The nose is very sweet and boozey with nice vinous notes along with hints of toffee, plum, caramel, and brown sugar. The taste has a woody, earthy sweetness with hints of Port wine, caramel, brown sugar, dates, and subtle bubble gum. The mouthfeel is thick and syrupy with cloying sweetness and an odd aftertaste. Overall, I drank this back-to-back with the 2nd edition, and while this is a bit more drinkable, it's still over the top sweet and not my cup of tea...
605 characters

4.03
/5
rDev
+1.8%
look: 3.5 | smell: 4.25 | taste: 4 | feel: 4 | overall: 4
250ml bottle poured into wine glass 15/4/14
A glowing brownish amber with a single thick stream of bubbles popping off the bottom, just a short lived thin film that manages to leave a few random patches of lace
S very fruity but hard to place, caramel apple, bruised plum, figs, grapes, and a little citrus, heaps of burnt brown sugar and toffee, herbal hops and earthy notes with some raisins
T the yeast comes out in the mouth, still lots of sugars, apple sauce about to turn sour, a little pine resin, faint leather, differs from the nose in many ways, still lots of hops and you gotta now this was a palate wrecker fresh
M not as heavy as I expected for a big brew, the 100ibu's play a part, coats the palate with a very fine grit, bubbles give it some life and just a little heat going down but hits my chest more then anything
O interesting brew with a fair bit going on, I wasn't sure what to expect from sake yeast but it works well, one of those brews that I want to try a week old and again 5 years later
Solid stuff but at 20$ for a 250ml its not cheap, at least I get a cool little red tin out of the deal. Worth a try but I doubt I'll pull the trigger for a second bottle to age
1,197 characters
4.04
/5
rDev
+2%
look: 3.75 | smell: 4 | taste: 4 | feel: 4 | overall: 4.25
250ml bottle, wrapped in red tissue paper, inside a red tin canister, which displays the Nøgne Ø logo mashed with a Japanese Rising Sun motif. Brewed with sake yeast No. 9, for 10 weeks, apparently.
This beer pours a murky, dark orange-brick amber hue, with two fingers of weakly puffy, frothy, and plainly bubbly ecru head, which leaves some melting glacier lace around the glass as it swiftly bleeds away.
It smells right away of a rather fruity bubblegum sweetness - banana, cherry, indistinct melon - followed lazily by a lightly sugary, thin pale malt, an understated mirror-world yeasty mustiness, leafy, herbal hops, and a sort of floral, perfumed booziness. The taste is much more dense and sweet in its how d'ya do bearing - heady caramel malt, more chewing gum-tinged fruitiness - banana, guava, watermelon, and 'grape' - a soft earthy, somewhat green yeastiness, and more fruity, piney, leafy and floral hops. The alcohol does well to simmer just below the surface.
The carbonation is quite low-key, and hard to detect for the most part, the body a sturdy medium-full weight, generally smooth with a strong fleshy fruit connotation, and just a tad creamy. It finishes still sweet, fruity, a bit sugary, and quite hoppy, just not in the bitter sense.
Well, the sake yeast has achieved the brewer's stated goal here - this is one fruity, ester-laden strong ale. I'm hardly the sake aficionado, so the actual yeast subtleties are likely lost on me, and I thus have to see this as something akin to an English barleywine or old ale - largely malty, with a big, but well sublimated booze quotient, and a musty, weirdly evolved yeast, one which majored in all things fruity.
1,685 characters

4.4
/5
rDev
+11.1%
look: 3.25 | smell: 4.5 | taste: 4.5 | feel: 4.25 | overall: 4.5
Muddy dark orange, brownish color with almost no head, just a bit of lacing. Dried dark fruits and spices in the aroma: dates, figs, nutmeg and ginger come to mind. Taste starts sweet and spicy but gets more balanced towards the finish. Aftertaste is slightly bitter and roasty with a nutty character. Body feels thick but has a bit of carbonation to make it easier to drink. Had it right after the 2nd Edition. This one is a bit more balanced overall but also has a slightly weaker aroma and the alcohol, although being 1% less, is more noticeable. But overall it's still a great, complex brew.
595 characters

4.81
/5
rDev
+21.5%
look: 4.5 | smell: 4.75 | taste: 5 | feel: 4.5 | overall: 4.75
Misty dark amber, poor froth soon to a bit of a margin, but really really tiny.
Bucketloads of sweet juicy fruit on the nose, with peach, persimmon, Asian exotic stone fruit, some mashed orange, Turkish apricot, faint white grape, mild tropical notes. Some sweet floral notes, like withering lily. Should be sweet, but pleasantly so. No booze yet.
From the get-go, this edition is exactly as awesomely fruity and complex as the 3. edition, but it feels a bit more refreshing, with a bigger citrus note. So there will be a lot of kumquat, pomelo, pink grapefruit and blood orange, sharing the start with juicy, jam-like peach, quince, persimmon, lytchee, sea buckthorn, cherry plum, yellow cherry, faint raspberry. As the sticky caramel malts show up, it just shows more fruity intensity, not hard-to-swallow maltiness. And that fresh citrus zing persists underneath it all, with more grapefruit peel towards the end, even a bit of lime sourness, but extremely subtle. Syrupy, but the kind you can't get enough of.
Aftertaste has awesome stone fruit jam, faint tropical notes, citrus pulp and peel, bathed in malt sweetness. But, again, an incredible kind of malt sweetness. Wow! And the alcohol is hidden even better in this one. Thick body, just a bit sticky, subtle prickly carbonation.
These beers just keep on giving. An incredible, unique thing Nøgne Ø managed to do with this series. And it's not just an interesting experiment, it's a truly awesome beer, actually a totally new beer style. More brewers should start looking into this stuff. Wow!
1,555 characters
Red Horizon 3rd Edition from Nøgne Ø - Det Kompromissløse Bryggeri A/S
3.96
out of
5
based on
17
ratings.