Bitter
| Nøgne Ø - Det Kompromissløse Bryggeri A/S
BA SCORE
84
good
11
Reviews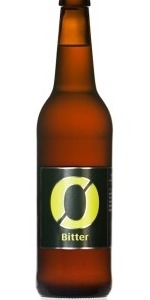 BEER INFO
Brewed by:
Nøgne Ø - Det Kompromissløse Bryggeri A/S
Norway
nogne-o.com
Style:
English Bitter
Alcohol by volume (ABV):
4.50%
Availability:
Year-round
Notes / Commercial Description:
11º P, 37 IBU
Ingredients: Maris Otter- and crystal malt, Centenneal and E K Golding hops, English ale yeast and our local Grimstad Water.
Added by Sigmund on 11-12-2003
Reviews: 11 | Ratings: 22
4.2
/5
rDev
+13.2%
look: 4.5 | smell: 4.5 | taste: 4 | feel: 3.5 | overall: 4.5
Amber colour, good head. Very nice barnyard aroma. Typical English bitter flavour (Goldings hops + a hint of toffee) , a bit thin mouthfeel, good bitterness in the aftertaste. A great quaffing beer. This Norwegian micro is a very welcome addition to our rather miserable brewery scene!
285 characters
4.2
/5
rDev
+13.2%
look: 3.5 | smell: 3.5 | taste: 4.5 | feel: 3.5 | overall: 5
Brown and murky body, but being bottled conditioned, and given the fact I took no care with more pour, I guess the "murk" just yeast. Nice small head that retains well and laces nicely.
Gentle nose, as is the style, toffee malt, some brown sugar, hint of diacetyl and orange rind.
Cola, chocolate malt, orange rind, some buttery notes, sweet-ish up front with a reasonably long dry and grassy finish. Quite delicious.
Moderate fine bubbled carbonation in the mouth tops up a light mouthfeel.
Very drinkable. WIsh I had another.
I've had this with a luxurious Sunday morning fry up of bacon, eggs, black and white pudding. Perfect compliment.
646 characters
3.88
/5
rDev
+4.6%
look: 2 | smell: 4 | taste: 4 | feel: 4 | overall: 4
On tap at Bruuveri in Helsinki. From notes.
A - Pours a hazy orange with no visible carbonation and no head leaving no lacing.
S - Tons of grapefruity hops. Not in the IIPA sense but for a 'bitter' it does well in the hop department. Toasty malt is there too. Simple but pleasant and stronger than a typical Bitter.
T - That same good fruity and citrusy hop is complimented by a biscuity, toasty malt that stays light, yet packs a flavour punch for what we're dealing with, aka an English Bitter with 4% ABV. No complaints.
M - Finish was dry, light carbonation and body and a slight bitterness in there too.
O/D - Great drinkability on this one. Flavourful. More like a low ABV IPA but a well put together bitter for a crowd looking for something less malty.
764 characters
3.87
/5
rDev
+4.3%
look: 3.5 | smell: 4 | taste: 4 | feel: 4 | overall: 3.5
Dark amber to copper in colour and very cloudy, with lots of fine carbonation and a tremendous head with sticky lace.
The nose has the kind of hoppy aroma I am used to in an English style bitter: tea-like and floral, slightly citrus-like. The same goes for the typical ale fruitiness present and the doughy, salty malt qualities. Style-wise this is done very well and remains true to the original interpretations. What sets it apart however, is a stronger emphasis not only on hops, but also on yeast.
Hop presence is much stronger in the taste, imparting an almost severe bitterness to the beer that last all the way into the very end and at a certain point becomes kind of minty. Bitterness and sourness seem to be leaning toward each other tightly. In my opinion, not enough room remains for malt complexities because of this hoppy intensity. A little more sweetness and fruity flavors as well would bring the beer into balance. A vague buttery note and some mineral qualities round off the taste.
Mouthfeel is smooth and has a pleasant gentle carbonation. Medium body.
An impressive brew that looses some of its drinkability because of its assertive hoppiness. Or maybe it's a matter of 'acquired taste'.
1,214 characters
3.85
/5
rDev
+3.8%
look: 3.5 | smell: 3.5 | taste: 4 | feel: 4 | overall: 4
A - Poured from the 500ml bottle into a pint glass with a 2 centimetre slightly off white head that falls away fairly quickly. The beer is a light copper colour with a slight haziness.
S - Floral and herbal hop notes with a touch of caramel.
T - Floral, light fruit hints & herbal/grassy hops backed up with some bready & slightly sweet caramel maltiness.
M - Light to medium bodied, fairly low carbonation. A smooth, yet lingering tea leaf like bitterness at the back of the tongue.
D - Perhaps not the freshest due to it's extensive journey but I really did enjoy this beer. This is my first Nogne O beer and if the hyped up ones are as good as this little one then I'm getting excited!
688 characters
3.72
/5
rDev
+0.3%
look: 3.5 | smell: 4 | taste: 4 | feel: 2.5 | overall: 3.5
Nice, golden color on the beer, yellow, honey like foam, a strong smell of citrus. Taste is bitter, you can definately taste the citrus in this one. It feels a little dry in your mouth while drinking, but otherwise, good beer. I believe this beer would be excelent at a hot summerday.
284 characters
3.67
/5
rDev
-1.1%
look: 3.5 | smell: 4 | taste: 3.5 | feel: 3 | overall: 4
Bottle purchased for me by @LaitueGonflable.
Uncaps with a massive hiss that almost makes me jump out of my seat to run somewhere with the gushing bottle, but instead, it sits rather dormant in the bottle. Pours very light in colour, most certainly a golden hue rather than a deeper copper or amber, like many bitters I've had. Atop this you see the fruits of that massive carbonation: an enormous, rocky and frothy, large-bubbled head of off-white. Lacing is sudsy and clumping. It looks a bit insane, to be honest.
Nose is bright with fresh but earthy hops, giving a tea-like aroma to the beer. Ah, East Kent Goldings are much maligned, but every time I have a beer heavily steeped in their aroma I fall for them a little bit more. A little sweetness complements this, but there's not a lot. I think it's rather pleasant, to be honest.
Taste is certainly pretty light-on, with a mild tannic bitterness through the centre, a very light body, and way too much carbonation. Not much hint of that sweetness, but there's a touch of nut butter giving a little weight to the body as a whole. Feel is aggressively carbonated, and interferes with the flavours, as well as making it uncomfortably bloating.
Too alive, or something—the carbonation is easily the main flaw in an otherwise solid beer. Unfortunately, it almost overwhelms to such a degree that it's hard to tell that there genuinely is a solid beer underneath.
1,421 characters

3.53
/5
rDev
-4.9%
look: 4 | smell: 3.5 | taste: 3.5 | feel: 3.5 | overall: 3.5
500ml bottle
A- Orange/copper colour, quite hazy. Very nice huge bubbled head that shows decent retention and leaves a hint of lacing. Some visible carbonation
S- Hoppy aroma, more on the light and delicate side as it is common for a bitter, though still pleasantly fresh: wet herbal notes with some tea/floral hints. Maybe the slightest hint of malt sweetness (caramel)
T- Mild bready malts with a hint of caramel that is now more easily detectable. A delicate tea-like, herbal bitterness in both taste and aftertaste plays the main character in this beer. I feel like i also found some lemon and peach hints. Refreshing
M- A very easy mouthfeel. Light to medium body (sure a bit stronger than the classic english bitter examples). Medium carbonation, not as much as the appearance suggested. Delicate and overall decently smooth
O- A nice, refreshing, highly drinkable beer; with nothing really worth praises. I expected something better given it's price
961 characters
3.48
/5
rDev
-6.2%
look: 4 | smell: 3.5 | taste: 3.5 | feel: 3 | overall: 3.5
Revied from notes taken on 8/25/05 that I'm finally getting around to putting in BA.com. Thanks Alekeep and Biergirl, and your Norwegian friends, for sharing these wonderful beers during our Norwegian Beer dinner.
Appearance: Golden in color with a light, white head. Clear, with no noticable flaws.
Smell: Slight grassy hint, but otherwise very muted. Never opened up, never revealed much aroma. What was there had a nice hop profile, like a faint bitter or maybe the residue from an empty pint.
Taste: Light malt, light, grassy hops. But not much there. If this were a true English Bitter I would be more disappointed. Too subtle for the style. Very muted, but it seems like it had/has potential.
Mouthfeel: Light and finishes dry.
Drinkability: Very easy to drink. If I was looking for a session beer or a beer to have while in conversation where I wanted something good, but didn't want to be distracted by the beer, this would work.
952 characters
3.45
/5
rDev
-7%
look: 3 | smell: 3 | taste: 3.5 | feel: 3.5 | overall: 4
I really like the label art on this brewery's Beers, it really screams "Scandinavian!". All that's missing is a picture of Dimmu Borgir in the back.
Appearance: It was opaque, but sort of peachy, not very bitter-like if you ask me, the ephemerous head froths back to life quickly after a swirl or two, only to fade away again.
Smell: Just like head, the nose is sort of fleeting. My first whiff was pleasantly hoppy, lemony and had a leathery touch that was great, but when I stuck my nose in the glass again, it was all but gone.
Taste: Lightly carbonated, pretty decent malt backbone that showed tea cookies and a bit of caramel, and had a nice, long-lasting yet smooth bitter hop finale. A good bitter for sure, but I'm glad I didn't pay for it, a case of this stuff imported from Norway must have cost a fortune.
825 characters
3.11
/5
rDev
-16.2%
look: 4 | smell: 3 | taste: 3 | feel: 3.5 | overall: 3
Thanks to Hans from Närke for this fine gift.
The beer pours a medium copper with a light white head that rises about two fingers, falls quickly, good retention...Aroma is light but what you get is strong hops with an alcohol burning, not very appetizing...Taste is pretty light as well, not typical bitterness as was expected, again a lot of alcohol.
Not a huge fan of this, not worth pursuing.
399 characters
Bitter from Nøgne Ø - Det Kompromissløse Bryggeri A/S
3.71
out of
5
based on
22
ratings.