Amber Ale
| Nøgne Ø - Det Kompromissløse Bryggeri A/S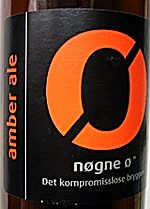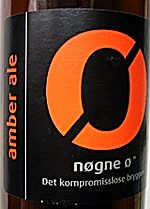 BEER INFO
Brewed by:
Nøgne Ø - Det Kompromissløse Bryggeri A/S
Norway
nogne-o.com
Style:
American Amber / Red Ale
Alcohol by volume (ABV):
5.20%
Availability:
Year-round
Notes / Commercial Description:
14º P, 35 IBU
Ingredients: Maris Otter, Munich, and caramel malt; Chinook and Williamette hops; English ale yeast, and our local Grimstad water.
Added by BeerAdvocate on 09-12-2004
HISTOGRAM
Ratings: 9 | Reviews: 8
Reviews by wl0307:
3.97
/5
rDev
+3.1%
look: 4 | smell: 4.5 | taste: 4 | feel: 3.5 | overall: 3.5
Obtained from the UTOBEER beer shop in the Borough Market, London. BB: 14/10/06. Served cool in a goblet.
A: lightly hazy, pale-copperish hue with very dark orangey hints, coming with an off-white, creamy head with o.k. retention, leaving very fine lacing... moderately carbonated body.
S: candyish note of malts with a touch of lightly-caramelised sugar and even chocolate(?), combined with sour-sweet exotic fruitiness (pineapple+lime juice), lightly unripe cherries, and a touch of raw, woody yeastiness... overall nicely balanced aroma b/w maltiness and fruit esters~~ somehow reminding me of some English strong ales (bottle-conditioned) with a sharper malty and yeasty edge.
T: biscuity and toasted maltiness with a touch of sweetish vanilla backed by chewy grains and crushed beans, semi-light textured fruitiness of exotic fruits sustains at the back, gradually leading to a mildly fruity malty overtone with very restrained bitterness, lingering fruity and lightly spicy-yeasty edge.
M&D: pretty light on the mouthfeel and light-bodied as well... although it's very smooth throughout it goes slightly thin in the end. Not bad this amber ale is, though I think the overall flavour profile is not so colourful as the nose might suggest, and it needs more depth to make it a truly complex beer.
1,306 characters
More User Reviews:
3.85
/5
rDev 0%
look: 4 | smell: 4 | taste: 4 | feel: 3.5 | overall: 3.5
Bottle: Poured a deep cloudy brown color ale with a large foamy head with good retention and good lacing. Aroma of strong caramel malt with some semi-sweet notes and dry hoppy finish. Taste is also a mix between caramel malt with some dry hoppy finish. Full body with limited filtration and good carbonation. I must admit to being impressed with this session ale that packs more character then your average amber ale.
417 characters
3.36
/5
rDev
-12.7%
look: 3.25 | smell: 3.5 | taste: 3.25 | feel: 3.25 | overall: 3.5
4.42
/5
rDev
+14.8%
look: 4 | smell: 4.5 | taste: 4.5 | feel: 4 | overall: 4.5
Revied from notes taken on 8/25/05 that I'm finally getting around to putting in BA.com. Thanks Alekeep and Biergirl, and your Norwegian friends, for sharing these wonderful beers during our Norwegian Beer dinner.
Appearance: Deep, crystal clear bronze color with a wispy, white head. Very little visable carbonation. Light lacing that leaves traces around the glass.
Smell: Strong sweat malt aroma followed by a mix of spices, caramel, brown sugar, and honey.
Taste: Further echoes the smell. Rich toffee and caramel flavors are predominant. Malty middle gives way to just enough hops so that it doesn't become overly sweat, and finishes crisp.
Mouthfeel: Medium body with a crisp, clean finish.
Drinkability: Great, this was one of my favorites of the evening. I would gladly open one any night of the week. Well if they were easier to get.
858 characters

3.97
/5
rDev
+3.1%
look: 4 | smell: 3.75 | taste: 4 | feel: 4.25 | overall: 4
On Cask via handpump fromantic at Picadilly 'Spoons,
Pours a rusty red body with thick text book tight off white head lovely mix of fruity Lime and pepper, pretty freakin' awesome
181 characters
4
/5
rDev
+3.9%
look: 4.5 | smell: 4.5 | taste: 4 | feel: 3.5 | overall: 3.5
(500 ml bottle conditioned). Finally available bottled, this amber ale comes from the micro brewery that makes all other Norwegian commercial brewers look ridiculous. ABV bottled is 6.0%. Colour is deep amber to reddish and cloudy. Very good thick head. Lovely complex fruity and flowery aroma - roses and flowers I can't even remember the name of. Flavour is first treacherously pleasant malty, fruity and slightly spicy, then the hops brutally take over with a very bitter (too bitter?) and salty finish. Definitely not a beer for the Corona generation.
555 characters

3.91
/5
rDev
+1.6%
look: 5 | smell: 4 | taste: 3.5 | feel: 4.5 | overall: 4
Pours a rich, cabernet-red colour promoting some really lovely head, dense and thick beige foam that sticks around like it's infused with gelatine. Slight tinge of pink and fed from below by a steady, thick cascade of bubbles. Not just a really good-looking beer; this is just exactly what I think when I think amber ale.
My first impression of the nose is tart. There's a certain amount of acid there that is quite noticeable. A fair amount of cherry but also a distinct red grape skin note that conjures up red wine imagery - definitely cabernet again. Matching it in equal measure is a rich, bittersweet chocolate aroma which gives it most of the sweetness and balance. It does lean on the dark side here, to the point where I'd almost call it a "dark ale" rather than "amber ale", but still a pleasant aroma. Balanced and aromatic.
Taste is a lot roaster than I'd anticipated. Lots of cocoa and espresso character blossoming through that with hints of red grape skin and almost a banana character on the front, but yeah, dark roastiness takes over for the encore with hints of oak, unsweetened chocolate and most importantly coffee, which actually lingers longer than is desirable. Provides a bit of an ashy hang, gravelly and husky like discarded coffee grounds. Just feels a bit untempered at the back which belies its otherwise nice balance betwixt mild acid and warming roastiness. Decent palate that lets itself slip slightly at the end.
Mouthfeel by contrast doesn't let itself down. Wonderfully full, nice and velvety on the tongue. Little bit of carbonation tingle doesn't get harsh, doesn't leave a lingering dryness. Great texture.
I don't know if I've really had enough "amber ales" to be an expert on the style, but I feel like this doesn't quite fit. That doesn't matter much though as it works well. Very pleasant winter brew.
1,848 characters
3.35
/5
rDev
-13%
look: 3.5 | smell: 3.5 | taste: 3.5 | feel: 3 | overall: 3
This beer pours a coca cola like colour with a one finger head that dissapates quite quickly on the nose it smells quite sherryish with malty backnotes,it tastes quite malty with some toffee,caramel and bananna flavours aswell and finishes a little bitter but still a nice beer just couldnt drink it all night.
310 characters
3.82
/5
rDev
-0.8%
look: 3.5 | smell: 4 | taste: 4 | feel: 3.5 | overall: 3.5
A - 500ml bottle poured into a large mug a hazy brown with a few centimetres of beige head that stands for a bit but slowly falls away to a thin whisp.
S - Floral, herbal hop notes backed with some caramel and dark fruit maltiness. Also some spicy & woody touches.
T - Much like the smell; floral & herbal but the woody, spicy notes also comes through a lot more backed up by the caramel/dark fruit maltiness.
M - Light to Medium bodied, fairly low carbonation. A bit of a sweet, yet dry finish.
D - A flavourful beer but a bit all over the place. I'd drink it again but not my first choice from this brewery.
609 characters
Amber Ale from Nøgne Ø - Det Kompromissløse Bryggeri A/S
Beer rating:
3.85
out of
5
with
9
ratings