# 100
| Nøgne Ø - Det Kompromissløse Bryggeri A/S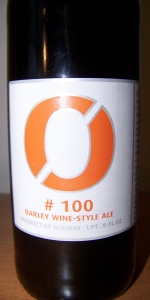 BEER INFO
Brewed by:
Nøgne Ø - Det Kompromissløse Bryggeri A/S
Norway
nogne-o.com
Style:
American Barleywine
Alcohol by volume (ABV):
10.00%
Availability:
Year-round
Notes / Commercial Description:
23,5° P, 80 IBU.
First brewed to celebrate the 100th batch.
Ingredients: Maris Otter, wheat, and chocolate malt; Columbus, Chinook, and Centennial hops; English ale yeast, and our local Grimstad water.
Added by bark on 03-01-2005
Reviews: 260 | Ratings: 459

4.6
/5
rDev
+14.1%
look: 4.5 | smell: 4.5 | taste: 4.5 | feel: 4.5 | overall: 5
A great barleywine - more in line with the English style than American. Big malt, of course, loads of caramelized sugar, dried fruits, and shortbread. Bitterness stands its ground against the malt blitz. Hops are earthy, spicy, and freshly bitter. A hint of fruit from the yeast softens the thick flavors. Nice dryness keeps it super-drinkable. Yeah, this would do the trick in a cold Scandinavian winter, but it's equally good at standing up to a thick ribeye steak.
467 characters
4.61
/5
rDev
+14.4%
look: 5 | smell: 4 | taste: 5 | feel: 4.5 | overall: 4.5
Whoa, really wow. This was a surprise, this was a special occasion beer. I might actually try and get another bottle, or few bottles of this because this was amazing, absolutely amazing.
The appearance is a dark amber rust color. Has a great alcoholic body, and there is very little light coming through this. Poured with a great three finger head and a medium to heavy sticky lacing all around the glass. Really outstanding appearance.
The smell is of caramel, molasses, brown sugar.
The taste is so interesting. It has a great warm alcohol feeling, also carries a very sweet molasses flavor. A dark fruit bitterness as in a plumb or apricot is present. It finishes with a caramel flavor as well. Just a perfect blend of ingredients and if this is not at its peak right now, I really need to try it when it is. Just amazing.
The mouthfeel effected every part of the tongue, and in a deep massaging way. The whole brew is so malty and smooth with dark fruit flavor that it just astonishes my how this has not gotten more hype. It is incredibly drinkable because it effects the mouth in a perfect way while also delivering amazing subtle flavors. Has just outstanding flavors that linger in your mouth. Smooth, refreshing, outstanding.
I would highly highly recommend this to anyone that loves the barleywine style. A highlight of my week so far.
J
1,359 characters
4.62
/5
rDev
+14.6%
look: 4 | smell: 4.5 | taste: 5 | feel: 5 | overall: 4
50 cl bottle shared with Bananamaniac @ Bishops Arms, Karlstad.
Pours a dark brown color with a nice head.
Smell is very interesting and good. Very hoppy, with notes of citrus and grapefruit. Nice.
Taste is bitter and hoppy with lots of citrus fruits and stuff like that. Notes of chocolate and malt can also be found. I also think I can note som nuts. Ends bitter, though I think it was more bitter last winter I had it (well... it's some months ago, so...). Balanced.
Mouthfeel is very outstanding. Very filling in the mouth... pretty smooth.
A very nice beer!
567 characters
4.65
/5
rDev
+15.4%
look: 4.5 | smell: 4.5 | taste: 5 | feel: 4 | overall: 4.5
Pouring this monster into a snifter. It has a beautiful dark ruby brown color with a beautiful light brown head that has settled but is still very thick around the areas of the glass that it is touching.
Floral, lemon grass, dirt, cherries, chocolate and old (which really isn't a smell but I would like a pardon from the jury) comes to the nose. Lots of alcohol lacing here. Yum.
a;lskdjfa;sdlfajk adsf - - Pardon me this thing just exploded in my mouth. WOW! Huge huge alcohol burn on the tongue. Lots of caramel and chocolate lead the way on this bruiser. A ton of hop bite in the form of currants and walnuts in the after taste. It's quite delicious.
It's a little dead in the carbonation department and yet I don't have a problem with that. Sometimes too many bubbles mess with the subtleties of complex beers. This beer doesn't blow me away in the mouthfeel department but it feels good. In the same way you wouldn't turn down sex.
I'm going to drink through this whole 16.9 oz bottle and I'm going to love every moment of it. For me it's quality drinkability.
Thank you Norway for this treat!
1,106 characters

4.65
/5
rDev
+15.4%
look: 4.5 | smell: 4.5 | taste: 4.5 | feel: 5 | overall: 5
Perfect pour here, the beer is a very dark rust red with a creamy slightly off-white head that doesn't really go down, it never seems to move, very cool. Aroma is incredible, big waft of citrusy hops followed by a huge malt flavor, raisins and plums; sweetness like brown sugar and cinnamon. Very thick smell, like a super Bigfoot (another top brew). Taste is sharp and powerful, like a barley wine should; very meaty. It's sort of boozy, lots of raisins and assorted dark fruit, but it all blends so well together. Big citrusy kick from the hops at the end make this an exceptional brew.
Who knew the best American-style barley wine was made in Norway. Top notch brew.
670 characters
4.65
/5
rDev
+15.4%
look: 5 | smell: 5 | taste: 4.5 | feel: 4.5 | overall: 4.5
Been hanging on to this one for several months, and decided to break it out tonight to share with my barleywine-loving friend.
Pours a dense dark brown with ruby highlights when held to the light. Tons of head, as much as you want (that's what she said), that's dense, frothy, light tan, and leaves a beautiful lacing as it drops. Amazing retention for the 10%.
Aroma is of sherry, plum, black currant, licorice, sweet cream, caramel and butter rum, sweet black bread, pine-needle hops, flowers (rose, buttercup, honeysuckle). I had this at 4.5, but I really have to give it a 5. Amazing.
Flavor is much like the nose, with many of the same nuances, but much more harsh bitterness towards the finish... comes in and balances the sweetness very nicely, and overrides at the very end to leave a lingering grapefruit peel/black bread bitterness with pine resin galore. Alcohol comes in just slightly at the end, but far less than you'd expect for 10%.
Mouthfeel is smooth and silky, almost chewy, with medium low carbonation and a warm, bitter-dry finish.
What can I say? I think this is easily the best barleywine I have ever had. Easily. The complexity is unrivaled in the style, and the balance is very well done. Get your hands on this one.
1,246 characters
4.66
/5
rDev
+15.6%
look: 4.5 | smell: 4.75 | taste: 4.75 | feel: 4.5 | overall: 4.5
A: Deep dark chestnut with a 2" tan fluffy foam collar that grips the side of the glass, producing heavy lace.
S: Rich malt, fruit, dark dried fruit.
T: Big malt flavors light caramel sweetness leads to an alcohol aftertaste balancing between the big malt, big hops and alcohol. The malt suggests a malt shiskey character. Traces of chocolate and citrus. Light drying on the finish and a slight astringency from the hops.
F: Very full bodied yet creamy texture with slightly below average carbonation.
O: The big alcohol, malt and hops combine to give this beer a delightful mixed drink quality.
601 characters

4.79
/5
rDev
+18.9%
look: 3.5 | smell: 4.5 | taste: 5 | feel: 5 | overall: 5
Bottle into a snifter. Had it in December 2012.
A - Pours an amber/mahogany color with an small, off-white head with low retention. Leaves a thin topping on the beer.
S - Loads of aromatic hops (floral and herbal). Caramel, toffee, blackberries.
T/M - Aromatic hops dominate up front with a good malt backbone. Caramel, plums, raisins, a hint of diacetyl in the the second third of the palate. Ends with a medium bitterness, some spicy and caramelized notes that linger. Body on the high side. Extremely smooth. Alcohol is well hidden.
O - Amazing beer! Top notch interpretation of the style. Well balanced, and dangerously drinkable. Highly recommended!
658 characters

4.85
/5
rDev
+20.3%
look: 4.5 | smell: 4.5 | taste: 5 | feel: 5 | overall: 5
Snagged a bottle at Belmont Station in Portland Oregon during a recent road trip. Glad I did.
Poured into a snifter. Dark charcoal black with a hint of brown around the side and a nice adequate brown foam head that dissipates quickly. Interesting lace. Not the big layers a splotches but abundantly spotted. Little dots all around the glass.
Rich chocolate and coffee notes throughout. Aroma and taste. Lingering aftertaste leaves a very pleasant mouthfeel to savor.
Will definitely buy this again when I get the chance.
522 characters

4.85
/5
rDev
+20.3%
look: 5 | smell: 5 | taste: 5 | feel: 4.5 | overall: 4.5
Pours a dark brown but sits in the glass as a imperal stout. Has thick pancake-like batter qualities. Lacing is thick and phenomonal, as it coats the whole glass and sticks around...exceptional.
Smells are so so complex. ..Another "5"
Up front are Sweet toasty malts, peppery spices, and some hops. Choclolaty as well.
As I swirl the mysterious brew, I get waifs of roses and herbs. A very bready smell and some wood charachterics...oak.
Where is the alcohol 10% abv?
In the taste department, I would compare this brew mostly to Stone Russian Imperial Stout. But not as thick in the mouthfeel as Stone. This tastes incredible.
Has a nice hop profile. Almost ruins the tounge like a IPA. Very very sweet malts that are sooo roasty and toasty. As the hop bitterness are almost borderline OUT TO SPACE, so is the malt sweetness. This beer is HUGE HUGE HUGE. With the sips, alcohol is present like a barlywine. What is this beer? I would label it a Imperial stout. But without the coffie and expresso many have.
The mouthfeel is thick and the sugars coat everything. I am surprised my teeth are not coated black. I wish this was a bit more creamy and smooth. Still is creamy and smooth but could be a little more. I think the Hops take away the mouthfeel and drinkability one half notch.
This is a HUGE beer. Incredible profiles!!! People always talk of Dark Lord and Westies....I think this is up there in that class.
A bit expensive...but we only live once!
1,463 characters
# 100 from Nøgne Ø - Det Kompromissløse Bryggeri A/S
4.03
out of
5
based on
459
ratings.