Adventurous Brown
| Nøgne Ø - Det Kompromissløse Bryggeri A/S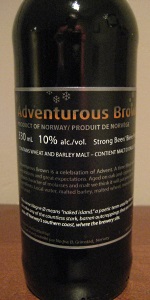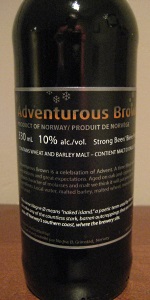 BEER INFO
Brewed by:
Nøgne Ø - Det Kompromissløse Bryggeri A/S
Norway
nogne-o.com
Style:
American Strong Ale
Alcohol by volume (ABV):
10.00%
Availability:
Winter
Notes / Commercial Description:
No notes at this time.
Added by biboergosum on 12-13-2016
HISTOGRAM
Ratings: 10 | Reviews: 6
Reviews by ChrisCage:
4.57
/5
rDev
+12.8%
look: 4 | smell: 4.5 | taste: 4.75 | feel: 4.5 | overall: 4.5
A- Pours an amazing dark brown color that is somewhat muddy in appearance and yeast hazed with a densely packed foam head that starts about 1 finger thick....eventually settling to a thick-ish ring around the glass. Carbonation is too hard to see but I feel it will be smooth and lumbering and the lacing is modest at best with many shapes formed, and then sunk into oblivion!
S- Milk chocolate sweetness......melted chocolate chip as well, oily coffee bean, heavy vanilla caramel/toffee/molasses baking sweetness and upon a delicate swirl, I am picking up Earthy licorice root that is muted and nutty overtones. The finish is cloying, oily and lingering. I think I will like!......
T- Mocha character, buttered rum and nuts, creamy vanilla, yeasty toffee creamer, coffee bean richness.....woody barrel aged notes on the finish that linger....cooked brown sugar and Willow Bark...the finish is clean but then it leaves a lingering sweetness that is also woody and rich.....almost liqueur like.
M/O- Leaning towards a full body and exceptionally well hidden alcohols, this is a creamy, subdued beer with mild carbonation throughout. It will catch up with you if not careful and could be had as a nice dessert brew. I will attempt to seek this one out again and would like to explore more from this brewer
1,311 characters
More User Reviews:
3.99
/5
rDev
-1.5%
look: 4 | smell: 3.75 | taste: 4 | feel: 4 | overall: 4.25
330ml bottle, day 13 of the 2016 Craft BeerAdvent calendar - a big brown ale, aged on oak and cypress.
This beer pours a murky, dark orange-brick brown colour, with a near-teeming tower of puffy, loosely foamy, and bubbly beige head, which leaves some nice thick 'forest for the trees' lace around the glass as it slowly sinks away.
It smells of bready and doughy caramel malt, bittersweet cocoa powder, subtle vanilla-tinged oak, some black orchard fruitiness, thin brown sugar syrup, an estery, woodsy herbal thing, and a sense of foreboding alcohol ingress. The taste is grainy and doughy caramel malt, a bit of biscuity toffee, molasses, coffee-flecked chocolate, an ephemeral oily nuttiness, mild oak notes, more of that herbal and woody essence (which must be the cypress), some dark stone fruit, and a still hovering, but never quite alighting booziness.
The carbonation is fairly understated in its mostly idling frothiness, the body a solid medium-heavy weight, and mostly smooth, but for a bit of herbaly (thanks, Finn!) acridity picking away at my various palates. It finishes well off-dry, the big caramel/toffee malt and exotic brown sugar holding fast, in the face of some lingering herbal and warming alcohol measures.
Overall, this is a rather well-made big boy brown ale, with the wood treatment hardly overbearing, and the wowee sauce quotient respectful enough in its quiet lurking nature. Neat how Nøgne Ø produces another Advent-themed, 20-proof offering (after the God Advent of a couple years ago) that goes down way too easily, and is complex without being complicated. Great stuff.
1,616 characters
3.81
/5
rDev
-5.9%
look: 3.75 | smell: 4 | taste: 3.75 | feel: 3.75 | overall: 3.75

4.14
/5
rDev
+2.2%
look: 3.75 | smell: 4 | taste: 4.25 | feel: 4 | overall: 4.25

4.07
/5
rDev
+0.5%
look: 3.5 | smell: 4 | taste: 4.25 | feel: 4 | overall: 4

4.21
/5
rDev
+4%
look: 4 | smell: 4.25 | taste: 4.25 | feel: 4 | overall: 4.25
330ml bottle poured into tulip 21/6/17
A hazy dark brown, two fingers of tan foam makes a little noise as it falls, leaving just a few random patches
S lots of cocoa powder and brown sugar, earthy spice, molasses, some piney woody notes, nutty chocolate, maybe a hint of fennel
T taste has a little root beer added to the mix, nice mix of sugars, chocolate and woody spice
M thick and creamy from the bubbles, herbaceous finish just keeps going
O no complaints with this one, something a little different and the booze is well hidden
Some winners in the toonie cart at my local, not every beer from last years Advent calender's is past its prime, what a deal
671 characters
3.64
/5
rDev
-10.1%
look: 3.75 | smell: 3.5 | taste: 3.75 | feel: 3.75 | overall: 3.5
Day 12 from the 2016 Craft Beer Advent Calendar.
A one finger caramel coloured head with good lacing. Slightly hazy caramel coloured as well.
Sweet malty scent with maybe a slight pine.
Sweet malts all around with a fairly out front alcohol taste. Getting bit of the oak and cypress but not enough for full enjoyment of those.
somewhat thick in the feel with a slight tingle, coats the tongue pleasantly.
413 characters

4.21
/5
rDev
+4%
look: 3 | smell: 4.5 | taste: 4 | feel: 5 | overall: 4.25
Poured from a 12 oz bottle into a pint glass. L: molasses black. Heavy lacing thin lacing. S: malt, sweet dark molasses. T: peppery, sweet, maltiness. F: thick mouthfeel. Creamy. O: brewed may 19, 2016. Brew dated. Best before may 09, 2021. What a shelf life. It will never last that long. Great beer.
301 characters
4.04
/5
rDev
-0.2%
look: 4 | smell: 4.25 | taste: 4 | feel: 3.75 | overall: 4
3.85
/5
rDev
-4.9%
look: 3.75 | smell: 3.75 | taste: 4 | feel: 3.75 | overall: 3.75
Dark black, rather than "brown" ale. NIce head. Thicker than water, so you know it is on the malty side of things.
A bit sour at first but licorice notes coax out the sweetness of the malt and you get the brown sugar/ molasses hit towards the end.
The alcohol is well disguised; no burning from the 10% ABV here.
Very complex, very nice sipping beer.
350 characters
Adventurous Brown from Nøgne Ø - Det Kompromissløse Bryggeri A/S
Beer rating:
4.05
out of
5
with
10
ratings