Saison
| Nøgne Ø - Det Kompromissløse Bryggeri A/S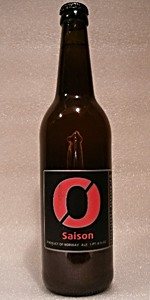 BEER INFO
Brewed by:
Nøgne Ø - Det Kompromissløse Bryggeri A/S
Norway
nogne-o.com
Style:
Saison / Farmhouse Ale
Alcohol by volume (ABV):
6.50%
Availability:
Year-round
Notes / Commercial Description:
14°P, 25 IBU
Ingredients: Wheat and lager malt; East Kent Goldings and Crystal hops; Belgian ale yeast, and our local Grimstad water
Added by Sigmund on 02-08-2006
Reviews: 140 | Ratings: 256

4.2
/5
rDev
+11.4%
look: 4 | smell: 4 | taste: 4.5 | feel: 4 | overall: 4
Mid sized bottle, no freshness nor bottling date info. Pours cloudy dull apricot, light and short lived near white head then leaves very fine, well detailed sticky lacing. Nose is of lightly sugared dried fruits, light honey blossoms and powdered sugar. Subtle, complex and well crafted creation. Light on the spices early and more of a wheaty, yeasty feel to it. Some pepper late, and soft but drying hops. Nicely done, I'm drinking it on a freezing winter day, but I can imagine this would be a nice summer accompaniment to a lazy lunch of salads, cheese, bread etc. No bargain, but worth a try for lovers of the style.
621 characters
3.78
/5
rDev
+0.3%
look: 4 | smell: 3.5 | taste: 4 | feel: 4 | overall: 3.5
Ah hah! So that's how it's pronounced! "NUHN-ye"
Pours a clouded orange with basically no head. Nose is citrus and minor funk, but the citrus reigns supreme here. Flavor is inky. I know I have used the term before, but this tops all others. Calms a bit over time, or maybe I am just used to it. So we're definitely on a more robust edge here with some grass mixed in as well. Hearty. Feel is about standard. The usual slightly thin liquid touch and lower carbonation. This is a decent saison. I wouldn't really compare it to Fantome or any other of my favorites, but it will do.
579 characters

3.94
/5
rDev
+4.5%
look: 3 | smell: 4 | taste: 4 | feel: 4 | overall: 4
Finally made it to Julios Liquors and they have many Nogne offerings. The first I've seen, so I picked up this pint+.9oz saison.
A: cloudy, dark straw with a fairly small white head. Quickly to a ring.
S: Smells like a saison. spices, earthy, barnyard hay. faint hops and a tad fruity
T: yeasty with a bigger malt presence than other saisons. pepper. damn tasty.
M: Fuller in body than some saisons. dry finish with some bitterness. light carbonation
D: nice. refreshing. I like saisons in warmer weather than Boston in February, but it's heft in comparison with others makes it all the more drinkable today.
I've only heard of Nogne O, but now that I have, found a source and tried this great offering I'll return to Julios to explore this brewery further.
763 characters

4.3
/5
rDev
+14.1%
look: 4 | smell: 4 | taste: 4.5 | feel: 4 | overall: 4.5
500mL bottle purchased 2 months ago at Julio's in Westborough.
Poured a golden straw color with a significant head. Smelled wonderful, with plenty of hops and slight citrus. Taste was great as well, a good example of the style. This is a very drinkable beer, I wish I had more...
280 characters

3.9
/5
rDev
+3.4%
look: 4 | smell: 4 | taste: 4 | feel: 3 | overall: 4
Pours with a three-finger thick, pale tan colored head that is made up of a bunch of large bubbled froth. The beer is a hazy, straw gold color. The aroma is an appetizing mix of grain, hops, fruit and yeast character. Aromas of orange zest, herbal nettle, grassy grain, a touch of honey-like malt, soda crackers, sweet ginger and white pepper are all easily noticed. The citrus character is quite pronounced in this beer, and looking at the label this must stem from the use of Crystal hops.
A soft, creamy mouth feel greets me as I take my first sip. A bit of carbonation adds a little zippy tickle and a touch of peppery carbonic acid that does not overcome the creamy mouthfeel. The combination of the creamy mouthfeel and the citrus-like hop notes make me think of orange-cream candies. Substantially malty with flavors of grassy grain, fresh crushed wheat, honey, and a touch of soda crackers in the finish. The beer is fairly sweet, though at times towards the end it dries out with the grassy grain notes, but ultimately the sweet malt is what lingers on in the finish. This lingering, honey like, sweet malt note is joined by a light, but noticeable hop bitterness and a fair amount of citrus hop character. Spicy yeast derived notes provide touches of ginger, a touch of phenolic soaked cotton ball, definite clove, white pepper and a touch of green apple.
Perhaps a bit full bodied, when compared to my ideal of a Saison, but I find the mix of Crystal hops, sweet grain and spicy yeast character to be quite pleasing here. I really like the use of Crystal hops here; sure it is not in the least a traditional Saison hop, but it reminds me of the Saison / American hop brews that I have bee fond of making over the past couple of years.
1,747 characters

4.59
/5
rDev
+21.8%
look: 3 | smell: 4 | taste: 5 | feel: 4.5 | overall: 5
A - One finger of pure, white head dissipates quickly and forms a thin film on top of the hazy, golden body.
S - Spicy, yeasty character. Notes of pepper, lemon and lavender. It took me a long time to identify it, but there is also a strong aroma of chamomile.
T - Hops and alcohol up front. A perfumey lavender note emerges briefly, followed by more pepper and lemon flavors along with just a bit of tropical fruit (guava perhaps). Floral chamomile and grapefruit hop notes are present throughout, but intensify during the finish along with a sharp bitterness.
M - Moderately high carbonation and medium body. The finish is not quite as dry as some other saisons.
D - Extremely drinkable. I have had many beautiful saisons, but this is perhaps the most drinkable. Something about it just demands that I keep drinking. It has excellent hop character and some nice yeast notes. I feel like it is a bit lacking in the fruity esters that I really enjoy in this style, but some fruit character finally emerges as the beer warms. The only major complaint I have is the rather poor head retention. Overall this is a damn good saison.
1,131 characters
3.91
/5
rDev
+3.7%
look: 4.5 | smell: 3.5 | taste: 4 | feel: 4 | overall: 4
Poured into a tulip a nice peachy, gold color. The yeast and wheat character are well apparent. Mildly hoppy. After taste lingers on the tip of the tongue and roof of the mouth. Refreshing and would be a good summer beer choice.
This is not a common style you would think of for a Norwegian brewery, but this is a well-built beer for sure. Nøgne Ø is more known for the darker brews of Porter and Imperial Stout, but this Saison is totally decent.
450 characters
3.93
/5
rDev
+4.2%
look: 4.5 | smell: 4 | taste: 4 | feel: 4 | overall: 3.5
Appearance: pale straw, quite hazy, nice layer of tight-beaded white froth, good head retention
Aroma: orange peel, coriander, chamomile, canned pineapple, blossom honey
Flavor: dry malt profile with a tangy edge; melange of orange peel, coriander, chamomile, and grapefruit rind bitterness; finishes dryish with a lingering acerbic bitterness
Mouthfeel: medium-light body, fluffy carbonation, soft texture, slightly astringent
Other comments: It's amazing how much spice can be churned out by the yeast. There are no added spices, yet those flavors and aromas are there.
575 characters
4.1
/5
rDev
+8.8%
look: 4 | smell: 4 | taste: 4 | feel: 4 | overall: 4.5
Poured from a 16.9oz bottle into a Saison Dupont tumbler.
A: Pours a mellow, light-gold color with a few streams of lazy effervescence. Small 3/4 finger cap of pure white foam. Not too much in the way of lace.
S: Aromas of tart apple and wheat, and pear. Aromatic Belgian yeast, white pepper, coriander, and a slight hint of barnyard funk.
T: Dry wheat, apple, and hops dominate at first. A fruity, peppery, funkiness takes over soon afterwards along with the aforementioned coriander and some citrus-y hops at the finish.
M: Quite full and pleasantly peppery. Hop bitterness from beginning to end.
D: An excellent beer and a great companion to blue corn chips and Trader Joe's Hot! Fresh Salsa.
700 characters

4
/5
rDev
+6.1%
look: 4 | smell: 4 | taste: 4 | feel: 4 | overall: 4
Poured into an oversized wine glass a pale golden with a touch of honey colored hue a thinner but tight formed white head atop.A mix of a aromas slightly funky with a firm toasted wheat component,some residual honey sweetness and orange linger,flavors are a bit phenolic and yeasty at the onset flollowed by some honey-like sweetness and light citrus fruit maybe a touch of pineapple,toasty thruought with a big herbal near medicanal hop finish.A solid saison here no major flaws and not overly "funky" relying more on fruity sweetness and herbal hop.
551 characters
3.53
/5
rDev
-6.4%
look: 4 | smell: 3.5 | taste: 3.5 | feel: 3.5 | overall: 3.5
Pours an opaque, tropical orange. A few bubbles, accompanied by a skim of foam. Not exactly Belgian without a huge head of foam, but nice anyway.
Wheaty aroma, clear presence of Belgian ale yeast. Fairly bland and muted.
Juicy, wheaty flavors, similar to a Witbier. Very dry aftertaste, the hops make their presence known in the finish. East Kent Goldings and Crystal varieties are listed on the bottle. Black pepper and light presence of phenols. Not much of a fruity character as would be expected in a Belgian Saison. Fairly utilitarian, not experimental at all.
Full mouthfeel, alot of yeast. Not enough carbonation. Feels like a stab at an imperial witbier. It's fairly refreshing, but a little to heavy for summertime quaffing. Split the bottle, and it did pair well with a shrimp wonton soup.
804 characters
3.73
/5
rDev
-1.1%
look: 4 | smell: 3.5 | taste: 4 | feel: 3.5 | overall: 3.5
I do not think this is retired, another database glitch. Best Before February 2008, and a fresh bottle right out of Norway. A very good smooth drinking saison, although many would object to the bit of vinegar sourness, well controlled mind you, in the finish. White pepper,good head on golden,spicey. Had a fresh bottle, and with it a nice hoppy finish 6 years later.
367 characters
3.62
/5
rDev
-4%
look: 3.5 | smell: 4 | taste: 3.5 | feel: 3.5 | overall: 3.5
Bottle: Poured a deep peachy color ale with a nice foamy head with average retention. Aroma of ester yeast with some sweet malt and light spices and fruit is quite enjoyable. Taste is mix between some sweet malt with some ester yeast and light spices. I thought the taste might have a been a bit too sweet with no enough floral hops to sustain comparison to some of the great saison out there but it was still very enjoyable and something I would love to drink more often.
472 characters
4.07
/5
rDev
+8%
look: 3.5 | smell: 4 | taste: 4 | feel: 4 | overall: 4.5
Appearance: Same peachy color as the bitter I had just before, if a bit brighter, and the head was more soapy and resilient.
Smell: Quite an interesting yeast profile in the nose, it showed some wet hay, cracked pepper or perhaps sage, lavander and had a sugary, sweet and fresh finish.
Taste: Could have used a bit more spring in the carbonation, but maybe it's just me who's used to Fantomes and the like that almost explode in your mouth. The upside to it is that it pushes the spices (coriander, mostly), yeast and body to the front. The hops didn't need any help at all, the weedyness seized on your tongue a second or two after each sip.
649 characters
3.62
/5
rDev
-4%
look: 3.5 | smell: 4 | taste: 3.5 | feel: 3.5 | overall: 3.5
500 ml bottle, courtesy of "Venner av Nøgne Ø". Like all NØ beers bottle conditioned. This beer has just been released for sale in some pubs, will be for sale in Vinmonopolet stores in May. I might rerate in May, if there is any significant development of the flavour profile by then. Pours (or rather: gushes out of the bottle) with a large white head, beer is hazy pale golden. Very nice fruity (citrus, green apples) and yeasty aroma, hints of spices, oak, leather and barnyard. Flavour is moderately sweet with a distinct spiciness and decent hops. Shouldn't a saison have slightly more acidity? After a light and refreshing start there is a solid wormwood-like bitterness in the finish, not unlike Saison Dupont.
721 characters
Saison from Nøgne Ø - Det Kompromissløse Bryggeri A/S
3.77
out of
5
based on
256
ratings.