God Påske 2008 Vintage
| Nøgne Ø - Det Kompromissløse Bryggeri A/S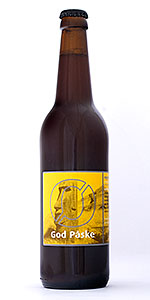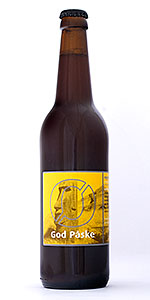 BEER INFO
Brewed by:
Nøgne Ø - Det Kompromissløse Bryggeri A/S
Norway
nogne-o.com
Style:
Belgian Strong Dark Ale
Alcohol by volume (ABV):
7.50%
Availability:
Spring
Notes / Commercial Description:
No notes at this time.
Added by bark on 03-21-2008
This beer is retired; no longer brewed.
HISTOGRAM
Ratings: 12 | Reviews: 11
Reviews by Ljunkan:
4
/5
rDev
+8.7%
look: 4 | smell: 4 | taste: 4 | feel: 4 | overall: 4
Pours a red/brown color with a nice white/beige foam.
Smell is very hoppy in aromatic way. Some belgian yeast notes maybe. A bit spicey.
Taste is first of american hops with lots of grapefruit in it. A typical belgian yeast note makes it self visible. Ends wit a good, balanced bitterness. Could have been a bit more powerful in the taste maybe... Slightly perfume-like, but filling and nice. Maybe needs some more malt to balance it.
Not a typical Belgian strong. It feels very american. At least its filling and nice in the mouth and very drinkable.
554 characters
More User Reviews:
2.7
/5
rDev
-26.6%
look: 2.5 | smell: 2.5 | taste: 3 | feel: 2.5 | overall: 2.5
Bottle: Poured a light clear amber color ale with a medium foamy head with average retention and no lacing. Aroma consists of sweet malt with no discernable spices, hops or any interesting ester. Taste is also dominated by a somewhat bland lightly sweet malt base with not much characteristic discernable. Body is light with some average carbonation and no discernable alcohol. My expectation were quite higher based on previous beer tasting from this brewery.
460 characters

3.95
/5
rDev
+7.3%
look: 4 | smell: 4 | taste: 4 | feel: 3.5 | overall: 4
500 ml bottle, courtesy of Cardinal Pub, Stavanger. 2008 vintage (new recipe, new style, new label). Bottle conditioned, ABV is 7.5%. Cloudy brown colour, huge off-white head. Nice "Belgian" aroma, spices (incl. coriander), yeast and woodwork. The flavour is also spicy / peppery and woody, relatively dry with just a slight fruitiness. Good beer.
347 characters

3.58
/5
rDev
-2.7%
look: 4 | smell: 3.5 | taste: 3.5 | feel: 4 | overall: 3.5
A: The pour is a hazy orange-amber color with a fluffy off-white head.
S: The nose is somewhat sugary and sweet with a fair amount of citrus peel notes (mostly lemons and oranges). There is a hint of yeastiness, too.
T: The flavor has a bit of an old/stale sugar character to it. Primarily sweet with citrus and some very faint bitterness. Again, some more yeasty character to the beer.
M: The body is medium with a moderate amount of carbonation.
D: A fairly easy drinking beer, but a bit underwhelming and uninspiring overall.
532 characters
3.63
/5
rDev
-1.4%
look: 3.5 | smell: 3 | taste: 4 | feel: 4 | overall: 3.5
Chilled 0.5l bottle from batch number 388 poured into a wide opened chalice glass.
Pours a dull copper moving towards dark amber color, almost tea -like. Yields a little over a fingers worth of tan fluffy head that fades off quickly, yet evenly, leaving behind little to no lacing.
Citrus aromas are available but it doesn't come easy. What does come easy though is a tender but robust smell
of dry yeast with malt.
The taste is dynamic and really the highlight of this beer. Fruit bursts forward up front and then a mixture of contrasting herbs complicates it. Yeast and the same dry hops that featured in the aromas also feature.
The mouthfeel is close to perfect. Very well balanced with moderate carbonation, slight viscosity with a smooth flow. Alcohol manages to stay out of the mix or is at the very least barely noticeable. The ale dries away smooth and evenly leaving behind hints fruit and spicy herbs.
A very good offering from Nogne-o. The flavor is close the Belgian offerings but this is perhaps a little smoother.
1,034 characters
3.45
/5
rDev
-6.3%
look: 3.5 | smell: 3.5 | taste: 3.5 | feel: 4 | overall: 3
This year, the Easter beer from Nøgne Ø is a Belgian Strong Dark Ale. My bottle is from batch #331.
The colour is dark amber, the liquid somewhat hazy. The high off white head slowly sinks down to a thick uneven layer. No lacing.
The smell is the expected: Exotic fruits (apple, kiwi, banana peel, apricot, pineapple), robust yeast, herbs and hints of dry malt and smoke. Coherent and well crafted.
The first taste is a little chemical with a note of wax. Then, bitter herbs explode in the mouth together with flavours of yeast and a mild sweetness. Later, the exotic fruits show up too. The aftertaste includes flavours of fruit candy, bitter-dry hops and a very mild note of yeast and minerals (salt).
The carbonation is medium with lots of tiny bubbles. The liquid is smooth and a bit thick.
I did hear a lot of good things regarding this beer, but... It is not one of my favourite styles and an odd choice for an Easter beer. Still it is well crafted and a good representative of the style (even if it reminds me quite a lot of Tripel Karmeliet).
1,070 characters

3.95
/5
rDev
+7.3%
look: 4 | smell: 4 | taste: 4 | feel: 3.5 | overall: 4
Pours a deep earthy red-amber with delicious light beige head fed from a furious stream of carbonation. Nice and dense, sinking very slowly but retaining a nice thick layer of foam with mediocre lacing. Overall though, a pretty fine-looking brew.
Smell is nice and fruity. Very sweet with glacé cherries, raisins and dates, all mingling with a faint musty peppery yeast. Slight whisper of clove and some honey underlying it all. Pretty appealing, good spice to offset the sweetness.
Taste is quite fruity as well, bordering on tart midway. Lots of raisin sweetness with hints of apricot, pear and apple that all feels slightly underripe with a touch of acid late. Gathers more rich, earthy sweetness post-mid with a touch of molasses and a dab with that Belgian yeast-brush (excuse the clumsy metaphor; I'm drinking) that gives mild peppercorn and coriander notes at the end.
This beer is one month past its potential lifespan end and there is a whisper of that stale beer cardboard flavour, but only a faint one; overall this has held up remarkably well. Still loads of complexity, good balance and fine flavours.
Mouthfeel is slightly rough around the edges, but a good sticky body holds it in check. Not bad.
If there's anyone still holding onto a bottle of this, my advice is drink it now, as it's still a very enjoyable drop. I just can't help wondering how great this would have been six or twelve months ago.
1,422 characters
3.68
/5
rDev 0%
look: 4.5 | smell: 4 | taste: 3.5 | feel: 3.5 | overall: 3.5
Happy Easter from 2008. Picked this one up from Platinum Liquor in Bellevue Hill recently, and thought it was worth cracking open to flush the unfortunate Hargreaves Hill Abbey Dubbel from my mind.
Pours an astonishingly bright red colour, almost like dark cherry juice, and brightly clear. Perhaps the other most noticeable thing about the beer is the carbonation, which is vigorous, but forms in tiny streams of bubbles all around the glass. Obviously, the body has a good deal of thickness, so it has trouble pushing through, but it's a fascinating spectacle. Head is fine, just like the carbonation, and forms a pale yellow crown to the beed, almost like the colour of an oily, hoppy IPA. Minimal lacing, but otherwise, a wonderful looking brew.
Nose is rich and sweet, but with a slight wet cardboard oxidised character, which may be explained by the three years of age on it. Still, it's holding up very nicely. Plummy tones, with lightly organic and slightly sharp Belgian phenols coming through, and a pleasant buoyant spice. Gorgeous.
Taste is much thinner, and certainly showing its age here. Light, volatile spice on the front, that disappears almost immediately to a weak, bready yeasty finish. Very thin in the feel, which, if there were richer flavours present would be a pleasant palliative, but which just accentuates the wrecked palate.
Past its prime, which is a shame, because this style brewed at this strength should hold up for quite some time. Still, it's pleasant and mellow, but I suggest it's not going to get any better.
1,551 characters
3.95
/5
rDev
+7.3%
look: 3.5 | smell: 3.5 | taste: 4 | feel: 4 | overall: 4.5
This years version of God Påske from Nøgne is a new recepie and a wee bit stronger than before.
A: Brown-reddish with a small white head.
S: Yeast, Caramel, Fruit, Citric notes.
T: Toffee, Caramel, Spices (pepper?), Banana, Yeast.
M: Medium body but very drinkable. High carbonation.
This is like liquid candy. A very belgian-style beer and somewhat different from Nøgne Ø's other beers. Still, this is a really good beer and well worth trying.
453 characters
3.97
/5
rDev
+7.9%
look: 3.5 | smell: 4 | taste: 4 | feel: 4 | overall: 4
A - Pours a very hazy dark copper colour with 2 centimetres or so of off white head which falls away fairly quicky to a thin whisp.
S - Dark fruit & Belgian yeast spicy esters up front with an underlay of slightly sweet caramel maltiness.
T - Dark fruit and caramel sweetness with a touch of bready maltiness. The Belgian yeast esters come into play towards the back.
M - Medium bodied, fairly high carbonation. Lingering fruity and caramel and spice qualities.
D - A nice complex Belgian ale that is also quite nicely balanced. Not something to down by the pint night after night but once in a while wouldn't be too bad.
621 characters
3.6
/5
rDev
-2.2%
look: 3.5 | smell: 3.5 | taste: 3.5 | feel: 3.5 | overall: 4
Somewhat hazy red amber colour with a small, light tan head.
Moderate, fruity vinous character with plenty of sweet malt. Very bready.
Malty and fruity but without real direction. I get bits of melanoidin as well as strange melon fruits.
Medium-light body with moderately-high carbonation.
This is a decent beer but it doesn't really lick all the boxes for a Belgian style ale. The flavour seems to lack coherence and that lets the beer down.
446 characters
God Påske 2008 Vintage from Nøgne Ø - Det Kompromissløse Bryggeri A/S
Beer rating:
3.68
out of
5
with
12
ratings