Sunturnbrew
| Nøgne Ø - Det Kompromissløse Bryggeri A/S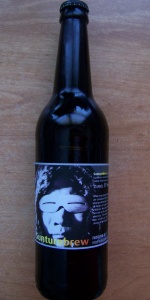 BEER INFO
Brewed by:
Nøgne Ø - Det Kompromissløse Bryggeri A/S
Norway
nogne-o.com
Style:
American Barleywine
Alcohol by volume (ABV):
11.00%
Availability:
Winter
Notes / Commercial Description:
Brewed at the solstice each year since 2008.
This smoked barely wine is brewed with 30% smoked malt and 20% rye.
26° Plato, 50 IBU,
Added by ClockworkOrange on 01-12-2009
Reviews: 131 | Ratings: 241
4.2
/5
rDev
+8.8%
look: 4 | smell: 4 | taste: 4.5 | feel: 4 | overall: 4
Pours a very dark brown, and somewhat viscous with little head. Smells a bit smokey and sweet with a slight herbal bitterness and some dark fruit. The taste is similar. Smokiness and a dry astringency to start followed by a lusher dark fruit melange. A trifle hot, but not much. The smokiness is almost austere, not meaty at all. Instead very dry and leaning toward charcoal. Slightly viscous in the mouth, but very smooth. Quite an interesting beer.
450 characters
3.06
/5
rDev
-20.7%
look: 4 | smell: 3 | taste: 3 | feel: 3 | overall: 3
Reviewed 06/05/2009. Bottle at PPRBSG09. This beer pours a cloudy brown. The aroma is of sweet malt and light smokiness. Flavor of some smoke (more smoke than smoked meat), lots of sweet malt, and iced tea notes. I was excited for this one, but it let me down.
260 characters
4.62
/5
rDev
+19.7%
look: 4.5 | smell: 5 | taste: 4.5 | feel: 4.5 | overall: 4.5
Wow. This beer is the Teets!! Is that Chocolate I smell? Some sort of syrup or molasses?? This flavor dances on my tongue like a lap dance from a gal in Amsterdam... this beer is like a flood of sunlight for months on end as it probably ages wonderfully. Enjoy!
261 characters

4.16
/5
rDev
+7.8%
look: 4.5 | smell: 3.5 | taste: 4.5 | feel: 4.5 | overall: 4
500mL bottle poured into a snifter.
Pours very dark and settles in almost black in the glass with a small creamy light tan head that dissipates to a bubbly ring quickly and leaves good lacing. It shows through as a deep cola brown when held up to the light.
Aroma takes a while to come out as the beer warms and even when it does it's very subdued. It's got a mix of caramel malts, smoke and chocolate that leaves an interesting sweet/smoky aroma in the nose. The rye is evident as it warms and a spiciness makes its way into the mix as well.
First taste is of smoked sausage with lots of sweet caramel malts in the background. The finish is also very smoky and lingers on the palate for ages with a spiciness from the rye which is an interesting combination in the aftertaste.
The mouthfeel is medium to full-bodied and silky smooth, clearly due to the rye presence. The carbonation is moderate but very soft.
Having tasted the sahti this week as well, I can confidently say that Nogne puts out some of the most creative and style-bending beers in the market. The smell was underwhelming but the taste is extremely good and a solid mix of different things that comes together very well.
1,192 characters
3.95
/5
rDev
+2.3%
look: 4 | smell: 4 | taste: 4 | feel: 3.5 | overall: 4
1pt .9oz bottle.
Poured a dark and deep amberish/brown color with a smaller sized off white head. Aromas of roast, toffee, caramel, some chocolate, and some smokiness. Tastes of dark fruits (raisins and plums), caramel, citrus, chocolate, some earthiness and lighter smoke. Sweet and syrupy body with medium alcohol in the finish.
332 characters
4.03
/5
rDev
+4.4%
look: 4.5 | smell: 4 | taste: 4 | feel: 5 | overall: 3.5
Very exciting to try this one! Thanks goes out to Christer, a new friend which I met on a "beer-blogger"-event. Now let's get down to business;
This magnificent smoked barley-wine pours a deep, muddy, amber color with a nice beige/white head. Really cool and quite different look for a barley wine, it was quite dark in the room so it was hard to get a real good look at it.
Sunturnbrew has a really interesting aroma, lots of honey (though I don't know if any is added in the process), but also some smoky notes and some really sweet malts. The hops balances it up really good aswell. It is interesting as said, but slightly anonymous though.
The taste goes on in the same spirit as the aroma. Lots of sweet malts/honey with a smoky aftertaste. There are tons of flavour in this one, but it feels a bit un-mature. Mouthfeel is crazy! Amazing.
A interesting beer to try, and quite exclusive too.
899 characters
Sunturnbrew from Nøgne Ø - Det Kompromissløse Bryggeri A/S
3.86
out of
5
based on
241
ratings.