Citrus Hystrix IPA
| Nøgne Ø - Det Kompromissløse Bryggeri A/S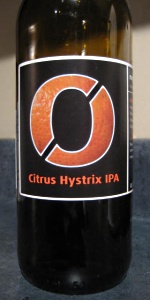 BEER INFO
Brewed by:
Nøgne Ø - Det Kompromissløse Bryggeri A/S
Norway
nogne-o.com
Style:
American IPA
Alcohol by volume (ABV):
7.50%
Availability:
Rotating
Notes / Commercial Description:
Citrus Hystrix IPA from Nøgne Ø is an attempt to put new and wonderful flavours in an IPA. To do this we added rye, oats, kaffir lime and some mandarin juice. Taste profile of this IPA is developed in cooperation with chef Trond Moi.
Added by lacqueredmouse on 02-11-2013
Reviews: 7 | Ratings: 42
4.34
/5
rDev
+18.3%
look: 4.25 | smell: 4 | taste: 4.5 | feel: 4.25 | overall: 4.5
Aroma is yeast, citrus, complex tropical fruit and a hint of hop resin. The flavor is citrus, fruit, grapefruit, light pine needles, hop resin, malts and a very tangy/bitter finish.
181 characters
4.27
/5
rDev
+16.3%
look: 4.75 | smell: 4.5 | taste: 4.25 | feel: 4 | overall: 4
So, I have absolutely no idea what I should classify this as: IBA? IPA? Red Ale? Fruit beer? The reasons will become apparent. According to the label this is "an attempt to put new and wonderful flavours in an IPA", including (but not limited to) kaffir lime and tangerine juice.
With this description in mind, I wasn't expecting the colour of the pour: a deep, dark red colour, possibly even too dark, or at least too opaque for a Red Ale. Head is a shockingly deep dark orange (really, it looks very orange even after the body has drained out of it). Carbonation forms in very fine rivulets up the side of the glass, allowing the head to be very persistent and relatively fine. Lacing is intricate and fine. Overall, I'm confused but very excited.
Nose is more reminiscent of a traditional IPA, but there's quirks here as well. Along with the classic citric hop aroma, there's dark sweet hints of burnt sugar, a jammy marmalade character and a fresh, delicate, slightly herbal character of kaffir lime. It's just a little too sharp and direct to be an American Red, although that's probably where this is trending towards. It's lovely stuff.
Taste again gives a rather silly and twisted view on the world. There's hops aplenty, giving a coating bitterness throughout the palate, mingling with a true citrus/grapefruit bitterness, some oily, herbal notes on the back and an muted clang of spicy malt that ricochets off the bitterness almost to become a smouldering smoky character. It's quirky.
Feel is smooth, but layered with fine carbonation to keep everything alive.
Overall, while this does ostensibly fit into an IPA category, everything about it is weird in someway. If you don't look beyond the surface, it's perhaps a little unsettling, but no more; if you actually try to deconstruct it and figure it out, it's extremely elusive and very strange indeed.
And that's pretty damn good.
1,899 characters
3.93
/5
rDev
+7.1%
look: 4.25 | smell: 3.75 | taste: 4 | feel: 3.75 | overall: 4
500ml bottle. Hmmm...rye, oats, kaffir lime and tangerine juice - those wacky Norwegians! I don't know about the rest of the world, but my label clearly states: I...P...A! And I'm assuming this Trond Moi person has something to do with Norway's version of Top Chef?
This beer pours a hazy dark dishwater orange/amber hue, with four fingers of superfluously foamy, puffy, and yet still thin beige head, which leaves some decent linked island lace around the glass as it quite slowly sinks out of sight.
It smells of bready, biscuity, mildly spicy grainy malt, sharp orange and yes, I know - an indeterminate citrus bitterness, further tame herbal hop notes, and a faint hint of booze astringency. The taste is edgily dry, grainy, bready malt, a subtle herbal spiciness, warm tropical orange and acerbic lime rind, and an increasingly forward alcohol warming.
The bubbles are generally quite subdued, and not really in play, the body a decent medium weight, mostly smooth, with just a slight twinge of those now fervently pithy hops. It finishes off-dry, the fleshy, multi-faceted citrus, lingering spicy malt, and loitering alcohol meshing in a sort of newbie, first attempt sort of way,.
A decent enough base IPA, I have to surmise, with the attendant side-steps in yin and yang adjuncts doing well to integrate themselves. By the strictest measure, this went down rather well, to the extent that I was agog when tipping the empty bottle for the last time. That says enough, methinks.
1,488 characters
3.74
/5
rDev
+1.9%
look: 3.5 | smell: 3.75 | taste: 3.75 | feel: 3.75 | overall: 3.75
A: Pours a hazy brown with a small amount of off-white head. Some film retains, along with a ring around the edge of the glass, leaving a few splotches of lacing.
S: Sweet fruit and citrus; while the hops are certainly noticeable, the malt backbone seems stronger. I wouldn't expect this to be an IPA based on the smell.
T: Also primarily sweet, with a good balancing hop flavor. Again, though, it's not as hoppy as you'd expect an IPA to be; it's more of an American style strong ale.
M: Medium to full body, medium carbonation.
Overall, quite good, but not really what I'd call an IPA. It's dark and sweet and not that hoppy for a modern American style craft beer. It's tasty though.
689 characters
3.64
/5
rDev
-0.8%
look: 4.25 | smell: 4 | taste: 3.5 | feel: 3.25 | overall: 3.5
Served in a footed glass at the Mikkeller Bar in SF. From notes. Reviewed 9 November 2013.
A: Red and deep with a finger of head. Hazy-auburn.
S: Raw pine cone. Rank citrus.
T/M: This is an interesting beer, mostly because of the wild, crazy-sour yeast. It works. But barely. If this were a railroad gauge, it would be problematic.
O: A beer that is hoppy and fruity and sweet. Sort of a fan.
396 characters
3.03
/5
rDev
-17.4%
look: 3.25 | smell: 3.25 | taste: 3 | feel: 2.5 | overall: 3
Bottle: Poured a hazy burgundy color ale with a medium size foamy head with good retention and some lacing. Aroma of spicy rye notes with some caramel malt, some spices and light citrus hoppy notes. Taste is a kitchen sink type mix of spicy rye notes with some caramel malt and some citrus hops notes. The tangerine juice was hard to detect and didn't play an important role. Body was full with good carbonation and no apparent alcohol. There is a lot going on with this beer and probably too much at the end of the day for my taste buds.
540 characters

2.52
/5
rDev
-31.3%
look: 2 | smell: 2.5 | taste: 2.5 | feel: 3 | overall: 2.5
I sincerely hope this was just a bad/old bottle. It was the ugliest looking IPA I have ever seen. There was zero hop character in the nose or the flavor. It was loaded with sweet malts and only a vague hint of bergamot and citrus.
230 characters
Citrus Hystrix IPA from Nøgne Ø - Det Kompromissløse Bryggeri A/S
3.67
out of
5
based on
42
ratings.