Premium Pale Ale
| Amarcord Birra Artigianale Italiana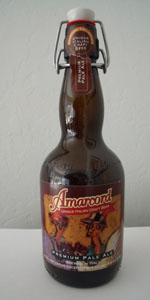 BEER INFO
Brewed by:
Amarcord Birra Artigianale Italiana
Italy
amarcord.it
Style:
English Pale Ale
Alcohol by volume (ABV):
6.50%
Availability:
Year-round
Notes / Commercial Description:
No notes at this time.
Added by flexabull on 08-05-2010
Ratings: 6 | Reviews: 5
Reviews by 4000qtrap:

3.87
/5
rDev
+9%
look: 3.5 | smell: 4 | taste: 4 | feel: 3 | overall: 4
Source/Serving: 500mL bottle
S: Fruity maltiness, raisin with a hint of pear, plum, and fresh apricot. Crust of brown bread comes through as well once you acclimate. The heavy sweetness is brightened by a wiff of sour plum acidity, herbal hoppiness, and even a touch of alcohol surprisingly shows itself.
T: Very sweet, not an 'Americanized' bitter pale ale at all. Moderately complex, sweet fruity malts, like the nose. Pear, apple, raisin, plum and overall, I'll mention it again, very sweet. But pleasantly so and I naturally embrace it rather than run from it. Brown bread (and associated crust) comes through in the background adding malts on top of malt. Doppelbock sweet doesn't quite convey the sweetness. The middle balances the sweetness with playful acidity (again that sour plum note) and no more than an homage of bitterness, still pretty darn sweet with similar malt character but I do like the sweet/ gentle sour character. Body is quite moderately heavy. Hop character is essentially absent until the finish where just a touch of herbal flavor comes underneath a heavy helping of continued sweet (+a touch of sour) maltiness.
Notes: Nice complex malt character with a sweet/sour play but sweetness very far out of balance for a typical pale ale. Reminiscent of plum sauce. Since its Italian I'll give them that though. Comes across more as an ale mashed with doppelbock malt characteristics, though. While almost cloying sweet, because of that very pleasant sweet/sour interplay this grows on me as I drink it and its more drinkable than I'd expect based on the overall flavor profile. Unexpected depth.
1,622 characters
More User Reviews:
3.4
/5
rDev
-4.2%
look: 4 | smell: 4 | taste: 3 | feel: 3 | overall: 3.5
Ok, not totally sure where to put this beer. I think I have the right brewery, but it appears that they are now brewing this in Rimini Italy. The bottle just says "Premium Pale Ale" so I put it under the English Style, which I am guessing it will be close too.
On to the beer...
Pours a bright amber color, pretty color with a pretty nice white head.
Aromas are definitely similar to the English Style, brewed tea, caramel, hints of bread dough, and some mineral like hops as well.
Flavors are pretty subtle, and not bad. Comes off with hints of bread dough, light spices, some creaminess, and some brewed tea. Finish is crisp, but short, with some earthy hop notes.
Mouthfeel fades to much at the finish, it's ok, but seems too light.
Drinkability is decent. Not a half bad Pale Ale. Happy I tried it, especially since I get to keep the cool flip top bottle that it came in.
893 characters

3.12
/5
rDev
-12.1%
look: 4.5 | smell: 2.5 | taste: 3 | feel: 3.5 | overall: 3.5
Poured into 10oz glass. Poured a very pretty honey-amber color with a very tall, fluffy khaki head that great retention and no lacing.
The aroma was a very nice, slightly sweet, solidly grainy with a nice, gentle amount of hops. The taste was very similar. Malty, grainy, a bit sweet and gently hopped.
The body was very very good. Full, well-rounded, smooth and tongue coating, with out being sticky. Drinkability was very good, I could easily have a few of these. Overall, a very nice easy-drinking beer. Worth trying if you see it.
536 characters

3.83
/5
rDev
+7.9%
look: 4 | smell: 3.5 | taste: 4 | feel: 3.5 | overall: 4
Picked this up at Cost Plus, was a bit worried but surprised with both the beer and the location, seems Cost Plus has stepped it up in the beer selection, even for a warm shelf. Was expecting a stale malty brew, actually got a somewhat refreshing pale malty beer, not half bad in the taste, and fairly drinkable. Had one of these in Florence a few years ago, and this seems to be pretty spot on.
395 characters

3.62
/5
rDev
+2%
look: 3.5 | smell: 4 | taste: 3.5 | feel: 3.5 | overall: 3.5
I wasn't sure what to expect with this, but it is actually a fairly good, if rather heavy and simple English ESB/pale ale-type.
Clean, pale brownish copper, med. pale tan head steadily shrinking to foamy ring.
Aroma is lots of toasty bread with fruit, raisin and faint hints of wood, bark, leaves. It's good and definitely has a bit of an English element.
Taste is very fruity with faintly sweet-sour plum and pear up front, then a light caramelly barley and light leafy-fruity character takes over. The aftertaste leans lightly to toasted barley. Sweet & bitter are pretty well balanced. The feels is a bit frothy yet seems a bit to the flatter, thinner side. The character and feel are a bit heavy and a bit flat, lacking complexity while alcoholic strength is slightly noticeable.
786 characters
Premium Pale Ale from Amarcord Birra Artigianale Italiana
3.55
out of
5
based on
6
ratings.