Old Chicago - Market St.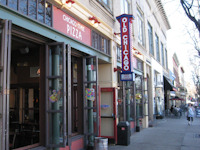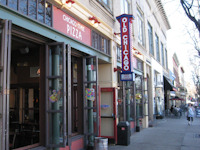 PLACE INFO
Type:
Bar, Eatery
1415 Market St
Denver
,
Colorado
, 80202-1706
United States
(303) 893-1806
// CLOSED //
Notes:
No notes at this time.
Added by BeerAdvocate
PLACE STATS
Reviews:

10

Ratings:

pDev:

7.86%
HISTOGRAM
Ratings: 12 | Reviews: 10
Reviews by Domingo:

3.98
/5
rDev
+7.9%
vibe: 3 | quality: 4 | service: 4 | selection: 4.5 | food: 3.5
While this is a review for the downtown Denver Old Chicago, you'll find that all of the suburban locations in the metro area will have the same overall beer list, although the "beer of the week" selections vary by location. From what I've read on this site, the beer selection at many other Old Chicago locations can be MUCH worse than these, so beware.
This location is off of Market street, and is more or less the "gateway to LoDo." It's a dark bar area...not the most exiting spot in the main room, however the room facing the street is well lit and for most of the year, the patio area outside is a good option.
Food is good - not great, but good. It's not what you think of as "Chicago" pizza (in spite of them using the proper pans), but it's still pretty tasty. Calzones, sanwiches, and appetizers are all decent, too. I think the pizza is the star when it comes to food as everything else is pretty typical Fridays/Chilis/Etc. fare.
The beer selection is why you're going to want to hit up Old C's, though.
You'll find AT LEAST 100 selections available at each location including at least 7-8 beers on the BA top 100 list and half of the list is scoring a 3.5 or better.
Most locations have 20 or more draft taps including some rare and wonderful items like Stone Imperial Stout and Great Divide Oak Aged Yeti.
They also carry all the typical domestic and imported macros for your non-BA friends, too.
I recommend splitting a pizza among friends and exploring the local faves and shockingly excellent German brew selections.
___
Recent 2006/2007 Edit:
Old Chicago has revamped their menu and they scrapped nearly every offering over 7% and pretty much any less than super common import. They still have a good "small" craft beer selection from the US, but if you were going there for imports or really big beers, you're best off making sure they'll have what you want first. They're good about carrying good seasonals, but their day to day offerings have become really pedestrian. Here's hoping they'll go back to what made them good. If not, there are a million places you can go instead.
2,102 characters
More User Reviews:


3.63
/5
rDev
-1.6%
vibe: 3.5 | quality: 4 | service: 3 | selection: 3.5 | food: 4.5
Transcribed from extensive notes dated Sa, 01 Aug 2009.
I know that many pooh-pooh this chain, but not me. I would love to see one in Lancaster's Park City Mall, especially now that Damon's has closed.
In this case, I was coming in at the tail end of the Red, White and Brew Mini-Tour, so it meant that I would be visiting on three consecutive days in order to get the t-shirt. I know, shallow, right? I receive their E-mails and this was the first Mini-Tour that had held any appeal in a while, plus who does not like a free T-shirt?
Location is everything, so let me begin by telling you that they are located at the corner of 14th Street and Market and the interior is aligned southeast along 14th St. They had a long windowfront overhung with an awning and the entry was on the west end of the building with an outdoor patio along the the east end. The entry began with a double-doored vestibule that opened onto the m.d.s. to the immediate right. On the immediate buttonhook-left were a group of high tables and stools. Further aft, still left, was the long, "U"-shaped blonde wood-topped bar. The back bar consisted of the bank of thirty-five CO2 taps and one N2 tap (Guinness, natch) flanked by two three-door coolers. Even further aft, still left, was a mini-gaming area with Pop-It Basketball, electronic Golf, and a Shuffleboard table. All of the way aft on the left side were the lavs. To the right of the bar were a series of high tables and stools followed by series of booths to separate the bar area from the restaurant area on the right side of the space. Just past the booths was the kitchen. On the restaurant side, it was a sea of standard restaurant tables and chairs plus booth seating.
Food: One thing that I would defy anyone to dun this chain on is its food. I had the Calabrese Chicken on my first visit and the Fisherman's Catch basket on my second visit. The former was filling, but the latter was phenomenal! Six of the tenderest shrimp I have ever eaten, plus two pieces of fish, a choice of regular or Balsamic fries (I had the latter) and some really colorful cole slaw (red peppers and carrots to offset the light green). Heavenly!
Service: A mixed bag. The first night's maitre d' was very helpful and allowed me to stow my suitcase under the bench behind his podium. The server, however, was an overly familiar young fellow who seemed to think that we were in the Old West, employing the Slam 'n' Slide method of beer delivery. I really dislike having my beer slammed down in front of me if I am awake and cognizant. Save that action for when I am on the nod, just before you flag me. The second day was much more mellow and helpful with the server giving me a list of the Mini-Tour beers and generally being unobtrusive, despite it being a slow afternoon. Later, the bar manager put the Pirates game on for me via satellite.
Beer: Come on, in that kind of selection, you must be able to find something that you like. Sure there are a lot of pedestrian BMC macroswill on the list, but there are plenty of local beers also.
3,062 characters

4.03
/5
rDev
+9.2%
vibe: 4 | quality: 4 | service: 4.5 | selection: 4 | food: 3
From my notes from the Saturday of the GABF 2009:
After the the Saturday afternoon GABF, a buddy of mine and I went to this Old Chicago. As usual, a ton of taps that OCs are known for. Most are midland beers that didn't stand out to me as must tries. I picked one of the rarer brews that I knew I wouldn't be able to sample easily....Stones's Vertical Epic 09-09-09. I thought it was good but not worthy of the price I paid for the pint. I still enjoyed it.
The food is typical Old Chicago. Some decent offerings but, imho, a bit over priced. I settled for a burger and it was ok. It went well with the Stone. The service we had *was* very good.
I'll always give the ok reference for visiting Old Chicagos but the one's I've visited in WY and CO are more of a quantity over quality issue.
791 characters
3.48
/5
rDev
-5.7%
vibe: 4 | quality: 3.5 | service: 3 | selection: 3.5 | food: 4
Stopped here on our second day in Denver, the downtown location on Market St., seemed to be a few of these around the city, also saw one in Boulder, wanted to grab a quick bite and got a pepperoni pizza which was quite good, watched the Bulls and Celtics game in here while having a few pints, they have a nice happy hour as well, waiters were pretty nice but did not come around much at all, this place had a good amount of taps including some stuff from Tommyknocker, Boulevard, New Belgium, Oskar Blues, and Left Hand, mostly Colorado stuff on tap, prices were average, best thing they had at the time I was there was the Oak Aged Espresso Yeti from Great Divide, I would go back here but not necessarily for the beer, decent beer and pizza combo in a city full of great beer
778 characters
4.33
/5
rDev
+17.3%
vibe: 4.5 | quality: 4.5 | service: 4 | selection: 4.5 | food: 4
I have visited several times. My wife and I always visit at least once during our annual pilgrimage to the Great American Beer Festival. Not a bad walk from the Convention Center after sampling several tasty brews at the GABF.
Service is usually good. Nice selection of tasty Front Range beers. Food is predictable, and better than other tap rooms in downtown Denver. Great way to add a few numbers to your World Beer Tour card if you aren't from Denver.
Though I usually sit at the bar, there is sidewalk seating.
517 characters
3.5
/5
rDev
-5.1%
vibe: 4 | quality: 4 | service: 3 | selection: 3 | food: 4
Decent enough place, typical Old Chicago.
Occasionally hard to get a table, but why not sit at the bar anyway.
I never understand how so much of what numbers-wise is an awesome selection could be so bad. They could get rid of way over half the beers here and I wouldn't miss them. At least the breweries available to them are a little better than what I've got at home.
typical good, not spectacular food. Dig the stromboli - all of them, and particularly like the italian melt sandwich.
Can't say that I've ever been impressed with the pizza in any Old Chicago, especially that served at lunchtime for those that have lunch buffets. I like quality toppings and lots of them; here I have been lucky to get one of the two.
Can't say a lot about table service - reasonably fast, a few mistakes here and there, usually quick to fix an error. The mini-tours are usually full of stuff I don't want to drink, but occasionally I find a server who will substitute for me - in that case, sure, I could use a 347th T-shirt!
Decent enough place that I go to when it's handy. There are better options in this town.
1,106 characters

3.9
/5
rDev
+5.7%
vibe: 3.5 | quality: 4 | service: 4 | selection: 4 | food: 3.5
Another place I found courtesy of BeerFly.
Stopped in for lunch and a drink on a Monday afternoon. Jusy missed the lunch rush (about 1:30) so the place was quiet.
I sat at the bar, not restaurant section, and was the only person on that side for most of the time. Typical sports bar atmosphere with lots of TVs behind the bar. Pretty impressive wall of taps and a proper beer menu. Several seasonals were pointed out by the bartender. Sure there were lots of macros, but still lots of locals, and smaller breweries represented. Full selection of bottles as well. Service was attentitive without being pushy, with good recommendations and general beer small talk.
I tried the Avery Gemini IPA - a fairly new seasonal, and Left HAnd Milk Stout. Both new beers to me.
Had the platter with pepperoni rolls, nachos and cheese toast. Good, not great, but as expected.
Some seasonals/specialty beers were a bit pricey but not unreasonable.
Maybe not the best place, but still miles ahead of what is available locally for me.
1,017 characters
3.2
/5
rDev
-13.3%
vibe: 3 | quality: 3.5 | service: 3 | selection: 3 | food: 3.5
I went into this place looking for good local beers that don't show up in the Midwest and they had a few interesting beers and a lot of run of the mill beers. It is a long dim lit bar with coolers behind it and a good number of tables and booths filling in the rest of the room. I asked what was new by New Belgian and the bartender told me to try Springboard, which was a 8 %ABV spring beer. It was an okay beer but I found out on BA it is not quite 8%, but more like 4%.
They have a wall of taps behind the bar, which was easier to use than the menu which had several beers labeled as seasonal from X brewery. That didn't help decided, and there was no list of seasonals. I was hoping for a few big beers, but they didn't really have anything that wasn't sold in a pint glass. I would only go back if it was a friend's choice but it wouldn't be mine.
858 characters
3.8
/5
rDev
+3%
vibe: 3.5 | quality: 3.5 | service: 3.5 | selection: 4.5 | food: 4
Ok, everybody's been to an Old Chicago, but I thought I'd give it my 2 cents.
This one is located in LoDo (lower downtown) Denver and a bit crowded. it's a good place to start out if partying/relaxing downtown.
Food is typical; pizza, pasta, burgers, 'Italian' specials.
I was there for the beer. I go to Old Chicago's to try beers I can't find easily anywhere else. A great selection (some macro-brews though, but you can't please everyone) of brews. I had a Stone Levitation and a Chimay Red label. then I was off to the other attraction of LoDo
550 characters
3.8
/5
rDev
+3%
vibe: 3.5 | quality: 3.5 | service: 4 | selection: 4 | food: 4
The downtown Old Chicago is predictably decent -- plenty of pretty crappy beers, several decent ones and a few really good ones, with a mix of what's on tap and in bottles. We in Colorado are pretty fortunate to have a large number of well-above average microbreweries near at hand, so the selection at the location is probabaly above average as well.
The food is standard pub grub with Old Chicago's usual rather pedestrian pizza offerings, but the portions are outrageously huge.
All in all, better than what I've experienced at other OC locations, but nothing to write home about when it comes to the beer selections, certainly nothing like you'll find five blocks away at Falling Rock Tap House.
705 characters
Old Chicago - Market St. in Denver, CO
Place rating:
3.69
out of
5
with
12
ratings