Guzzler
| York Brewery Company Limited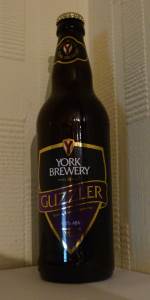 BEER INFO
Brewed by:
York Brewery Company Limited
England
,
United Kingdom
yorkbrew.co.uk
Style:
English Bitter
Alcohol by volume (ABV):
3.60%
Availability:
Year-round
Notes / Commercial Description:
No notes at this time.
Added by BeerAdvocate on 03-01-2005
Reviews: 9 | Ratings: 15

4.07
/5
rDev
+15.6%
look: 3.25 | smell: 4.25 | taste: 4 | feel: 4 | overall: 4.25
500ml bottle poured into a regular pint glass
Look: Pale amber with an off-white head that disappeared to almost nothing shortly after pouring. The end result looked a bit like a pint of flat lager ... a few desultory bits of foam were hanging on for dear life round the edge of the glass.
Smell: Even coming out of the bottle there was a mixture of pine resin and citrus fruit - York Brewery are known for adding hops by the truckload to their beers and this one doesn't disappoint. It smells better than it looks.
Taste: If you're expecting a hop bomb then you're going to be disappointed - despite the relative lack of malt notes in the smell, it's definitely there in the taste. This gives way to some nice, dry hoppy bitterness with hints of pine and citrus. Oddly, for a bitter, it has a slightly sweet tang to it too, which helps to accentuate the fruitiness.
Feel: Not at all bad despite looking like a flat, slightly darker than usual lager. Despite the hoppiness on the nose it's a surprisingly smooth feeling pint.
Overall: It took me a while to get used to York Brewery's output, largely because my preferences tended towards the malty end of the spectrum and I found a lot of their beers to be oppressively hoppy. Times and tastes change, of course, and both Guzzler and Terrier are fairly ubiquitous in York's pubs. Admittedly, I prefer my bitters to be a bit darker and fuller but as session beers go you can't really go wrong with Guzzler. Next time I'll try it on tap ...
Finally, the bottled beer is 4.0% ABV - not sure if the draught is the advertised 3.6% though.
1,589 characters
3.46
/5
rDev
-1.7%
look: 4.25 | smell: 3.25 | taste: 3.5 | feel: 3.75 | overall: 3.25
Pint on Cask at Guy Fawkes Inn, York, England (£2.80):
Clear amber with a thin, creamy white head on top & sits about a quarter cm tall.
Mild on the nose with some bitterness and a few fruity notes that included some citrus. I could detect a little biscuit and a faint malt aroma as well. Not bad and pretty standard for the style.
Biscuit malts and some bitterness with a light citrus flavour start things off. I got a few earthy hops as well plus a slightly sweet taste coupled with some bread and various fruits, most notably some orange.
Smooth with a medium and creamy body that came with low carbonation and a slight tang from the citrus plus a little sweetness. Overall the palate was quite dry.
A decent cask ale although the low carbonation made it seem flat in places but the flavours coming through made up for this some. I wouldn't mind picking up a bottle of it at some point in the future if I get the chance.
928 characters
3.38
/5
rDev
-4%
look: 3.5 | smell: 3 | taste: 3.5 | feel: 3.5 | overall: 3.5
Three hand-pulled pints in Restroom Number 2 on Cleethorpes railway station: 10th Nov 2012, just before going to watch The Town win 5-1.
Golden to copper in colour with a good full white head sat on top.
Slightly more malts than hops in both the nose and taste: nice blend of flavours and easy to drink. The barrel had only just gone on and my first pint was also the first out of the barrel: so fresh and 'spritzy' it certainly was, as were the next two pints I had.
Another easy drinking beer from this brewery: visited it a couple of years back, recommend anyone does the same if they can.
595 characters
3.65
/5
rDev
+3.7%
look: 3.5 | smell: 3.5 | taste: 3.5 | feel: 4 | overall: 4
Golden in colour with a thin white head. Starts of slightly cloud and settles nicely.
Light, fruity hops, yeast and creamy malt in the scent. Suggestions of fresh bread and toffee, with a light buttery character.
The hop taste is a bit crisper, and the malts are nicely yeasty and bready.
Smooth, very light carbonation. Nice low ABV makes this a great session ale.
368 characters
3.6
/5
rDev
+2.3%
look: 3.5 | smell: 3.5 | taste: 3.5 | feel: 3.5 | overall: 4
Cask at the Yorkshire Terrier pub, York, June 2010... pint served at cellar temperature...
Poured a light coppery orange colour... Slightly off white head poured quite thick and foamy then faded to light layer... light lacing
Aroma - Light caramel malts, nice biscuity notes, fruity (oranges, apples, light figs), buttery, light nuttiness, some light fruity hops, faint rubberiness...
Taste - Nice spicy and herbal hop bitterness, light biscuity malts, grassy, some grapefruit notes, citrus (lemon) fruits, light saltiness..
Feel - Quite smooth initially but with a little sharpness underneath. Light bodied. Pretty drinkable - would make a pretty good session beer at only 3.6%...
Overall - A pretty good beer... nothing ground breaking but very drinkable... worth a try...
779 characters
3.5
/5
rDev
-0.6%
look: 3.5 | smell: 3.5 | taste: 3.5 | feel: 3.5 | overall: 3.5
One thing that consistenly amazes me about English real ales are the complexity of flavors possible in low abv brews! It shouldn't as I homebrew, but it does. One positive is that it makes one appreciate that a beer doesn't have to be 20% abv and brewed with esoteric bs ingrediants to be good...
On cask this ale has a medium gold color that was topped by a solid white head. As I drank it, lace adorned both sides of the glass. The aroma had a slight hint of citrus hoppiness on top but malt mostly dominated but not in a bad way.
532 characters
4.18
/5
rDev
+18.8%
look: 4.5 | smell: 4 | taste: 4 | feel: 4.5 | overall: 4.5
This nice cask ale is a medium gold color that was topped by a solid white head, sticky sheets of decorative lace adorned both sides of the glass. Aroma was accented by a slight hint of citrus on top of the grainy malt. Taste was of fruity hoppiness with some grapefruit notes and I thought I detected a bit of lime. Creamy mouthfeel and quite full bodied for a less than 4% ale. Nice refreshing and drinkable. My affair with cask continues.
441 characters
3.02
/5
rDev
-14.2%
look: 2.5 | smell: 3 | taste: 3 | feel: 2.5 | overall: 3.5
A: Pale orangish yellow with a thin layer of foam that lasted most of the beer.
S:Mild aroma with a small hint of hops
T:The taste was a little on the weak side, a little bitter in the after taste, but no off flavors.
M: light bodied
D: Good session beer, could drink more then one, but would like a little more flavor.
324 characters
3.11
/5
rDev
-11.6%
look: 4 | smell: 3 | taste: 3 | feel: 3.5 | overall: 3
Tasted by half-pint at my local JDW pub, the Half Moon, East End London.
A: pale straw colour, coming with a thin froth with good retention which leaves very tight sheets of lacing as it retreats.
S: very mild, semi-sweet citric hoppyness dominates the theme, while the malty entry is extremely restrained... lively enough, but in need of something else... my brain cries out.
T: the flavour is pretty "neutral" initially, then a flow of citric/lemon-zesty hops expands, leading through to a mildly bitter aftertaste with a grassy touch and malty base.
M&D: very refreshing and light-bodied, this is an easy-drinking summer ale/"blond ale". O.K. beer.
657 characters
Guzzler from York Brewery Company Limited
3.52
out of
5
based on
15
ratings.