Calico Jack

Olde Hickory Brewery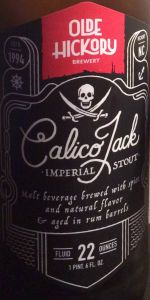 Write a Review
Beer Geek Stats:
| Print Shelf Talker
Style:

ABV:

9.5%

Score:

93

Avg:

4.26

| pDev:

6.34%

Reviews:

13

Ratings:

From:

Avail:

Retired (no longer brewed)

Wants

Gots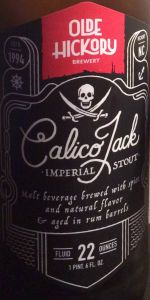 Notes: A Caribbean inspired mix of spice and flavor, combined with rich roasted malts, make this a complex and intense brew. Aged in rum barrels.

Brewed with spice and natural flavor.

Treyliff from West Virginia
4.31
/5
rDev
+1.2%
look: 4 | smell: 4.25 | taste: 4.5 | feel: 4 | overall: 4.25
22oz bottle poured into a tulip
Bottled 9/18/15
A- pours a deep black color with a small fosynwhali head that reduces to a ring around the edge
S- smells of dark malt, chocolate, black strap molasses, rum barrel, ginger, cinnamon and pepper
T- dark roasted malt and chocolate up front, followed by molasses, fig and plenty of rum barrel. The finish is spicy with more rum on the finish, with a linger of peppers.
M- medium body with low carbonation leads to a foamy mouthfeel as a warming pepper finish
O- a great mix of sweet and spicy with plenty of rum barrel
Sep 07, 2017
brentk56 from North Carolina
4.27
/5
rDev
+0.2%
look: 4 | smell: 4.5 | taste: 4.25 | feel: 4 | overall: 4.25
Appearance: The fudge brown pour is capped by a rocky tan head; decent stickage and leggy lacing
Smell: Chocolate, oats, vanilla, coconut and faint caramel; many of those tones come from the Rum barrel
Taste: Chocolate forward, with vanilla and coconut tones developing; the Rum makes a bigger impression, through the middle, when the cayenne pepper arrives; the finish is a nice blend of the flavors, with the cayenne adding heat
Mouthfeel: Full bodied with low to moderate carbonation
Overall: Almost two years in the bottle and this one is holding up very nicely
Jun 30, 2017

cardsfan from North Carolina
4.69
/5
rDev
+10.1%
look: 4.75 | smell: 5 | taste: 4.5 | feel: 4.5 | overall: 4.75
Wow, Olde Hickory knocks another one out of the park. I was so excited about this beer and it didn't disappoint! Color is dark as night...right there with Event horizon and lindley. Just a little bit of head. Smell is sweet rum, a little pepper and bourbon (even though it's not in there!). Taste is great..a little smokey but great vanilla and rum sweetness followed by good and not overpowering pepper burn. Feel is probably the only knock on this one but still to notch.
Mar 04, 2016
stakem from Pennsylvania
3.93
/5
rDev
-7.7%
look: 4 | smell: 4 | taste: 4 | feel: 3.75 | overall: 3.75
Thanks Kirb/Jarad for the share. Bomber poured into a snifter, the brew appears black in color with dark brown cap that fades leaving stringy lace.
The aroma is roasty with some bakers chocolate, earth and vanilla. The taste is bitter and earthen with chocolate, char, tobacco and peppery spice/warmth.
This is medium in body with light carbonation. A pleasant spicy sipper.
Feb 23, 2016

IMFletcher from Kentucky
4.34
/5
rDev
+1.9%
look: 4 | smell: 4.25 | taste: 4.5 | feel: 4.25 | overall: 4.25
Bottle pour into a taster (6Feb15) at a share. Warm inviting spices on the nose, well rounded rum spices without peppery heat, with one of the better finishes of a rum barrel beer I've had, never feeling too thin.
Feb 07, 2016

jzeilinger from Pennsylvania
4.28
/5
rDev
+0.5%
look: 4 | smell: 4 | taste: 4.5 | feel: 4.25 | overall: 4.25
A - Very dark and black in color, micro-thin lacing ring, very viscous and nice legs when the glass is swirled.
S - Toffee, caramel, cocoa and cocoa powder, faint butterscotch.
T - Chocolate, cocoa powder, cream, toffee, some oak, and there's some burn on the way down.
M - Heavy, thick, viscous, slick.
O - This is an enjoyable stout!
Jan 28, 2016

Eamonn-Cummings3 from New York
4.44
/5
rDev
+4.2%
look: 4.5 | smell: 4.25 | taste: 4.5 | feel: 4.5 | overall: 4.5
Poured from a 22oz bomber into a Speiglau Stout Glass.
look is pitch black almost no highlights and little to no head.
Lots of thick roasted malt on the nose. Vanilla notes and rich spice also play in the smell.
Flavor is roasted malt with lots of vanilla and a spiced rum after taste that mellows out as you drink.
Wonderful beer.
Dec 12, 2015

Mantooth from North Carolina
4.56
/5
rDev
+7%
look: 4.25 | smell: 4.5 | taste: 4.75 | feel: 4.25 | overall: 4.5
Poured from a 22 ounce bottle into an Omega Point glass @ room temperature.
Pours relatively flat with little to no lacing. Loads of malt in the nose, coffee, smidge of vanilla. The taste is similar, then charred wood and rum step into the room and close the door. Then the spice kicks the door in and says, "Hello fellas. May as well relax, I'm gonna be here a while."
Another in a long line of inventive brews from OHB. Good sipper for this snowy Friday morning.
Dec 08, 2015
TheSevenDuffs from Canada (ON)
4.42
/5
rDev
+3.8%
look: 4.5 | smell: 4.25 | taste: 4.5 | feel: 4.25 | overall: 4.5
A - Poured deep black with half a finer of mocha coloured head that receded to a thin layer coating the top of the ale.
S - Big sweet rum and vanilla nose up front loaded with spices . Some anise and coffee aromas are also present.
T - Sweet rum and vanilla up front that give way to a big spice profile, bitter coffee and a hint of coconut in the finish. The flavours all come together nicely with the rum and oak notes from the barrel rounding them out nicely. As the beer warms up, the spice from the cayenne really shows up and leaves a bit of a burn (in a good way) in the finish that lingers.
M - Full body. Light carbonation.
Nov 22, 2015
AppaZappa from North Carolina
4.23
/5
rDev
-0.7%
look: 4.5 | smell: 4.5 | taste: 4 | feel: 4.25 | overall: 4.25
A beauty from Olde Hickory. Had on tap at release, but am reviewing bottle poured at 65 degrees. Lovely beer with an amazing nose of chocolate, rum, oak, marshmallow, roasted malt and slight spice. The taste follows through, but the spice is a real kicker here. On my tongue--especially in the finis--it dominates too much, bringing some disbalance to an otherwise really great beer. If you like beers with a kick, this will be up your alley. I'd like a bit less spice bite, but its a very nice beer.
Nov 20, 2015

lupercmda from North Carolina
4.68
/5
rDev
+9.9%
look: 4.5 | smell: 4.5 | taste: 4.75 | feel: 4.75 | overall: 4.75
Pours nice thick black with a minimal head. Smells of roasted grains with nice spice smell. Nice sweet initial taste followed by nice chili hotness with mild rum overtones. Nice beer.
Nov 16, 2015
Zh78888 from North Carolina
4.73
/5
rDev
+11%
look: 4.75 | smell: 4.75 | taste: 4.75 | feel: 4.5 | overall: 4.75
had on draft at the release, and had two glasses out of the same bottle. for the sake of being fair to the beer, this score is for a room temperature glass.
this smells like marshmallows, brownies, and a touch of pepper. expected this to be sweeter given the rum barrel and marshmallow smell, but it's actually bit drier than i'd anticipated. tastes like brownies and dark fruits that were dusted in plenty of cayenne pepper. i'm sure that in a few months the heat will fall down considerably.
delicious.
Nov 02, 2015

BirdsandHops from Oregon
4.01
/5
rDev
-5.9%
look: 2.75 | smell: 4.25 | taste: 4.25 | feel: 3.25 | overall: 4
A: Pours black with half a finger of brown head that disappears almost completely with little lacing.
S: Tons of sweet chocolate on the nose with vanilla and a bit of chili spiciness. Roasted malts and oak come through underneath.
T: Chocolate is strong here as well with some underlying vanilla and caramel. Oak comes through on the end along with a decent amount of heat that leaves a nice, lingering burn.
M: Thick body with low carbonation, this beer could use a little more carbonation.
O: An enjoyable beer, overall. It's like drinking a cayenne brownie. I wish it had a bit more carbonation and the rum barrel came through more, but it's still quite good.
Nov 02, 2015
Calico Jack from Olde Hickory Brewery
Beer rating:
93
out of
100
with
61
ratings