Bardstown Brand Ale Aged In Bourbon Barrels
| Olde Hickory Brewery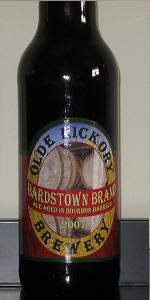 BEER INFO
Brewed by:
Olde Hickory Brewery
North Carolina
,
United States
oldehickorybrewery.com
Style:
American Barleywine
Alcohol by volume (ABV):
10.00%
Availability:
Limited (brewed once)
Notes / Commercial Description:
No notes at this time.
Added by wcudwight on 03-18-2008
This beer is retired; no longer brewed.
Reviews: 35 | Ratings: 49
3.9
/5
rDev
-2.7%
look: 3.5 | smell: 3.5 | taste: 4 | feel: 4.5 | overall: 4
Courtesy of RB's own kp. Pours clear striking amber with thin white head. The aroma is oak, bourbon, vanilla and booze. It starts with a short pulse of sweet malts and ends with nose searing heat. The taste is full and smooth. I get oak mixing with vanilla and then moving toward bourbon notes. There doesn't appear to be much more going on here than that. Certainly this is an example of barrel aging that nearly covers up all the notes from the beer that went in the barrel. Still enjoyable though. I love how smooth it is.
525 characters
4.12
/5
rDev
+2.7%
look: 4 | smell: 4.5 | taste: 4 | feel: 4 | overall: 4
22oz bottle acquired in trade with NachlamSie (thanks!). 2007 Vintage.
Poured a medium to deeper amber color with a smaller sized off white head. Initial pour was clear which clouded up towards the bottom of the bottle. Aromas of bourbon, vanilla, caramel, nuttiness, and some citrus. Tastes of bourbon, vanilla, caramel, some dark fruits, and wood. Some alcohol in the finish.
379 characters
4.2
/5
rDev
+4.7%
look: 4 | smell: 4 | taste: 4.5 | feel: 4 | overall: 4
Pours a darker shade of Amber with very little head forming. A thin ring of foam and small bubbles gets fed early on by a small bit of active carbonation.
Aroma-dried fruit, not figs but maybe some raisins that is coupled with a nice boozy aroma. Some caramel candy notes in there too.
Mouthfeel-medium carbonation delivers a smooth malt profile that is full of sweeter bourbon flavors. A froth on the palate stirs up a medium hop bitterness and then....Then, the bourbon barrel comes pushing through. Very aggressive and a vigorous swish is needed to release it. It is rather hearty and robust with the oak coming through along with a hint of vanilla. Not too tannic or astringent. A great English style Barleywine meets Kentucky bourbon. this one was done very well.
768 characters
1.41
/5
rDev
-64.8%
look: 2.5 | smell: 1.5 | taste: 1.5 | feel: 1 | overall: 1
Reviewed on 7/26/08. Bottle shared by goldtwins. Pours brown with no head. Aroma of bourbony vegetables. Flavor of squash, sweet potato, and heavy bourbon. Thick, syrupy, and ick. Drainpour. Nasty.
Aroma: 3/10
Appearance: 3/5
Flavor: 3/10
Palate: 1/5
Overall: 4/20
(1.4/5)
272 characters
3.61
/5
rDev
-10%
look: 4 | smell: 3 | taste: 4 | feel: 3.5 | overall: 3.5
I stop at Olde Hickory Taproom a couple of times a year while traveling from Durham to Knoxville to visit my folks. This past August I was surprised to see bottles of this barleywine for sale at the bar. Even though it was pricey ($18, if I recall correctly), I just couldn't resist purchasing a bottle to sample.
It pours a dark red with a lean, off-white head that faded away rather quickly. Left behind was a ring of dense foam around the perimeter of the liquid. Not much of an aroma is present. I mean, scents characteristic of barleywine are noticeable, but there're very weak. Several deep inhalations are required to get a whiff of the aromas. The flavor is very pleasing and very much in the barleywine tradition: a rich, sweet, malty front gives way to a body of dark, ripe cherry-like fruit with a backing of caramel, while the finish allows for a fading of the fruitiness into a very bitter and smokey aftertaste. Here's where that 10%ABV makes itself known; the distinct warming during the finish and aftertaste provides a pleasing sensation when combined with that bitterness. It's a very satisfying taste; after each ingestion I felt no direct need to take another. Very nice, indeed!
1,200 characters
4.15
/5
rDev
+3.5%
look: 4 | smell: 4 | taste: 4.5 | feel: 4.5 | overall: 3.5
Pours a murky reddish brown with a medium frothy head that slowly fades to a ring. Smell is huge on the bourbon, with lots of malt in there as well. Very focused on the barrel though. Really enjoyed the taste of this one. It was almost like drinking a very fine whiskey with some carbonation to it, though there was obviously more to it. Caramel, toffee, toasted malts, brown sugar, and dark fruit. The barrel is again very strong here, though not overwhelming to me. Beautiful flavors of vanilla and oak compliment the heavily malted brew. I didn't even think hops while drinking this one. It wasn't quite on the same level but reminded me of a young BBBW from Kuhnhenn. Pretty full, somewhat thick, with a nice warming sensation. Definitely a sipper here, though one I wouldn't mind sipping by any means. I can see this beer aging extremely well and plan on buying a couple bottles just for that reason.
905 characters

4.07
/5
rDev
+1.5%
look: 4 | smell: 4.5 | taste: 4 | feel: 3.5 | overall: 4
Pours a beautiful rust color with a small tan head, and below average lacing. Below average carbonation with a sweet very strong smell of bourbon. Tastes of malt, bourbon, wood, and tobacco. Bittersweet with a woody bitter taste. heavy on the pallet, this beer cannot hide the wonderfully large ABV.
299 characters
3.87
/5
rDev
-3.5%
look: 3.5 | smell: 4 | taste: 4 | feel: 4 | overall: 3.5
This one came from wcudwight as part of the UGLY duckling BIF. He held up the BIF to wait for this ones release. I was all for holding it up for a new "UGLY" beer to be included in the BIF. On top of that I was the lucky receipent of his package. Let's see if it's worth the wait.
A: Pours a radiant color of amber with an average sized fizzy off white head. The head dies to a simple ring and leaves little to no lacing.
S: No doubt it was aged in Bourbon barrels this one is all about the bourbon. Tons of whiskey aroma with a hint of oak and vanilla. A touch of brown sugar sweetness and caramel malt as well. Rather Nice.
T: Well first and foremost there is the Bourbon. Some of Kentucky best Bourbon barrels must have been used. The sweet caramel malt is able to peak thru as is hints of dark brown sugar. A bit of booze burns in the finish and a hint of vanilla bean lingers in the finish.
M: Nice and thick, somewhat sticky. It has a bit of alcohol burn in the finish.
D: Being a barley wine aged in oak it is a sipper. I did not share this one, but probably should have. It's an awful extreme beer to keep to oneself. If your a Bourbon lover seek it out.
Overall: One of the better barreled barleywines I have ever had. The taste is big on the bourbon without being overthetop. Big bold flavors make this a real winner.
It was worth the wait!
Very thick and sweet/sticky finish, with a strong warming alcohol taste. Excellent beer.
1,447 characters
3.75
/5
rDev
-6.5%
look: 4 | smell: 4 | taste: 4 | feel: 3.5 | overall: 3
A nice deep ruby red brew with a small head that dissapears quickly. No lacing. The smell is black cherries, bourbon, big alcohol, molasses. The taste is some hops, heavy bourbon flavors, brown sugar and a shitload of alcohol. The mouthfeel is dominated by this alcohol burn. The drinkability is lowered somewhat by this big burn. The other barleywine released a couple years ago by OHB had this profile too early on but mellowed out into a very smooth and creamy beverage and this one will no doubt do the same. I will revisit this brew from the cellar in a year or so and update the info. The scores are sure to rise as this one matures. A home run by OHB.
658 characters
4.34
/5
rDev
+8.2%
look: 3.5 | smell: 4.5 | taste: 4.5 | feel: 4.5 | overall: 4
Cherry wood in color. With some ruby. Somewhat resembles a red wine. Highly carbonated head rises to 1/2" and then quickly falls. One small ring of white lace clings to the top.
Bourbon, bourbon, bourbon in the aroma. Also some sweet malts.
Big thick malty flavor. Raisin bread. And of course bourbon. The bourbon flavor is long lasting and adds to the excellent finish. I love the way the flavor just lingers after each sip.
Big, filling beer. Thick mouthfeel.
It's a slow sipper but I think it's easy enough to drink given the style and type of beer it is.
This is the first bottled offering from OHB and they couldn't have chosen a better one.
652 characters
Bardstown Brand Ale Aged In Bourbon Barrels from Olde Hickory Brewery
4.01
out of
5
based on
49
ratings.