B's Nuts
| Olde Hickory Brewery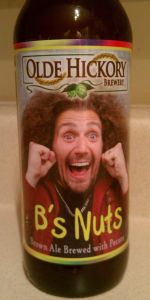 BEER INFO
Brewed by:
Olde Hickory Brewery
North Carolina
,
United States
oldehickorybrewery.com
Style:
English Brown Ale
Alcohol by volume (ABV):
6.30%
Availability:
Limited (brewed once)
Notes / Commercial Description:
No notes at this time.
Added by lanamj on 07-12-2012
This beer is retired; no longer brewed.
Reviews: 8 | Ratings: 21

3.6
/5
rDev
+2%
look: 4 | smell: 4 | taste: 3.5 | feel: 3 | overall: 3.5
Poured into an imperial nonic a deep twny brown with an amber tinge,a half finger off white head atop.Alot of toasted nutty aromas with caramel sweetness,it's quite rich and appetizing.Caramel and mld nuttiness on the palate wich is nice but the thin feel to the beer makes the flavors seem a little watered down wich is a shame because they are pretty good.Take away the thin somewhat fizzy feel to the beer and it's pretty good,as is it's decent.
448 characters
4
/5
rDev
+13.3%
look: 4 | smell: 4 | taste: 4 | feel: 4 | overall: 4
A - dark brown with a large, bubbly, brown head that has decent retention
S - caramel, toffee, nutty
T - caramel, nutty, faintly roasty, a hint of coffee, a light bitterness to the finish
M - medium bodied, smooth, well carbonated
This is a decent brown ale. It has solid flavor and great drinkability. The flavor could be a little more forward and full bodied, but it's solid nonetheless. I may buy another bottle of this.
427 characters

3.54
/5
rDev
+0.3%
look: 3 | smell: 4 | taste: 3.5 | feel: 3 | overall: 3.5
A: Pours a clear ruby-mahogany with a finger of light tan head that recedes into a thin ring with no lacing.
S: lots of nutty aromas on the nose with some pecan characteristics as well. There are also notes of brown sugar, caramel, and maple.
T: Nutty flavors dominate here with light pecan and roasted notes. The finish is slightly bitter and almost chocolaty.
M: Medium body with lowish carbonation, this beer is slick and oily feeling, though that's not too surprising given the pecans added.
O: A pretty solid beer overall. I wish the flavor had the sweet complexity of the aroma, but it's still enjoyable.
614 characters
3.53
/5
rDev 0%
look: 4 | smell: 3.5 | taste: 3.5 | feel: 3.5 | overall: 3.5
Served from tap into a shaker. Poured a deep red brown with a half finger off-white head that subsided to a minimal amount quickly. Maintained decent lacing throughout the glass. The aroma was comprised of sweet malt, caramel, vanilla, wood, and dark chocolate. The flavor was of sweet malt, dark chocolate, caramel, wood, and nutty. It had a light feel on the palate with medium-high carbonation. This beer has the worst label in the history of beer, however, the beer isn't too bad if I am honest. The pecan added to this one doesn't really add too much to this one if I am honest. It was nowhere to be found in the aroma in my glass which was a little off-putting/upsetting. However, it did make itself known in the flavor though, but was hard to pick out that it was a pecan. Olde Hickory has been putting out some fairly good brews here lately and this one isn't an exception. While not one of their standouts, it is still a very solid brew for the style. I would strongly suggest you try it for yourself at least once.
1,030 characters

3.5
/5
rDev
-0.8%
look: 3.5 | smell: 3.5 | taste: 3.5 | feel: 3.5 | overall: 3.5
Always excited to see new offerings from OHB in bottle form. Bottle split and shared with a friend. Poured into a pint glass. Best by Jan. '13 marked on the side.
Pours a tawny mahogany with a thin beige cap of froth on top. The nose is dry with notes of pecans shells, wood, brown sugar, toast. There's a good amount of bubbly pop to this one, which isn't the most pleasant. Slick though, so it drinks easily enough. Semi-sweet flavors of toffee, graham cracker, crushed nuts. Not bad. The pecan aspect comes through more in the nose than the flavor, but I like where they went with this one. A decent drink.
Full disclosure though...this is one of the worst labels I have ever seen.
688 characters

3.23
/5
rDev
-8.5%
look: 4 | smell: 3.5 | taste: 3 | feel: 3.5 | overall: 3
Never had a beer with pecans before, and I'm intrigued. Tasted 21 October 2012, reviewed from notes.
Pours a deep nutty brown, a hint of red with light behind it. Clear, but dark enough that I can't see much through it but the light. One finger of light tan head; gone fast, leaving okay lacing.
Smell is gentle and very nutty. Some faint brown sugar, but the dominant smell is definitely nuts and woody malts.
Taste is smooth, but thinner and less sweet than I was expecting based on the smell. Nutty, woody, but generally a bit bland. I can drink it, but I'm not exactly driven to.
Mouthfeel is fine. Medium-bodied, carbonation definitely on the high side, with a big burst. Slow, kinda sludgy finish, like I have gooey slime on my tongue. But in a not-so-bad way.
I like the idea of this beer - a spiced-up brown ale. But the execution isn't doing it for me. Generally bland and woody, without much to excite me. And I say that as a long-time lover of brown ales.
971 characters

3.7
/5
rDev
+4.8%
look: 3.5 | smell: 3.5 | taste: 4 | feel: 3.5 | overall: 3.5
A: Typical English Brown Ale. Decent khaki head that sticks to the edges of the glass. Wish it was just a tad bit darker perhaps. Label is hilarious IMO!
S: Tons of pecans complimented by some mild malt sweetness.
T: Pretty straightforward. Dominated by roasted pecans...they definitely don't hide...which is what I want in a beer that is supposed to be showcasing the pecans! Some malt sweetness in there too. Hops are faint. Crisp, clean finish. One of the better Pecan Brown ales I have tried.
M: Easy drinker at 6.3%. A little on the thin side perhaps; wish it had a little more body. Pretty spot on for what it was/is intended to be.
Definitely worth trying. I personally like brown ales and this is a really good one. Glad I got to have it. Affordable too.
766 characters

3.21
/5
rDev
-9.1%
look: 4 | smell: 3 | taste: 3 | feel: 3.5 | overall: 3.5
22oz bottle served into a Allagash 40cl glass.
A- Pours a transparent brown to dark amber color with nice retention and and sticky lacing. The head is foamy and inviting.
S- Roasted malts, pecans, brown sugar sweetness, and spice. Pretty one sided with not much malt or hop aroma. Smells like sweet roasted nuts. Not saying that's a bad thing.
T- Sweet and malty with a little hop bite. Roasted pecan bitterness resides throughout. It accomplishes the pecan nut bitterness and roasted flavor. I feel the the malts are lacking and need to be more balanced with the roasted bitterness.
M- Medium body and balanced carbonation. It shows no sign of alcohol and is average for the style. Low viscosity and dry finish.
O- For the price its a decent beer. Looks great, smells good and taste okay.
795 characters
B's Nuts from Olde Hickory Brewery
3.53
out of
5
based on
21
ratings.