Landis Catering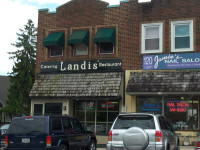 PLACE INFO
Type:
Eatery, Beer-to-go
118 W Lancaster Ave
Wayne
,
Pennsylvania
, 19087
United States
(610) 688-5895 |
map
Notes:
No notes at this time.
Added by Beermaninpa
Ratings: 9 | Reviews: 7
3.9
/5
rDev
+3.7%
vibe: 3 | quality: 4 | service: 4 | selection: 4 | food: 4

3.8
/5
rDev
+1.1%
Located just a stone's throw away from the Beer Yard and Teresa's Next Door is Wayne's best kept secret, Landis Catering. Landis is located on Germantown Pike across the street from the movie theater and Rite Aid in a plaza next to the library. One of their neighbors is some kind of frame store. From the outside, it really doesn't look any kind of beer store that any beer geek would visit, but looks can be deceiving. When you walk in, you first see 70's era fast food restaurant booths along the right side wall, a few wood tables in the middle, pictures of horses on the wall, and a stainless steel food counter on the other end. Walk in a couple of more feet, wooden shelves and 2 refrigerators start appearing on the right side. These wood shelves and refrigerators are stocked full of American Micros and Belgians. You probably can tell already that this is also a restaurant. Their menu consists of sandwiches, soup, and side dishes like pasta salad. I had their turkey sandwich and a cup of their soup the last time I was here. The turkey sandwich was OK and soup wasn't all that good. The type of soup escapes my memory right now, but I do remember that it sounded better than what it actually was. It was kind of like my soup experience at the Phoenixville Sly Fox.
The service here is pretty good. It's not the kind of service you would expect from a store with this great selection, but I sure they'll gladly assist you with whatever beer questions that you might have for them. The last time I was here, I found a worker who knew his beers. He saw that I had a couple of hoppy beers on the counter and then he started talking to me about some good hoppy beers that I might like. He must be the one that stocks the beer because the other people I ran into didn't really know their beer. Of course, I could be wrong because I never asked or gave them the beer quiz. You know the one!
Do you remember those wooden shelves I was talking about? Well, those wooden shelves are stocked with American crafts like Russian River Damnation, Ballast Point, a few varities of Lost Abbey and Port Brewing, Happy Brewing, Voodoo, and maybe the occasional Firestone Walker. Along with those 750's and bombers, you can also find singles and six packs of Stoudt's, Victory, Lagunitas, DFH, and River Horse. What they lack in German, English, and other worldwide beers, they make up in Belgians. For their Belgians, they have quite a few varities of Cantillon, Rochefort, De Ranke XX, and quite a few more that I couldn't read or remember. The 2 steel refrigerators mostly contain repeats with one or two exceptions. The last time I was here, one of the refrigerators had a bottle of Lost Abbey's Angel's Share for $31. If you don't like craft beers, then they got you covered. Along with their craft beers, they have macros like BMC, Heineken, and Yuengling. Be warned that their beer prices are a high even compared to some local bars. Hey, it's either this or you go buy a case of it. Your choice!
If you want more than just a beer experience here at Landis Catering, you have to use the restroom. Over by the beer shelves is a door that will lead you down to the basement. This basement is no more than 6 feet high and make sure you watch out for the pipes that run along the ceiling. At least the bathrooms are neat and clean. The next time you're in Wayne, you might as well walk over to Landis Catering to see what they have. It's a just a block down from Teresa's Next Door.
3,481 characters
3.65
/5
rDev
-2.9%
Just stopping by hoping to find some DFH Palo Santo Marron after a trip to the Beeryard. No such luck.
I really hate the way they store the beer in this place. One refrigerator full of BMC and some craft six packs. Most of the singles sit on a shelf in the very warm deli. Hardly ideal.
The selection is very good. Stuff from all over the country and the world. Prices are damn near outrageous. Bear Republic's Racer 5 was around 10 bucks. I could get this beer in California for $3.50 and even down the road at the Beeryard I can get a case for 45ish dollars.
I don't think I'll be stopping by again because the Foodery in Philly is closer, cheaper, has a greater selection and treats their bottles with the utmost respect.
729 characters
3.15
/5
rDev
-16.2%
I went to this place today and bought some brews.They had a ton of 6 packs and 4 packs.They had DFH red and white,Chimay,St Bernardus,Troegs,Slyfox,Rochefort,Dutches de borgnine,Hapkin,Weyerbacher,Avery the beat,DFH90,3FFF.All in all that they had a good selection but it was a bit pricey.But its the mainline and its a single shop.I did get a discount on what I bought.I would stop here again but only to pick up some hard to finds.Like the Rochefort 10 and something else if there I want.
Sean
Sean
Sean
532 characters
3.7
/5
rDev
-1.6%
Stopped here for lunch on my recent visit to the Beer Yard. I was more interested in getting something to eat than buying beer, but I decided to check out the cooler while waiting for my order. If you are looking for a place to buy a couple singles, this would be an OK place. Reviewing the selction in terms of a PA 6-pack store, I would have to rate it as better than average as a place to by singles. I would have to rate it as average at best for 6-pack selection. Compared to neighbouring states for selction and price, it falls far short. When is PA going to move into the 20th century (considering that we are already in the 21 century)? The best part was the food which was absolutely great and worth the stop.
718 characters

4.15
/5
rDev
+10.4%
Not only is the beer selection here great, the food is wonderful. The ability to purchase single bottles is so rare in this damn state, that it's quite a treat to have this place down the street from me. The staff is super friendly. There's not much more to say; this is a place that needs to be checked out. It's perfect for a quick meal that tastes great and a quick pickup of some decent bottles. The highlights to me are the Belgians and it seems to me that the majority of choices are of the higher ABV group of beers. So there's some serious flavor and strength to choose from here. I think I might head down there now to get some Double Bastard!
652 characters
4
/5
rDev
+6.4%
Landis' is a good place to find singles on the Main Line, although you will pay high prices for them. I've heard that food is excellent too. I usually will go to Gullifty's Restaurant for take out singles, as the selection is larger and the beers are a bit cheaper. However, Landis' has quite a few brews that are more difficult singles to find in PA. Even when most places ran out of 750's of DFH big beers such as 120 min, Raison D'Extra, and 90 min, Landis' had them. They also had many Ommegang beers, including 3 Philosophers, Victory Grand Cru, and some large bottles of St. Bernardus Tripel and the 12. Good representation of some 12 oz Belgian and English bottles as well.
If big single bottles ye seek in the Main Line area, and can't get into Center City, this is a good place to go. A tad pricey, but the food is supposed to be great and the service is always excellent as well.
893 characters
4.3
/5
rDev
+14.4%
A friend and I "discovered" this place when I was visiting him in Wayne, PA. He's not a beer advocate and didn't realize that he lives about two blocks away from the Beer Yard--probably the greatest distributor I've ever encountered. I was looking for a place to buy a variety of single, craft beer bottles when the folks at the Beer Yard told us to go up another block to Landis Catering. Landis is mostly a catering business and sandwich shop, but they have a few coolers full of singles and six-packs that have been sent up from the Yard. I was a complete newcomer to beer advocacy the first time I walked in, and my jaw hit the floor. In retrospect I can levy my enthusiasm with the fact that I wasn't that experienced back then, but considering that these guys have pretty limited shelf space, the diversity of their selection is impressive. If you can't buy a case from the Yard but still want to pick up a craft bottle or two, Landis is right there. The accomodating staff is familiar with the beers and very willing to conversate about them, offering solid recommendations. For example, I settled on a bottle of La Chouffe after discussing Duvel and La Fin du Monde with the proprietor. All in all, I'd say their selection is not the most esoteric out there, but would provide the novice BA (like myself) with a great starting selection in an economical format. (While you're there, get some soup and a sandwich. The chow is awesome.)
1,442 characters
Landis Catering in Wayne, PA
3.76
out of
5
based on
9
ratings.