Westheimer Wildschutz Klostermann Zwickelbier
| Brauerei Westheim GmbH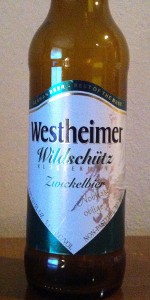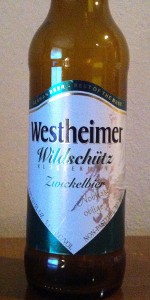 BEER INFO
Brewed by:
Brauerei Westheim GmbH
Germany
brauerei-westheim.de
Style:
Kellerbier / Zwickelbier
Alcohol by volume (ABV):
5.10%
Availability:
Year-round
Notes / Commercial Description:
No notes at this time.
Added by LiquidAmber on 02-15-2013
HISTOGRAM
Ratings: 13 | Reviews: 8
Reviews by DerAtomsmasher:
3.43
/5
rDev
-3.1%
look: 3.5 | smell: 3.5 | taste: 3.5 | feel: 3.25 | overall: 3.25
A: Much like one of the reviewers described, it looks like a tall Arnold Palmer with a serviceable head on top when poured. Little yeasty bits floating inside.
S: Has the herbaceous, slightly catty smell of a Northern European lager.
T: I wasn't expecting it to be as toasty or biscuity as it is - ever so slightly so - but it's mainly an easy drinker with just slightly darker hues than a typical Euro lager. Not mindblowingly special, but certainly German.
M: Very soft.
First Zwickel/Keller I've seen available in a retail setting, not counting Alpine Spring. Not terrible but makes me wish there were more about.
621 characters
More User Reviews:

3.57
/5
rDev
+0.8%
look: 3.75 | smell: 3.5 | taste: 3.5 | feel: 4 | overall: 3.5
Pours into a 1/2 liter stein a murky lemon tea color with alot of chunkies and floaties,a thinner but well sustained white head atop.Wet grain aromas with a tinge of iron,a bit of cracker-like crispness is there as well.Deep malt flavors with that iron note,mild sweetness thrown in but it's on the dryer side.No frills here it's malty with no hop presence but the low carbonation makes it an easy drinker.
406 characters
3.54
/5
rDev 0%
look: 3.75 | smell: 3.5 | taste: 3.5 | feel: 3.75 | overall: 3.5
Seemed a little stale, no date on the bottle.
Dark orange with bright clarity, murky with the yeast poured in. Good surface coverage, spotty lace.
Aromas of toasted malt, wet grains, minty herbal hop, lightly fruity yeast, some oxidation.
Taste is dry with a light bitterness, stale crackers and toasted bread crusts. Vaguely herbal grassy finish.
Light bodied, fairly smooth with the yeast poured in. Fairly drinkable but not all that fresh.
445 characters
3.46
/5
rDev
-2.3%
look: 3.75 | smell: 4 | taste: 3.25 | feel: 3.25 | overall: 3.25
Poured from the bottle into a pokal glass.
Pale rusty copper to brown body color. Head is creamy but small on creation. Manages a very fine two fingers, little retention and a creamy top that sticks around for just awhile. For a bit of darkness the beer has some decent clarity to it also.
Interesting aroma for a zwick. Estery like fruit angle, almost tart in a berry sense. Some thick caramel and bready malt qualities which add a nice compliment to the fruit angle giving it some pleasurable sweetness. Clean and herbal spicy tones, lots of clove as well. Quite an interesting beer going on here.
Palate sort of disappears on first sip. Tangy fruit but an extremely watery body on the palate. Mineral qualities but without the malt density. Clove and washing wet caramel, almost like watery taffy seem to be the dominant flavors. Clean but very flat body. Interesting mix of caramel and fruit qualities.
This unlike any Keller/Zwick I have had, even the similar darker ones. Drinkable easily, and you could do considerably worse, this beer just comes off as being very flat.
1,094 characters

3.41
/5
rDev
-3.7%
look: 4 | smell: 3 | taste: 3.5 | feel: 3.5 | overall: 3.5
Poured into a Seattle Beer Week pint glass. Pours an appropriately cloudy caramel amber with a thin white head that dissipates to a thin film and ring around the glass; no lacing. Mild aroma of biscuit malt and grassy hops. Flavor follows aroma with light biscuit malt, grassy hops, yeast and faint fruit. Finishes with slight hops and malt. Light bodied. Mild mannered. Flavors are subdued, but pleasant.
405 characters
3.53
/5
rDev
-0.3%
look: 3.5 | smell: 3.5 | taste: 3.5 | feel: 3.75 | overall: 3.5
A: The beer is quite hazy pale dark yellow in color with bits of amber hues. It has a slight amount of visible carbonation along with some large yeast particles floating in suspension. It poured with a thin white head that died down, leaving delicate lacing on the surface and a thin collar around the edge of the glass.
S: Light to moderate aromas of yeast are present in the nose
T: Similar to the smell, the taste is mostly yeasty and has some hints of bready malts.
M: It feels light- to medium-bodied and a bit chewy on the palate with a moderate amount of carbonation.
O: This beer isn't nearly as complex compared to some of the other Zwickelbiers, but it has a pleasant chewiness and some nice aromas and flavors from the yeast.
740 characters
4.8
/5
rDev
+35.6%
look: 4.5 | smell: 4.5 | taste: 5 | feel: 5 | overall: 4.75
Incredible!
11 characters

3.1
/5
rDev
-12.4%
look: 3.5 | smell: 3.5 | taste: 3 | feel: 3 | overall: 2.75
Handsome medium amber color in the tall goblet. Quite modest foam with a little lacing along the glass. Light body. Pleasant grainy aroma. Starts out with a big browned biscuit flavor. The last few sips are oddly perfumed, maybe it's the yeast. Quite a bit of sediment in the bottom of the bottle, which doesn't stir up on the first couple of pours.
The ending is pretty peculiar. This stuff just tastes kind of cheap for some reason. It seems like a lager with yeast in the bottle rather than much of a Zwickel. A touch of the usual European skunky hops. From the 22 oz bottle bought at Bottleworks in Seattle.
613 characters

3.65
/5
rDev
+3.1%
look: 3.5 | smell: 3.5 | taste: 3.5 | feel: 4 | overall: 4
Poured from 500mL bottle into a pint glass.
Appearance: rich golden hue with a moderate haze, relatively strong effervescence, and a decent population of tiny floaties in the body. Head poured a thick finger of frothy white foam but subsided pretty quickly. Not too bad.
Smell: sweet malt aroma with a bit of a tangy graininess. Style-appropriate and pretty balanced, if a bit on the sweet side.
Taste: this beer starts off seeming not so sweet, but the sweetness kind of builds on the palate. Lightly malty with a hint of noble hops and a light bitterness toward the end. Balanced, and decent enough.
Mouthfeel: medium-light body with an appealing, well-integrated carbonation. This beer is deceptively creamy! I like it.
Overall: this is a seriously drinkable beer. It may not be the most exciting beer in the world, but damn it if I don't want to keep quaffing the stuff.
880 characters


3.34
/5
rDev
-5.6%
look: 3.75 | smell: 3.5 | taste: 3.25 | feel: 3.25 | overall: 3.25

Westheimer Wildschutz Klostermann Zwickelbier from Brauerei Westheim GmbH
Beer rating:
3.54
out of
5
with
13
ratings