Adnams Tally-Ho
| Adnams plc, Sole Bay Brewery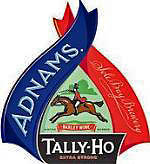 BEER INFO
Brewed by:
Adnams plc, Sole Bay Brewery
United Kingdom (England)
|
website
Style:
English Barleywine
Alcohol by volume (ABV):
7.00%
Availability:
Winter
Notes / Commercial Description:
No notes at this time.
Added by brewdlyhooked13 on 01-11-2004
Reviews: 33 | Ratings: 67

4.3
/5
rDev
+7.8%
Something special for my 250th review.
A: Ruby black. Small but healthy off-white head.
S: Lots of liquorice and blackberries. Smokey (or is it toasty?) and slightly nutty. A touch of dandelion and burdock.
T: All the afforementioned qualities although smokier than I expected. Prickley ginger in there too. Pretty dry, especially for the strength. Earthy as it warms. Fruity aftertaste. Lovely velvety mouthfeel.
O: A decent winter warmer. Bonfire smokiness, ginger and liquorice.
★
483 characters

3.8
/5
rDev
-4.8%
look: 4 | smell: 4 | taste: 4 | feel: 3 | overall: 3.5
330ml bottle purchased from Slowbeer and poured into a Mikkeller goblet. 2009 version with the ABV listed as 7.20%.
Dark brown, almost black in appearance with the slightest of ruby hints. Beige/Tan head of foam at about 1cm or so that stays on as film for the duration.
Strong fruity aromas dominate, very intense and a strong hint of what is to come.
Big dark fruit flavours are the order of the day. A tiny bit of roasted malt came through at one stage to surprise. A real winter warmer, perfect for May in Australia.
Mouthfeel is a bit of a let-down relatively speaking, at times a little watery. At other times, pretty well true to style.
Overall a good decent brew, perhaps not living up to expectations and past experience of this very good British brewer.
★
768 characters
4.04
/5
rDev
+1.3%
look: 4.25 | smell: 4 | taste: 4 | feel: 4.25 | overall: 4
Poured into a tulip glass, 7.2% (Best Before dated: Oct 14)
Nice almost opaque, dark ruby colour, small coffee tan head that dissipated to a thin layer with slightly sticky spotty rings. Aromas of sweet malt, dark fruits; slight spice and alcohol comes through. There's more of the same in the taste, balanced roasted malts, mollases, and some hop bitterness/spice. The alcohol isn't that present but is just slightly warming. It's smooth with low carbonation and a medium body.
This is my first barleywine and as they seem to usually be higher in abv, I'd be led to think this beer is losing something in that, this tasted somewhat like a dubbel to me.
★
655 characters
4.37
/5
rDev
+9.5%
look: 3.5 | smell: 4 | taste: 4.5 | feel: 5 | overall: 4.5
On Cask @ Mahars in Albany. I had 2- 10oz glasses - it just didnt seem right drinking it from a 20oz.
Not really much to look at, great, clear chesnut brown color with a tiny whisp of head.
Aroma is all fuity malt, some musty yeast notes with hints of chocolate and licorice. These aromas mirror the flavors to come.
Soft mouth feel up front with with a neat mix of toffee and chocolate flavors, some smokey notes and a bit of earthy hop flavor towards the finish. Rich, smooth, medium bodied "cask" mouth feel that was WAY easy to drink.
The finish is caramelized fruit with a faint hop bite, and a light, warm tickle of alcohol.
On the light side alcohol-wise, but not flavor or mouthfeel-wise. A barley wine you can enjoy 2 or more of.
★
750 characters
4.45
/5
rDev
+11.5%
look: 4 | smell: 4 | taste: 4.5 | feel: 4.5 | overall: 5
Package: At Mahar's-Albany from cask via beer engine, presented in a 20 oz. "Guinness-style" tulip pint at ~50º
Cost: $6
Appearance: An opaque mahogany drawn from the beer engine with a tinge of ruby when held to the light. Generated a moistly creamy beige head almost as dense as a nitro-pour, but not quite as dry. Interestingly, it was almost indistinguishable when set on the table next to a Beamish, if just a touch lighter and ruddier. The head lasted surprisingly long, giving me the classic foam "mustache" and leaving "drink rings" on the side of the glass.
Smell: An envelopingly warm, malty sweetness rises from the glass, with scents of fresh-baked bread, honey, and toffee.
Taste: This hits the palate so softly, it's hard to distinguish when it actually entered one's mouth. The flavor is predominantly sweet, but there is a tang that underpins the beefy maltiness, which also possesses a raisiny, plummy, fruitiness in addition to the honied sweetness. Some might find this ale a bit flabby after so many "hot," raw, hoppy American barley wines, but I welcome this traditionally styled ale. The finish is long, sweet, and warming without being sickly sweet.
Mouthfeel: This is the smoothest beer I've had in recent memory. I think I used "cashmere-like" in another recent review, but I pulled that trigger too soon. This barley wine is like triple-ply Scottish cashmere. The carbonation was super-fine and persistent lending this ale a substantial but not sticky viscosity.
Drinkability: Although 7% ABV no longer seems very "strong," two or three of these can certainly start one on his way! I only had time for two, but a third one was definitely in the offing. Extremely drinkable for a barley wine.
Backwash: I haven't been able to have an authentic English Barley Wine on cask in over 5 years, and now I feel the loss all the more! I'm a bit surprised at the relatively low reviews already posted. I think it's a bit unfair to lump this kind of beer in with things like Old Guardian, Old Horizontal, and Old Salty. Don't get me wrong, those are fine beers, but I can truly say that I'd almost rather have something like this on hand for everyday drinking. I haven't seen this in bottles here in the USA, but I doubt it would be as good anyway, as the similar Young's Old Nick in the bottle is a shadow of its "real" self. Even dedicated hop heads ought to make an effort to try this very authentic English Barley Wine.
★
2,484 characters
4.13
/5
rDev
+3.5%
look: 4.5 | smell: 4 | taste: 4 | feel: 4 | overall: 4.5
A very sexy near opaque dark dark red-mohogany body with a small head that fades quickly and leaves a small rim of bubble.
Sweet malt, brown sugar, prunes, sherry dominate the nose. Some light peppery notes.
Cola and liquorice, molasses, more dark brown sugar, some raisins. Quite sweet. Balanced with good roasted malt as well as some decent bittering and mild peppery hops. Minimal alcohol. Quite nice. A touch more in the hops dept and a few extra %abv would do it justice.
Very smooth. Low carbonation but a medium and syrupy body.
Great drinkability for the style. 7.2% is not obvious at all. Could have a few over a cold winter night.
★
645 characters
2.83
/5
rDev
-29.1%
look: 4 | smell: 3.5 | taste: 2.5 | feel: 2.5 | overall: 2.5
Straight from cask at Moan and Dove in Amherst Ma. My first true cask beer. Very dark mahogony color with next to no head. Malty smell. Smooth taste with bread like finish. Very little carbonation. Unlike any other beer I have add. I am very anxious to try another cask beer to compare. Overall not real impressed.
★
314 characters
4
/5
rDev
+0.3%
look: 4 | smell: 4 | taste: 4 | feel: 4 | overall: 4
This brew pours from the bottle dark black with a little amber if you hold it up to a bright light. It has a respectable thick head leaving lacing on the glass as you drink it down. The nose is malt and toasted biscuit alcohol. The taste is malty with the signature twang of Adnams yeast. Adnams is about subtlety and you get a great deal of complexity here without overwhelming the palate. It presents with chocolate, toasted biscuit, and very subtle stone fruit, then a remarkably clean finish with no after taste. How do they do that? The mouth feel is surprisingly light.
★
582 characters
Adnams Tally-Ho from Adnams plc, Sole Bay Brewery
88
out of
100
based on
33
ratings.