Dismiss Notice
Dismiss Notice
Adnams Explorer
| Adnams plc, Sole Bay Brewery
BA SCORE
82
good
35
Reviews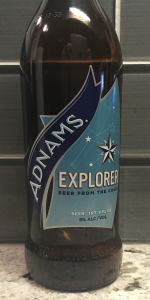 BEER INFO
Brewed by:
Adnams plc, Sole Bay Brewery
United Kingdom (England)
|
website
Style:
American Blonde Ale
Alcohol by volume (ABV):
5.00%
Availability:
Summer
Notes / Commercial Description:
No notes at this time.
Added by brewdlyhooked13 on 10-01-2004
Reviews: 35 | Ratings: 73
3.5
/5
rDev
-2%
look: 3.5 | smell: 3.5 | taste: 3.5 | feel: 3.5 | overall: 3.5
500ml bottle, 5.5% not 4.3
Pours with a light amber body, fairly heavily carbonated. Fuzzy off white head forms, inch thick, settling after a minute or two at about a centimetre, fair overall retention
Smell, served chilled but I let it warm till room temp. to expose all of the beer's little nuances at differing temperatures.
Initially chilled there is only subtle aroma, some slight muskiness, little bit of fresh wort around in the background. As it warms some english hops, little bit of dms, fair whiff of malt biscuity alcohol
Taste, familiar adnams malt and hop bill, some acidic hop bitterness, very noticable alcohol for a beer of this abv. Estery booze on the finish, crisp mouthfeel with lingering malt on the palette
A solid ale, nothing particularlly exciting here, the prelevant alcohol also means its probably not the ideal session ale either
★
872 characters
3.56
/5
rDev
-0.3%
look: 4 | smell: 3 | taste: 4 | feel: 3 | overall: 3.5
First time I have had the bottled version. Different animal to the cask beer I drink when in Southwold.
This blonde beer should be cooled before serving, which is unusual for a British beer. The New World hops Chinook and Columbus give the beer its name.
Light and refreshing, it is, but the bottle says citrus and grapefruit aromas, not sure I got those, but overall, a fine beer for a hot sunny day.
★
407 characters
3.6
/5
rDev
+0.8%
look: 3.5 | smell: 3.5 | taste: 3.5 | feel: 3.5 | overall: 4
500ml bottle bought from The Old Comber Vineyard, Comber..
Poured a light golden orange colour... Slightly off white head poured fairly thick and foamy then faded quite quickly to light layer.. fair amount of carbonation... some light patchy lacing...
Aroma - Light biscuity malts, vanilla hints, grassy, some light lemon notes, sea saltiness, spicy / pepperiness, light basil notes, faint corn hints, some floral hops, rubbery traces...
Taste – Light spicy / grassy hops, some faint toastiness, biscuity malts, some honey sweetness, peppery notes, floral, definite salty hints, light fruits (lemons, apples, light grapefruits)...
Feel - Pretty sharp and dry... Light bodied. Pretty drinkable and refreshing - a nice summer beer...
Overall - An OK beer... nothing too exciting but quite drinkable.... worth a try...
★
831 characters
3.65
/5
rDev
+2.2%
look: 4 | smell: 4 | taste: 3.5 | feel: 3.5 | overall: 3.5
Since Feb. 2006 this beer has become a regular instead of a summer seasonal, and the new bottled version has gone up in gravity to 5.5%abv. (just like what happens to Broadside)!! I guess it's targeted at overseas markets? The beer uses a blending of "Chinook and Columbus hops from the New World", and self-defines as a Blonde Beer. Coming in Adnams' trendy-shaped 500ml brown bottle, it's filtered and pasteurised. BB 17 APR 07, served cool in a straight imperial-pint glass.
A: dark orangey golden to pale amber in colour, coming with a restrained layer of off-white froth which retains the tight texture alright; very gentle carbonation. Looking not bad~~
S: most enticing hop aroma prevails despite a flow of salty sulphur: sweet fruitiness of tangerine combines with a flowery scent of hops, backed by a firm backdrop of Chinese green-bean paste (as in lots of Belgian pale ales) and candy-ish malts. I don't know why, but the mixed nose is immediately reminiscent of Greene King's Fireside for its sweet, fragrant hoppy edge and the candyish maltiness. Not very traditional-English, I must say, yet enticing enough.
T: slightly sharp-textured, burned-sugary malts and fragrant hops approach together, followed by a moderate mid-flavour of (faintly) grapefruit-zesty citrus-fruits, a mild tinge of diacetyl, and dried-floral hoppyness towards the aftertaste, where a green-tea-ish bitter taste+scent linger well in the dry-ish finish.
M&D: softly effervescent on the texture, refreshing but with a good backbone of medium-plus flavour profile. Not at all like the 4.3% cask-version I tried in the past, the bottle tastes more fragrant and fuller than the cask-conditioned blond bitter. I even wonder if this should be entered as a different beer altogether? Overall, not as impressive and tasty as Adnams SSB and Broadside, but a different, "concept-brew" to add to the traditional protfolio of Adnams.
★
1,914 characters
3.84
/5
rDev
+7.6%
look: 3 | smell: 4 | taste: 4 | feel: 3 | overall: 4
I was quite excited to see this on cask at Nicholson's during a recent pub crawl. Golden color, however this seemed to be pretty clear for a cask ale. Thin white head disappeared very quickly. Some good amounts of lace were on the sides of the glass as I drank. Nice citrusy aroma. Plae biscuit-like malt combined with citrusy hop flavor. Good balanced amount of bitterness. Low carbonation. Missing the creamy mouthfeel that I am used to for a cask ale. Very drinkable beer. Good flavor, just missing some of the cask elements that I enjoy, and have experienced.
★
563 characters
4.77
/5
rDev
+33.6%
look: 4 | smell: 4.5 | taste: 5 | feel: 4.5 | overall: 5
With apologies to a previous reviewer who no doubt had this beer from the same cask as I did (at the Moan & Dove), this is an absolutely stunning cask beer, one of the best I've ever had outside of the UK.
It was neither warm nor flat -- that's just ignorance, I'm afraid. I enjoyed several pints, which were all served cool and had plenty of life in them.
Admittedly, the beer poured just slightly cloudy, but I wouldn't be surprised if it cleared up fully by the following day. The nose was loaded with an earthy, sulfury aroma that is common in real ale.
This is a hoppy ale -- by English standards, anyway. I don't know what the hops are but the bartender thought they were Cascade. I don't think so, but they did have an American flavor to them. They weren't citrusy, however, as I usually find Cascade to be.
This is a must try for lovers of cask ale or hopheads -- just don't expect the ridiculous hop rates of an American IPA.
★
947 characters
2.68
/5
rDev
-24.9%
look: 3 | smell: 2.5 | taste: 2.5 | feel: 3 | overall: 3
I was able to give this a try on cask last evening. Was a dark yellow color with amber highlights and a small white head that had pretty good retention and left a little lacing. The aroma seemed to be quite malty with some citrus highlights from the hops, also was able to notice a slight off sour tone? The taste we fair with a bread like malt taste, that finishes a bit sweet. The malt was off set by a hop taste that was a little difficult to pick up. Over all it is a fair brew, glad I gave it a try but one I would not get again.
★
534 characters
1.43
/5
rDev
-59.9%
look: 1.5 | smell: 1 | taste: 1.5 | feel: 2 | overall: 1.5
I was all excited about my first cask-conditioned beer! Oy gevalt!
Found out after the fact that cask basically means flat and warm beer.
So, came in a 16oz glass looking rather like someone pissed in it and handed over shortly after. No head, no carbonation. Actually it tastes like seltzer that was left out forever, so it has that weird carbon dioxide aftertaste throughout. Smelled like skunk, some hops. However, people around me akinned the smell to 'feet'. Taste is bitter and watery. There wasn't much there. Mouthfeel, I couldn't get past the bitter grossness that was lingering forever. Drinkable? Not by me.
Maybe I got a bad batch, but this is how it went down. If you're the kind who likes warm flat feety beer, then this one is your style.
★
762 characters

4
/5
rDev
+12%
look: 4 | smell: 4 | taste: 4 | feel: 4 | overall: 4
On Cask at Dr. Duncans in Liverpool:-)
Dark golden/amber with a small white cap of foam that leaves a bit of lacing, but dies quikckly. The aromas are maltier than other Adnams offerings, but their staple citrus hoppiness is still in the mix (albeit in the back of the mix). Taste is bready and malty up front with some chewy hop flavors in the middle and a very malty, sweet finish. Mouthfeel is light but substantial and drinkability is good as well. Another good'un from Adnams.
★
484 characters
3.36
/5
rDev
-5.9%
look: 4 | smell: 3 | taste: 3 | feel: 4 | overall: 4
Appearance: golden pale brown, good clarity, white cap of froth, lace
Aroma: citrusy hops, slight sourness, blonde ale maltiness, melon, bit of sulphur
Flavor: up front grapefruit-rind flavor which stays throughout, somewhat balanced by a mild malt sweetness, slight off-taste of rancid butter, rounded bitterness, finishes dryish with an aftertaste of green hops and a tart yeastiness
Mouthfeel: medium-light body, mild carbonation, crisp texture
Other comments: Nice summery ale. Crisp texture and quite refreshing. West Coast hop palate makes me think of the summer I spent in the Portland, OR area!
★
614 characters
Adnams Explorer from Adnams plc, Sole Bay Brewery
82
out of
100
based on
35
ratings.