Adnams East Green Carbon Neutral
| Adnams plc, Sole Bay Brewery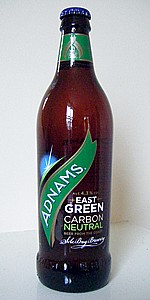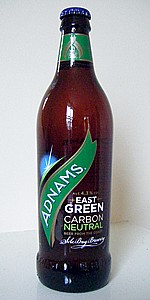 BEER INFO
Brewed by:
Adnams plc, Sole Bay Brewery
England
,
United Kingdom
adnams.co.uk
Style:
English Bitter
Alcohol by volume (ABV):
4.30%
Availability:
Year-round
Notes / Commercial Description:
No notes at this time.
Added by wl0307 on 05-18-2008
HISTOGRAM
Ratings: 8 | Reviews: 7
Reviews by Dentist666:

3.1
/5
rDev
-4.6%
look: 3 | smell: 3 | taste: 3 | feel: 3 | overall: 3.5
Pours golden beer with decent white head. Modest grain flavour, reminds me of pale lagers. Dry saltish grain taste with elusive citrus note. Hop is slender. Neutral palate with bitter bit. Low carbonation & more then moderate impression. I consider it's similar to diet-lagers in common.
287 characters
More User Reviews:
2.92
/5
rDev
-10.2%
look: 3 | smell: 3.5 | taste: 2.5 | feel: 3 | overall: 3
Pours rich amber with a small head.
Nose shows sweet caramel and bready malt. Some English earthy and resinous hops are also noticeable.
Flavours are not so impressive, at first there's some nice sweet malt, but then it gives way to grainy notes and finishes weakly.
Body seems a bit watery.
291 characters
3.38
/5
rDev
+4%
look: 3.5 | smell: 3 | taste: 3.5 | feel: 3.5 | overall: 3.5
Two 500ml brown bottles bought for me by my daughter when visiting Adnam's home town of Southwold. Both best before 5th April 2009, drank in bright and warm sunshine on 26th July 2008 in my garden.
Poured into one of my Hannen Alt tumblers (2 and a half times per bottle). Light amber in colour, clear and bright, like the weather. The foaming white head didn't hang around on any of the pours from either bottle. Almost looks like a Dort in appearance.
The aroma was weak, but the beers were cooler than I would normaly drink bitter at. A hint of citrus fruits, but not a sour smell at all. Boadicea hops are used, but I couldn't detect them in the aroma or taste.
Not your typical English Bitter that's for sure. This is a bit zesty and dry, the citrus feel in the aroma is also present in the taste.
Not the greatest Adnams beer, but an interesting if somewhat lightwieght addition to their stable. The mouthfeel is a bit watery and there isn't a great ammount of body or substance to this brew. I would never have guessed it was 4.3% in strenght.
This is what some would call a 'lawnmower' beer.
1,104 characters
3.45
/5
rDev
+6.2%
look: 3.5 | smell: 3.5 | taste: 3.5 | feel: 3 | overall: 3.5
500 ml bottle, now available in Norway. ABV is 4.3%. Crystal clear golden colour, big to moderate head. Moderate aroma of grain and citrussy hops. The flavour is dry and refreshing with distinct and pleasant notes of citrussy Boadicea hops throughout, but the malts do not come up front. Moderate but nice bitterness in the finish and aftertaste. All the "environment friendly" hype aside, this is a fairly decent refreshment ale, not exceptional but nice enough.
463 characters
3.07
/5
rDev
-5.5%
look: 2.5 | smell: 3 | taste: 3 | feel: 3 | overall: 3.5
Merh - decent stuff. Pours a light yellow, slight orange tint, with a very small head that dissipates quickly. No lacing.
Smells fairly weak - a bit of grassy hops and a tiny bit of malt. Taste is quite similar, more malty than I expected, and a little bit of hops to balance it out. It's well balanced but too mild, could see me drinking it if I was thirsty or as an alternative to a macro, but not much more.
Mouthfeel is carbonated at the beginning, but by the time you've finished a pint of this it's dreadfully flat. Nothing special, but quite drinkable.
561 characters
3.39
/5
rDev
+4.3%
look: 2.5 | smell: 3.5 | taste: 3.5 | feel: 3 | overall: 3.5
500 mL bottle poured into a pint glass.
Pours a very pale yellow, lighter even than most lagers. 1-finger head quickly dissipates and leaves no lacing.
Smells great, well-balanced, a foretaste of what's to come.
Taste is very well-balanced, but not in a generic way. It has enough flavor to keep things interesting. It has a mild, underlying citrus sweetness (very faint), backed up by a bitter bite.
Mouthfeel is much more carbonated and packs more bite than most English bitters.
Would drink again.
505 characters
3.65
/5
rDev
+12.3%
look: 3.5 | smell: 3.5 | taste: 3.5 | feel: 4 | overall: 4
Purchased at the Tesco supermarket, the label of this bottled beer says that, with the new energy efficient brewery now in place, this is "the UK's first Carbon Neutral Beer"~~ Now I know why it's dearer than the other Adnams ales in the range, by at least 20p a bottle! BB 05 APR 09, served cool in a straight imperial pint glass.
A: pours a pale amber hue, with sporadic carbonation and a cottony-fluffy white head to last.
S: refreshingly fruity, with a touch of sweet citrus as in a Belgian pale ale, light grassiness as in a German Pilsner, as well as sweet pale malts - all intertwined harmoniously, albeit not terribly complex.
T: the fluffy texture brings very mild citric fruitiness against an equally light malty backdrop, while a lightly salty-sweet sulphur (with a touch of beaten egg white) and zesty hop bitterness linger beautifully in the end...
M&D: a well-composed pale bitter with a light body, soothing carbonation, clean and crisp texture, good level of bitterness as well as a healthy dose of sea-saltiness to remind drinkers of Southwold by the coast of East England. Although it's way more expensive than other Adnams ales in the range (esp. judging by its low alc. content), I suppose the effort is truly worth it. A nice little pale bitter to quaff!
1,276 characters
Adnams East Green Carbon Neutral from Adnams plc, Sole Bay Brewery
Beer rating:
3.25
out of
5
with
8
ratings