Auld Skool Scottish Ale
| Granville Island Brewery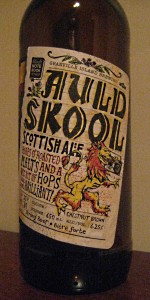 BEER INFO
Brewed by:
Granville Island Brewery
British Columbia
,
Canada
gib.ca
Style:
Scottish Ale
Alcohol by volume (ABV):
6.25%
Availability:
Rotating
Notes / Commercial Description:
No notes at this time.
Added by biboergosum on 01-26-2014
Reviews: 5 | Ratings: 18
3.57
/5
rDev
-3.8%
look: 3.5 | smell: 3.25 | taste: 3.75 | feel: 3.75 | overall: 3.5
A serviceable Scottish ale - not exceptionally bad, not exceptionally good. Safe, like much of what Granville Island Brewery puts out - inoffensive, but unremarkable (though, this is a few notches above most of their regular fare). Pronounced toffee notes, caramel, a bit of autumn fruit. Malty, sweetish, and a very drinkable thinnish mouthfeel. A solid showing, but nothing to set it apart.
392 characters
3.67
/5
rDev
-1.1%
look: 3.75 | smell: 3.5 | taste: 3.75 | feel: 3.5 | overall: 3.75
Tis lovely to gaze upon, with minimal whiff of peat, dangling balls or any fookin' thing Scots. Sweet, toffee, reminds me of me mum and Jaffy Cakes from Marks and Sparks. Fine, I'll drink ye, sweet Granville beer. And again I shall drink thee. Fook.
249 characters
3.72
/5
rDev
+0.3%
look: 4 | smell: 3.75 | taste: 3.75 | feel: 3.25 | overall: 3.75
Another Granville Island "Black Note Book" brew, which I seem compelled to keep trying despite finding a few of these offerings to be subpar. At least these guys are trying to broaden their scope and hit some other styles rather than just peddling "MCA" (maple cream ale) to the masses. Auld Skool ("Skool" does not strike me as particularly Scottish but perhaps this is due to ignorance alone) is reddish bronze with a brown cast and topped with a generous amount of beige or light tan head. The beer gets a few points here, very nice creamy and thick-looking head. Aroma is biscuity dry malt, a hint of toffee, fruity grape and Bartlett pear notes, and a faint sourish smoke. Again, so far so good. Often this guys lose me when it comes to taste, the factor that can truly separate the craft gods from the hipster-catering wannabes. Frankly, not bad here either. The thinnish body and light, almost airy mouthfeel probably does place this in Scottish ale rather than Scotch Ale/Wee Heavy territory. Carbonation is a touch too aggressive but the taste itself hits the mark. There is some of that vaguely sour peaty smoke but not too much, brown sugar caramelized malts as the backbone, raisin, light molasses, and an interesting estery note that manages to evoke cinnamon. Very light hop presence in the malty sweet finish. Overall, this take on the style manages to put in a decent showing. Fruity yet sweet, the expected toffee flavors are there but not too cloying, and there isn't enough smoke to alienate anyone. Almost a Scottish session beer laddies.
1,558 characters
3.79
/5
rDev
+2.2%
look: 4 | smell: 3.75 | taste: 3.75 | feel: 4 | overall: 3.75
650ml bottle, the latest in the Black Notebook Series, and a fitting beverage to kick off this year's Robbie Burns night - no haggis nearby to pair with this, though, unfortunately (urp).
This beer pours a murky dark orange-tinged brown brick hue, with two skinny fingers of weakly foamy, and mostly just loosely creamy pale beige head, which leaves some decent layered cloud pattern lace around the glass as things quickly sink away.
It smells of semi-sweet biscuity caramel malt, some Welch's grape juice fruitiness, faint earthy smoke, bittersweet cocoa, wet raisins, and mild earthy, floral hops. The taste is more bready, lightly biscuity caramel malt, a touch of hard toffee, ethereal peaty notes, somewhat vinous dark fleshy fruit, soft milk chocolate, and tame earthy, leafy, and sort of grassy hops.
The carbonation is understated, and plainly frothy at best, the body a sturdy medium weight, and more or less smooth, a minor creaminess building as we merrily go. It finishes just on the sweet side, the malt holding tough, the smokiness wafting off, and the hops going into hibernation.
A pleasant enough Scottish Ale, the malt large and in charge, but subtle in its managerial ministrations. None too complex, just an easy sipper or glugger, depending on one's predispositions this (or any) evening. Not entirely sure how this is different from the last version from GIB, but they say it's so, so I guess it's "May ye aye keep hale and hearty,
till ye're auld enough tae dee", then.
1,500 characters

3.84
/5
rDev
+3.5%
look: 4 | smell: 3.75 | taste: 3.75 | feel: 4 | overall: 4
Granville Is. 'Auld Skool Scottish Ale' @ 6.25% , from the 'Black Note Book Series' , served from a couple of 650 ml bottle purchased for $5.30 each
A-pour is a copper from the bottle to a burnt amber in the glass with a small off white/tan head leaving a streaky lace along the pint
S-roasted peat malt , earthy
T-roasted barley , lots of different malts , so similar to the retired 'Scottish Ale'
MF-mild carbonation , weak full body
Ov-again ok beer , is this beer different from 'retired' or has it been re-labelled
prost LampertLand
545 characters
Auld Skool Scottish Ale from Granville Island Brewery
3.71
out of
5
based on
18
ratings.