False Creek Raspberry Ale
| Granville Island Brewery
BA SCORE
79
okay
13
Reviews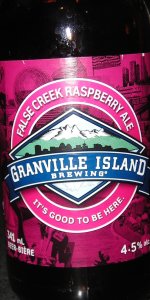 BEER INFO
Brewed by:
Granville Island Brewery
British Columbia
,
Canada
gib.ca
Style:
Fruit / Vegetable Beer
Alcohol by volume (ABV):
4.50%
Availability:
Summer
Notes / Commercial Description:
Our False Creek Raspberry Ale is an ultra-refreshing summer ale that combines premium malt and hops with Fraser Valley raspberries. Well-balanced with raspberry colour, aroma and finish, it pairs well with summer salads, fresh air and sunny afternoons.
Added by biboergosum on 07-25-2011
Reviews: 13 | Ratings: 72
4.2
/5
rDev
+26.1%
look: 5 | smell: 5 | taste: 4 | feel: 3 | overall: 4
Wow. I was not expecting balance.
Here is a raspberry beer done well. The presence of hops and malt are not missing. The clear clean aroma and flavour of real raspberry flows directly into a malty finish with a tiny hint of hops. A fruit beer that I was expecting to be sweet and cloying, but it really nice and drinkable.
323 characters

3.69
/5
rDev
+10.8%
look: 3.75 | smell: 3.5 | taste: 3.75 | feel: 3.75 | overall: 3.75
My parents picked up some beers from British Columbia when they were up in Canada and brought them back to me.
Appearance- cloudy copper color, decent size head, nice lacing
Smell- slight bit of raspberry
Taste- raspberry
Mouthfeel- light to medium bodied
Drinkability- Overall I thought it was very refreshing and a great summer beer. If I can get my hands on more, I will.
379 characters

3.67
/5
rDev
+10.2%
look: 4 | smell: 3.75 | taste: 3.5 | feel: 3.75 | overall: 3.75
Granville Is. Brewing 'False Creek Raspberry Ale' @ 4.5% , served from a 3pack of 341 ml bottles
A-pour is a fruity pink from the bottle to a clear pink in the glass with a small white head leaving a spotty lace along the chalice
S-hints of raspberries
T-tart & refreshing
MF-ok carbonation , medium body
Ov-ok fruit beer
prost LampertLand
339 characters
3.59
/5
rDev
+7.8%
look: 3 | smell: 4 | taste: 3.5 | feel: 2.5 | overall: 4
Props to my western connection for the hook-up...
A - Pours a hazy pale pink colour with an amber hue, thin layer of head with some retention and no real lacing.
S - Raspberries, musty caramel, buttered bread and some fresh baked pie. Bitterness is detectable, but subdued by the mix of scents.
T - Tart raspberries off the top and really shine through on the finish. Bready caramel and wheat flavours, hint of grassy hops and the baked pie flavours linger on the palette.
M - Medium bodied, but comes across a tad overly carbonated. A bit prickly on the way down and a tad too dry on the finish for my liking.
O - A tasty summer ale, for which I believe it was intended. A tasty raspberry infused ale that doesn't come across as synthetic, yet offers some nice bold flavours. This would be perfect on a patio, and is certainly worth a try to any fan of raspberyy ales.
874 characters
3.59
/5
rDev
+7.8%
look: 3 | smell: 4 | taste: 3.5 | feel: 3.5 | overall: 3.5
Much better than anticipated as the raspberry flavour is very natural. You can smell the raspberry but it is not overpowering there is still the smell of beer with is a good thing. The flavour starts with raspberry's, good natural tasting raspberry's then morphs into a decent ale with crisp malt and slight hops. Definitely not to sweet like most fruit beers.
360 characters
3.53
/5
rDev
+6%
look: 4 | smell: 3.5 | taste: 3.5 | feel: 3.5 | overall: 3.5
20oz pint, on-tap at Sherlock Holmes in downtown Edmonton, during the hubbub that is the Capital Ex festival.
This beer appears a clear, medium salmon-tinged amber hue, with one finger of weakly foamy, and thinly creamy pink-tinged white head, which leaves a wall of inconsistently broken painted lace around the glass as things quickly settle.
It smells of bready, slightly crackery cereals, a hint of caramel malt, a less than fruity raspberry puree, dry honey, and somewhat astringent leafy, earthy, and herbal hops. The taste opens with more slightly tart, but still neutered raspberry fruitiness, followed up anon by a biscuity, semi-sweet graininess, a hint of gritty wheat, and soft leafy, vegetal, and dead grassy hops.
The carbonation is fairly low, just a meek fizziness throughout, the body on the light side, weight-wise, and rather plain Jane in its workaday smoothness. It finishes generally restrained on the raspberry front, the wan malt poking through, but not enough to make an issue of it.
A so-so raspberry ale, one sorely lacking in comparison to Alley Kat's tasty effort of years past, in terms of my local-ish brewing oeuvre. Overall, though, a simple, kind of enjoyable, and mostly balanced fruit-adjacent summer patio sipper, however, I am certain that I could do better around here for the next round, fruit beer or not.
1,352 characters

3.53
/5
rDev
+6%
look: 3.5 | smell: 3.5 | taste: 3.5 | feel: 3.75 | overall: 3.5
341ml bottle poured into pint glass 15/6/13
A salmon liquid with just a hint of pink in the short lived finger of foam, just a random patch of lace before the head vanished
S raspberry, honey and a hint of herbal hops, basic but about what I expect just a little dry cereal
T raspberries are half way between sweet and tart, really not much going on but again that's about what I expect from a plain old raspberry ale
M light and a little fluffy but quickly flattens out, leaves some slickness and faint raspberry and grains lingering on the finish
O nothing exciting but a decent summer patio brew, one the wife would like
I know what I'm getting but I get it anyways, no surprises here, not disappointed but not impressed either
741 characters
3.41
/5
rDev
+2.4%
look: 4 | smell: 3 | taste: 3.5 | feel: 3.5 | overall: 3.5
A - hazy pinkish golden with a tall soapy light pink head that retained well in a pilsner glass
S - dominated by adjunct and grain with some leafiness and a very faint hint of the feature ingredient
T - tart raspberry with a bready grain malt body, some corn, leafy hops
M - medium to lighter body with refreshing carbonation, finishes with light tartness
O - an easy summertime sipper for sure that is understated in terms of the raspberry, this 6er won't last the evening
473 characters

3.3
/5
rDev
-0.9%
look: 3 | smell: 3.5 | taste: 3.25 | feel: 3.25 | overall: 3.25
Granville Island False Creek Raspberry Ale from Granville Island Brewery from Vancouver. Bought it in a 12 summer m ix pack for 14,99$ here in Montreal:
Look: Yellow/pink. No head at all.
Smell: Raspberry, hops and some cereal.
Taste: Sweet raspberry ale, hops, some grassy notes. Nothing to spectacular.
Feels. Sweet and watery with a notes of raspberry at the end. Light body. Easy drinking. Goes down very well.
So overall would I recommend it? Yes and no. For the yes, this is a nice beer in general, for summer it will be a nice beer but as a Fruit/Vegetable/Raspberry its not that impressive. There is much better Raspberry Ale beer out there.
655 characters
3.05
/5
rDev
-8.4%
look: 3 | smell: 3 | taste: 3 | feel: 3.5 | overall: 3
Came from a Granville Island mix-pack. Pours a kind of unnatural pink-ish (purple? the colour on the label, basically) amber, with a finger or two of pink-white foam that recedes to some rings, although does lace nicely on the glass. Smell is bready, crackery malt and raspberry syrup. No hop presence that I can detect. Taste is bread and cracker and raspberry syrup. Bit of a biscuity, grassy aftertaste. Something slightly bile-ish? Quite one-dimensional, and fairly sweet and artificial, but I've had worse (I've had better, too). Body isn't terrible, and it's decently refreshing once you get past the unexpected artificial sweetness.
My girlfriend and I have decided that the best use for this, since the mix pack came with six bottles) is to mix it, 1:1 with Granville Island's standard lager (another entry from the Granville mix pack that isn't setting the world on fire), to get a beer that's a bit less sweet and got a bit more complexity than either entry on its own--better than the sum of its parts, at any rate.
1,028 characters
2.86
/5
rDev
-14.1%
look: 4 | smell: 3 | taste: 2.5 | feel: 3 | overall: 3
I bought this beer to taste RASPBERRIES . It tastes nothing . The only raspberry thing in this beer is the look. Pours a red/pink body , light body ... Small raspberry aftertaste. Do not recommend at all if you want a Raspberry ale.
232 characters

2.83
/5
rDev
-15%
look: 2.5 | smell: 3.25 | taste: 2.75 | feel: 2.5 | overall: 2.75
Clear dark gold, amber hue, with dense activity. Slightly foamy white 2 finger head, lasting around 5 minutes, with faint lacing. Flavors of raspberries, cranberries, caramel, sweet grains, corn, very faint herbal spices. Thick sweetness, minimal bitter hops. Light oily body with soft prickly carbonation. Light finish, lingering sweet grains and fruits, with very soft grassy hops. A little flat and thick on the tongue, with average freshness. Faint flavors, not bad but overly accessible, and a little unbalanced. Overall below average quality craft.
554 characters

2.23
/5
rDev
-33%
look: 3.5 | smell: 3 | taste: 1.5 | feel: 3 | overall: 2
341ml bottle poured into a 16oz pint glass.
A - Nice two finger head of slightly off-white foam. The beer is a cloudy coral pink. Decent head retention with some lacing.
S - Fairly sweet. Lots of raspberry with a light sourness. Some wheat and light malt, pretty nice. Very fruity, but still smells like beer.
T - Starts off pretty sour, and then finishes flat and grainy. Not much in between initially. Cloying, syrupy sweetness that feels artificial and unenjoyable. Something really vegetal, like tomatoes. While it's not tot the worst tasting beer I've had, this is just not nice.
M - Fair carbonation, with a body on the thinner side. Slight sour feeling.
D - Pretty disappointing overall. This just tastes gross.
723 characters
False Creek Raspberry Ale from Granville Island Brewery
3.33
out of
5
based on
72
ratings.