Saison
| Granville Island Brewery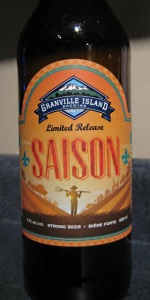 BEER INFO
Brewed by:
Granville Island Brewery
British Columbia
,
Canada
gib.ca
Style:
Saison / Farmhouse Ale
Alcohol by volume (ABV):
6.50%
Availability:
Rotating
Notes / Commercial Description:
No notes at this time.
Added by liamt07 on 10-29-2012
Reviews: 6 | Ratings: 17
4
/5
rDev
+11.7%
look: 4 | smell: 4 | taste: 4 | feel: 4 | overall: 4
A - slightly hazy golden, plenty of carbonation retained a tall head, some random pieces of lacing
S - BIG hit of banana yeastiness along with some clove and sour citrus, grains and pepper towards the end, definitely pleasing aroma
T - citrus and grassy hops up front with banana & clove esters quickly making up ground, vitamin flavour in the finish, its a little more hefe than saison but it does seem to have qualities of both styles in abundance
M - medium to light with big carbonation, tart and spicy with a mineral residue left on the palate
O - impressed with this offering from a brewer who's flagships have been a little on the average side for a while, happy to see them embracing the spirit of craft brewing and having some worthy results, and while this comes across a little as a hefe-saison hybrid, it is definitely tasty and something I would pick up again
872 characters
3.95
/5
rDev
+10.3%
look: 4 | smell: 4 | taste: 4 | feel: 3.5 | overall: 4
650ml bottle, another Limited Release from the actual brewery on Granville Island proper.
This beer pours a cloudy, in a frosted glass sort of way, medium golden yellow hue, with two fingers of puffy, thinly foamy off-white head, which leaves a few layers of streaky limestone quarry lace around the glass as it steadily fades away. There are also multiple points of upwardly mobile effervescence that well persist.
It smells quite prominently of sweet, grainy wheat malt, banana chips, cloves, white pepper, earthy, green yeast, and a bit of tangy citrus. The taste is mildly astringent grainy wheat, a bittersweet orange/banana smoothie fruitiness, faintly funky yeast, some fading clove spiciness, a bit of stony minerality, and slightly sassy black pepper.
The carbonation is a tad frizzy and frothy up front, but settles to a dull hum soon enough, the body a decent medium weight, and generally pretty smooth. It finishes off-dry, but just so, as the fruity tartness, yeast, and pepper notes still have much to say to the contrary.
A rather tasty, acerbic, and peppy saison, with lots going on that would recommend it to connoisseurs of the style - even at this deep, dark part of the traditional off season, even though the well-integrated elevated ABV does play into the current temporal ethos.
1,305 characters

3.92
/5
rDev
+9.5%
look: 3.5 | smell: 4 | taste: 4 | feel: 3.5 | overall: 4
650ml bomber poured into tulip 8/11/12
A hazy dark golden liquid with a few streams of bubbles feeding a finger of foam that sits for a few sips and leaves a few spots of lace
S peppery spice with a little farmhouse yeast, some banana, citrus, cereal some bubblegum and a little orange marmalade
T not much difference from the nose, more peppery spice and no bubblegum, pretty solid but missing a little something to put it into another class
M medium bodied and just a little foamy, spicy finish lingers and a few swirls of the glass gets rid of the foamy feel
O tastes and smells good so the most important aspects have been taken care of, a few extra bubbles but that's often the case with the style
I've had great luck with their last few seasonal brews and it was a hard trend to keep up, still pretty good and well worth trying
843 characters

3.58
/5
rDev 0%
look: 4 | smell: 3.5 | taste: 4 | feel: 4 | overall: 2.5
Bottle shared by Steve, 650ml into a tulip.
Unfiltered orange, with a finger of white head. Light retention and minimal lace. Nose has a lot of wheat, banana, yeast and a faint spice note. Some wet hay, but not funky by any stretch. Tastes almost like a hefeweizen, more banana, spice and a whole load of wheat. Heavier medium mouthfeel, with some noticeable texture. Lower medium carbonation. A nice wheat beer, by far from an impressive saison.
447 characters

3.17
/5
rDev
-11.5%
look: 3.5 | smell: 3.25 | taste: 3 | feel: 3.75 | overall: 3
From a 650 ml brown bottle. Pours out a slightly hazed light golden hue, with a tall frothy shock white head that slowly recedes to a thin rocky cap.
Apricot esters on the nose, some faint spicy yeast, along with soft bready malt.
Dry spicy yeast up front in the flavour, white pepper, finishing with very mild orchard fruit esters, with mild bready malt throughout as a base. Finishes dry, some grainy tartness lingers in the aftertaste.
Light mouthfeel, slippery yet dry texture, with spritzy carbonation that helps enhance the body.
The phenols are taking centre stage in this saison rather than the dominating fruity character mentioned on the label. A drinkable Saison though not balanced, and incredibly dry.
718 characters
2.92
/5
rDev
-18.4%
look: 4 | smell: 2.5 | taste: 2.75 | feel: 3.75 | overall: 3
Appearance. Pours a rich, hazy yellow gold with 2 fingers of cream coloured rocky head.
Smell. Sweet bananas and cloves with a little peppery and fruity belgian yeast. Not exactly what I'm looking for in a saison, getting close to a hefe.
Taste. Sweet, light grainy malts, cloves and a little bananna and a light bitterness and very slight lemony sourness. Again, not really as advertised and not my cup of tea, but not terrible.
Mouthfeel. Medium-light body, medium fine carbonation.
Overall. I was hoping for a nice saison here, but it's bordering on a hefe. I don't think I'll revisit this one, but it does drink easy and has some decent flavours ...just not what I was expecting or hoping for.
702 characters
Saison from Granville Island Brewery
3.58
out of
5
based on
17
ratings.