Lucky Number High Gravity Lager
| City Brewing Company, LLC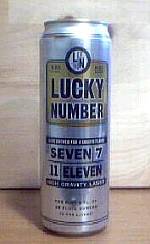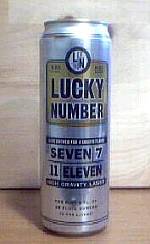 BEER INFO
Brewed by:
City Brewing Company, LLC
Wisconsin
,
United States
citybrewery.com
Style:
American Malt Liquor
Alcohol by volume (ABV):
8.20%
Availability:
Year-round
Notes / Commercial Description:
No notes at this time.
Added by PorterPounder on 01-20-2004
HISTOGRAM
Ratings: 13 | Reviews: 11
Reviews by granger10:
1.3
/5
rDev
-34%
look: 2 | smell: 2 | taste: 1 | feel: 1 | overall: 1
Got this to make change for laundry. Should tell you right there the quality. Anyways, tried it as its been sitting in my fridge. Just terrible. First sip, not the worst. A touch cidery almost. Fake apple sweet. In the back it lingers with rubbing alcohol. Very thin. Cardboard on second sip. Third sip tastes like corn moonshie. Cheap corn moonshine. Really, just awful. Sometimes you get luck finds, not here.
411 characters
More User Reviews:
2.43
/5
rDev
+23.4%
look: 3.5 | smell: 3 | taste: 2 | feel: 3 | overall: 2
Poured from a 16 oz. can. Has a golden color with a 1 inch head. Smell is of malts and corn. Taste is not so good. Plastics, a lingering sweetness, alcohol, sour grapes. Feels light in the mouth and overall there is no reason to seek out this beer, poor quality even for this style.
282 characters

1.66
/5
rDev
-15.7%
look: 3 | smell: 2 | taste: 1 | feel: 2 | overall: 2
Poured from a huge 24oz can purchased for $1.09 at my local beer purveyor. Clearly a Steel Reserve knock off, this beer is pale yellow with a slight, white fizzy head. Smells like piss and spent grain with a lot of alcohol in the nose. "Slow brewed for a smooth flavor" is proudly displayed on the can...yeah, right. This has to be one of the worst tasting brews out there, really bad "cheap vodka" fusel alcohol taste that burns going down. I got what I paid for with this one.
478 characters
2.11
/5
rDev
+7.1%
look: 3 | smell: 2 | taste: 2 | feel: 2.5 | overall: 2
The best thing about this brew is its appearence. Light golden in colour, minor murkiness with a large bubbled, average carbonation.
The aroma and taste go well in hand due to the strong presence of corn in both categories.
Very smooth, very sweet and light bodied.
267 characters

1.45
/5
rDev
-26.4%
look: 4 | smell: 1.5 | taste: 1 | feel: 1.5 | overall: 1.5
CAN you dig it? Another beer in a can for me to try. This started with a huge, rocky, white head that quickly reduced to wisps. The nose had a sharp, sour/sweet quality that was immediately off-putting. The color was a pretty golden-yellow with NE-quality clarity. The mouthfeel was thin with a sharp alcohol burn on the tongue, followed by a general dryness. The finish had a metallic tang. Woof! Man, I have had some rubbish in a can, but this one deserves its low numbers.
475 characters
1.03
/5
rDev
-47.7%
look: 1.5 | smell: 1 | taste: 1 | feel: 1 | overall: 1
Had a 40oz of this for my halloween costume. Figure I might as well tick it. Initial pour into a sample glass from a bottle.
A: Golden pale yellow. No head no lace. Looks a lot like urine.
S: Sweet corn and hot booze. I smelled paint thinner better than this. The aroma scares me.
T: Vile stuff. Sweet corn and a vodka like bozziness. Every sip is a chore. I can't beleive I have to drink forty ounces of this stuff.
M: Thin watery body. Light carbonation.
D: Overall an epic fail of a beer. I mananged to hold my breath and get the entire bottle down. I will never drink thisn again thankfully.
602 characters

4.38
/5
rDev
+122.3%
look: 2.5 | smell: 4.5 | taste: 4.5 | feel: 4.5 | overall: 4.5
I would like to start by saying that if these 16oz bullets were readily available by me, I would consume then on the regular.
I poured the contents into a pint glass. It was a medium yellow color and had almost no head. But this isn't where LN 7-11 shines.
Where this brew shines is with it's smell, taste, and mouth feel. Sure it's over 8% and your expecting garbage. However, this is far above all expectations. It almost smells like a cheap scotch (JW Red, Cutty Sark). The taste really isn't too far off from the smell, in a good way.
For a high octane brew, it flows down way too easily and makes me want another. Oh yeah, and the "feeling" acquired post consumption ain't bad either. I give this my utmost recommendation if attempting to enter the HG world.
766 characters
2
/5
rDev
+1.5%
look: 2 | smell: 2 | taste: 2 | feel: 2 | overall: 2
Slightly yellow tinted water with a finger of head that lasts as long as an average sierra mist. All the wonderful aroma of corn and grain. Taste has lots of alcohol burn, chased by corn and grain. Mouthfeel is light and watery. This is as drinkable as natty light with a shot of vodka dropped in it.
300 characters
1.85
/5
rDev
-6.1%
look: 2.5 | smell: 2.5 | taste: 1.5 | feel: 2 | overall: 1.5
The beer pours a very yellow golden in color. There is a short-lived head of white foam.
The aroma is corn, somewhat sweet, malt-o-meal breakfast cereal and a slight grassiness.
The taste is sweet, somewhat metallic and medicinal, with a sour tinge on the end. Bad, but not quite as bad as I expected (but close).
You could not make this beer cold enough. Aftertaste is terrible. It's bad out of the glass, it's bad out of the can. Leave this to the alcoholics. I never get beers like this, there are decent tasting cheap beers, so why are there so many awful tasting cheap beers?
585 characters
1.7
/5
rDev
-13.7%
look: 2 | smell: 2 | taste: 1.5 | feel: 2 | overall: 1.5
Today must be my lucky day because I get to enjoy this nice shiny can of Lucky Number High Gravity Lager. Its foe in today's Malt Likkapalooza IX is Las Vegas's own Camo 900 High Gravity Lager. Shouldn't the beer named Lucky Number be brewed in Las Vegas rather than the one named Camo? Anyway, let's... get... ready... to... ruuummmble!
Bold gold that is slightly darker and slightly more orange than its competitor. The head is dingy white, featureless, unsticky, is now gone without a trace, and has left the glass completely untouched. Looks like Lucky Number has some major catching up to do.
It won't happen with the nose. There isn't much to go on (not a bad thing), possibly due to what looks to be a serious lack of bubbles. Vodka-soaked grain with a faint steely fruitiness gets it about right.
Lucky Number is ghastly beer in a style where most participants wear nasty as a badge of honor. Each mouthful starts out sort of okay, then descends into a flavor that can only be described as corn squeezins aged in an old shoe. The only thing keeping the score from the basement is that I can imagine worse. Not much worse, but worse.
The mouthfeel is more full and less carbonated than Camo's mouthfeel. I don't mind the first, but the second robs the beer of any sort of sensory interest at all.
Lacrosse City Brewery is responsible for one of the best malt liquors that I've ever had (City Slicker). Four O ain't too shabby either. Lucky Number, though, is bad, bad, bad, bad, bad. Malt Likkapalooza IX goes to Camo 900 High Gravity Lager in a rout.
1,563 characters

1.9
/5
rDev
-3.6%
look: 2 | smell: 2 | taste: 2 | feel: 2 | overall: 1.5
Pours golden with almost no head. The aroma is bready and corny with a little fusel crap and some citrus that sneaks in. The flavor is corny and fruity with a bit of alcohol and some distinct orange. Weird, but not entirely awful.
I'm kind of glad I didn't have the 40.
271 characters
Lucky Number High Gravity Lager from City Brewing Company, LLC
Beer rating:
1.97
out of
5
with
13
ratings