City Slicker
| City Brewing Company, LLC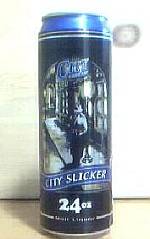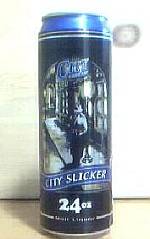 BEER INFO
Brewed by:
City Brewing Company, LLC
Wisconsin
,
United States
citybrewery.com
Style:
American Malt Liquor
Alcohol by volume (ABV):
not listed
Availability:
Year-round
Notes / Commercial Description:
No notes at this time.
Added by Tballz420 on 08-24-2003
This beer is retired; no longer brewed.
HISTOGRAM
Ratings: 6 | Reviews: 5
Reviews by chilidog:
3.38
/5
rDev
+24.3%
look: 3.5 | smell: 3 | taste: 3.5 | feel: 3.5 | overall: 3.5
I came accross thisone as I was looking at the site regarding other LaCrosse beers and behold City Slicker is at my corner gas station for a buck. Ok, a review is in order. Going for a buck for a 24 oz. can, not a bad deal.
The Malt liquor kinda had me worried. But hey, this isn't bad stuff. Infact I thought it was better than the other LaCrosse brews i've tried.
It pours a dark gold with a off white head. Lace is pretty good as the body of the beer seems thicker or at least medium.
The aroma is malty but not sweet.
The taste is malty, brown sugar and a grainy, grassy hop to actually balance this a bit.
That being said, its a drinkable beer for its not overly sweet. Drinkability is good enough to buy another, should I find I got an extra buck, oh ya!
768 characters
More User Reviews:

2.9
/5
rDev
+6.6%
look: 3 | smell: 3 | taste: 3 | feel: 3 | overall: 2.5
Clear pale amber-gold hue, there is a fair amount of carbonation racing towards the head which reached a modest half finger in size before quickly fading to a soapy cap. The lacing was minimal and it disappeared in time. The nose is unmistakable; it is cheap, sweet, and hot from alcohol. Malt Liquor, you got to love it! There is no invitation, just a warning that I ignored. The palate is not as bad as I expected, the sweetness is noticeable but tolerable and there is a biting dryness in the middle (it can't be from hops, right?). It is pleasantly clean throughout with traces of alcohol heat at the finish. It warms the throat noticeably. The carbonation is high and appropriately so, the bubbles scrub away the flavors nicely, I guess that is a good thing in this example, medium-light in body but well hidden. This bad boy is not as good as Coqui 900 but for a Malt Liquor it is okay. Would I quaff this all night out of my Duvel glass? No. Would I drink it again? Probably not but I would recommend it to some poor sap that likes the style. I did not dare let it warm up; straight out of the refrigerator it was drinkable. I purchased a 24-ounce can for .99c in Iowa City, how could I turn it down? It's not awful… now that is praise!
6.0% abv
1,259 characters
3.8
/5
rDev
+39.7%
look: 3.5 | smell: 3.5 | taste: 4 | feel: 3.5 | overall: 4
Very clear body, medium to slightly dark gold color, lots of carbonation on the sides of the glass. Head rises quick, and fades just as fast, rather bubbly in appearance. Sweet corny flavor, grainy maltiness, ans a tinge of skunk. This is not a good beer by any means, but versus the style it is pretty good, even above average, a cheap malt liquor, but still doesn't offend too bad.
383 characters
1.06
/5
rDev
-61%
look: 2 | smell: 1 | taste: 1 | feel: 1 | overall: 1
This one caught my eye and i just had to try it. I gave it a bonus point because for a 40 oz bottle this was about the coolest one ive seen. Other than that this is your typical malt liquor, other words a cheap way to get hungover. Should be avoided unless of an emergency.
273 characters
3.15
/5
rDev
+15.8%
look: 3 | smell: 3 | taste: 3 | feel: 3.5 | overall: 3.5
Medium amberish gold with the occasional stray bubble rising slowly to a frothysoft, dirty white cap. The head has a rounded hillocks surface that leaves very little lace in its wake when it deflates. The nose is of husky grain primarily and is both sweet and spicy. It isn't offensive, but I wouldn't take in out in public either.
City Slicker tastes like a sweeter, more alcoholic (still only 6%) version of a macro lager. It's light on pale malt, although not overly so. Actually, there's quite a bit of flavor, the desciption of which mirrors the description of the nose. It will undoubtedly deteriorate with warming, but starting it out ice cold--rather than at 50 degrees as I've done--should allow one to get through the can without too much difficulty.
It's moderately hoppy, surprising for the style, with a pleasing bitterness to offset the corny sweetness. The body/mouthfeel is roughly midway between light and medium. At least it isn't thin and harsh with a watery finish as so many low end beers tend to be. The 3.5 drinkability score only applies when cold.
Lacrosse City Brewery says that this is a *premium* malt liquor, but then that's an easy term to toss around, isn't it? There's absolutely nothing premium about this beer, but it ain't half bad if your expectations are on the low end.
City Slicker Malt Liquor has a kind of ring to it. I think these guys should consider releasing a seasonal 2-pack. Along with a can of City Slicker Malt Liquor would be a can of Country Bumpkin Pumpkin Ale. Something to think about.
1,554 characters

City Slicker from City Brewing Company, LLC
Beer rating:
2.72
out of
5
with
6
ratings