Milwaukee Premium Brewing Company Classic Light
| City Brewing Company, LLC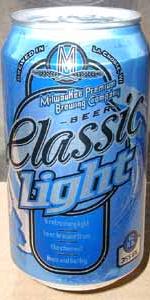 BEER INFO
Brewed by:
City Brewing Company, LLC
Wisconsin
,
United States
citybrewery.com
Style:
Light Lager
Alcohol by volume (ABV):
not listed
Availability:
Year-round
Notes / Commercial Description:
No notes at this time.
Added by TastyTaste on 07-29-2005
Reviews: 9 | Ratings: 14
Reviews by tjsdomer2:

1.55
/5
rDev
-27.2%
look: 1.5 | smell: 1.5 | taste: 1.5 | feel: 2 | overall: 1.5
Appearance: This looked like nothing other than water.
Smell: Metallic water. Yum!
Taste/Mouthfeel: Metallic water with beer extract and/or nasty yeasty properties. Feels like carbonated water.
Overall: Quite nasty. This is definitely a beer to avoid. Wait til you see the Classic Ice review...
★
297 characters
More User Reviews:
2.51
/5
rDev
+17.8%
look: 3 | smell: 2 | taste: 2.5 | feel: 2.5 | overall: 3
Basic light lager. Not much going on here. Crystal-clear straw gold body; quick to dissipate bright-white head. Mild, generic beer aroma. Light bodied and moderately crisp in the mouth. Mild malt flavors are enhanced (?) by underlying non-descript hop flavors. Backed by a balancing firm bitterness. Finishes clean with just a very light touch of yeasty sulphur and some quick clearing residual malt. Refreshing. Well-made. Very basic. Pretty much on par with most other American-macro light beers.
★
498 characters
3.07
/5
rDev
+44.1%
look: 2.5 | smell: 3 | taste: 3 | feel: 3 | overall: 3.5
Poured from a 12 oz. can. Has a pale yellow color with a 1/2 inch head. Smell is mild, some malts. Taste is crisp, corn and malts, a bit sweet, more flavor than most light beers. Feels light in the mouth and has good drinkability. Overall considering the price tag and the fact that it is a light beer, not a bad selection.
★
323 characters
1.66
/5
rDev
-22.1%
look: 2 | smell: 1 | taste: 2 | feel: 3 | overall: 1
Poured the last half of this guy out...
A- I didn't pour it out of the can but I'm sure it was pale yellow. The can was light blue and had all kinds of stuff going on with it, too bad the beer wasn't like that,
S- Not much of anything. Faint rice water smell.
T- eeeh. This is soo bad. A lot like busch light.
M- Fizzy and watery.
D- Don't do it.
★
362 characters

2.58
/5
rDev
+21.1%
look: 3 | smell: 2.5 | taste: 3 | feel: 2 | overall: 2
CAN you believe that the CANQuest is closing in on # 200? CAN you help out by trading something not already reviewed? CAN anybody stop this maniac before he cracks open another CAN? These questions and other burning issues will be answered in the next episode of "Days of Our CANs".
Wow, surprise, surprise, surprise, Sgt. Carter! It had a finger's worth of bone-white head a minute ago and when I went to come get you, it just disappeared!
Pyle, you goof! Don't EVER take your eyes off of one of these crappy beers when you've just poured it! How many times must I tell you?!?
Sorry, Sgt. Carter, it's just that I was mesmerized by its pretty deep-golden color with NE-quality clarity. I won't do it again.
Well, Pyle, how's it smell?
It's kinda sweet, like a field of flowers back home, or maybe some honey, fresh from the hive.
That's fine, Pyle, just fine! Now, what about the mouthfeel and the taste?
Gosh, Sgt. Carter, it's real fizzy and kinda watery, in fact it tastes like the Soda Water like we used to get at the local ice cream parlor, next to Floyd's barber shop.
Ugh. Well, what about after you swallow it, Pyle? And would you drink it again?
Well, it's still pretty watery, Sergeant, but I'd dang sure put some in my canteen for a bivouac on a hot day.
Fine, Pyle, fine. Set it aside for later.
With sincerest gratitude to Jim Nabors and the late Frank Sutton for their inspiration.
★
1,409 characters
1.45
/5
rDev
-31.9%
look: 1.5 | smell: 1.5 | taste: 1.5 | feel: 2 | overall: 1
Clear light gold color, large white head. Light graininess in the nose. That's it, nothing more. Taste is similar to tonic water, maybe a little bit of grain. Mouthfeel is carbonated enough, but this is obviously a "slam 'em back" beer. Nothing more.
★
250 characters

1.75
/5
rDev
-17.8%
look: 2 | smell: 2 | taste: 1.5 | feel: 1.5 | overall: 2
It is what it is... It is a macro brew light to drink after the grass is cut, while watching football, or at a picnic. It is cold, wet, yellow, and cheap. $13.49 for 30 12 oz cans. Good for hydration and simmering brats. Yeungling Premium Light is much better but just a tick more expensive. Probably won't buy again.
★
317 characters
2.36
/5
rDev
+10.8%
look: 3 | smell: 2 | taste: 2.5 | feel: 2 | overall: 2.5
A: Clear, yellow, and fizzy like any other macro lager. Big white head that dies down fast, but never totally leaves like most macros. Also contributes to some lacing.
S: The smell is very faint, which is a good thing for these types of beers, because sometimes they can be offensive. This one is not offensive, it just offers NOTHING aside from some very faint malt. A slight veggie/corn smell is also present, but again not as much as some other beers.
T: Almost none, aside from like the smell, this beer is extremely refreshing as it drinks like water. It is quite crisp and does have a faint malt sweetness as well as a very slight lemon/grassy note which caught me by surprise to be honest. Only in the aftertaste do you get some adjunct corn flavor.
M: Thin and watery, and when it loses carbonation, it might as well be water.
I bought this beer for $11 for 30 and at that price, it can't be beat. I actually would rather have this over BMC and most other cheapo lagers. It is suitable for swilling on a hot summer day and drinking in large quantities without getting too intoxicated. Overall, probably the best of the worst, surprisingly.
★
1,151 characters
2.63
/5
rDev
+23.5%
look: 3 | smell: 2.5 | taste: 2.5 | feel: 2.5 | overall: 3
Ok, I only bought this because it was $10.99 for 30, and the people @ my beer store said they sell alot of it. I'm trying to "cut the gut", so I do down an occasional light, and figured why spend more money for less product, hence the purchase of this swill. Costs much less than the other over-advertised, under-flavored light beers, so what the heck.
Why anyone would pour this beer other than to review it, I'll never know. But I poured it, and it looks like any other light beer on the market. Light gold (perhaps a bit darker than some lights) and a fizzy head that disappears almost before you can set the can down. It feels like carbonated water in the mouth, and has nearly NO flavor whatsoever. A tad sweeter than some, I guess. Again, much like MANY of the light swills out there. Oh, and did I mention this was $10.99 for 30?!?! Yes, I did. That's the ONLY reason I would recommend buying this. It's drinkable and cheap. Oh, there is a tiny bit of lacing, but it heads south pretty quickly too. I'd say if you're a light beer drinker, give it a try just 'cause it's cheap. Why spend $20 for BL/CL/ML, when you can spend...did I mention....$10.99 for THIRTY Milwaukee Premium Brewing Company Classic Light?!?!?!?! (Long enough name, don't u think?!)
This is just a beer to pound during the football game. Not something you'd drink for flavor and the bouquet. It's a cheap, macro light, with 110 calories and 7.2 g carbs. Not sure of the alcohol content. I must say that after finishing my "glass" of this stuff, it's pretty darn smooth. Very watery, much like CL and KL, and goes down easy. What more to say? If you drink light....try it. You won't hate it, but you won't love it either. My aunt sent me $10 the other day, so I figured what better way to piss away $10 than to try something new in the way of BEER?! I guess you COULD call this beer, but say it very quietly. Pretty blue can though. THAT must be what they invested their money in!?!! Cheers, my friends. (OH, it IS brewed in LaCrosse, WI. Is that a good thing? I dunno. Just F.Y.I.)
★
2,064 characters

Milwaukee Premium Brewing Company Classic Light from City Brewing Company, LLC
2.13
out of
5
based on
14
ratings.