Game Day Ice
| City Brewing Company, LLC
BA SCORE
54
awful
32
Reviews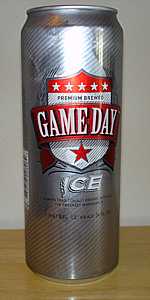 BEER INFO
Brewed by:
City Brewing Company, LLC
Wisconsin
,
United States
citybrewery.com
Style:
American Adjunct Lager
Alcohol by volume (ABV):
5.50%
Availability:
Year-round
Notes / Commercial Description:
No notes at this time.
Added by VaTechHopHead on 04-28-2010
Reviews: 32 | Ratings: 47
1
/5
rDev
-43.2%
look: 1 | smell: 1 | taste: 1 | feel: 1 | overall: 1
Appearance: The can itself is average. Easily the best part. The beer? I have no idea. I imagine it is a black hole, sucking the soul out of everything around it.
Smell: It reminds me of a store I was in that had a sewage spill. I'd like to say it smells of "hops" (there are none), "malts," or even "beer," but it just doesn't.
Taste: This is the taste of shame. I detect a bit of metallic orange that sets in after like, a second, of the drink touching my tongue. Willingly drinking this, however, makes me wonder what I'm doing with my life where God would allow such a curse to be fall me.
Mouthfeel: I try not to keep it in the mouth long enough to actually give this a rating.
Drinkability: Nonexistent. You'd have to remove your taste buds to find this remotely drinkable.
I originally purchased this as a form of insect control for some plants of mine as a "beer trap". I have a feeling it won't even be good at that.
932 characters
1
/5
rDev
-43.2%
look: 1 | smell: 1 | taste: 1 | feel: 1 | overall: 1
24 oz can purchased for 99 cents at a gas station in Joliet.
A - Yellow and fizzy.
S - Foul. Noxious armpit like aromas steam out of this brew.
T - Chemicals, bleach, and spit. Bleh.
M - Super-carbonated and acidic.
D - No thank you. This was worse than I could have ever expected.
287 characters
2.5
/5
rDev
+42%
look: 2.5 | smell: 2.5 | taste: 2.5 | feel: 2.5 | overall: 2.5
A - Poured a clear golden color with a white head that fades quickly to nothing
S - Is mostly of sweet grainy malt
T - Follows the nose with a lot of sweet malt that has a grainy taste to it
M - this beer has a medium body with medium carbonation to it
D - Well this wouldn't be my first choice by any means but for what it is it is better than other crap beers out there I liked the light version better
408 characters
1.4
/5
rDev
-20.5%
look: 1 | smell: 1 | taste: 1.5 | feel: 3 | overall: 1
Picked this up at 7-11.
Appearance - Pale yellow in color with a huge, rocky white head which dissapates very quickly. NO lacing present at all.
Smell - Very sweet maltiness. Slight hints of cat pee.
Taste - The 5.5% alcohol is noticeable. I taste corn, bread, malt sweetness.
Mouthfeel -VERY carbonated and thin body
Overall - Ok I have an appreciation for well done macro lagers but this one is not one. Honestly this is a drain pour for me. I wouldn't recommend this to no one. Do not pass go, do not collect $200.
522 characters
2.23
/5
rDev
+26.7%
look: 2.5 | smell: 2 | taste: 2 | feel: 2 | overall: 3
I bought this can on a whim at my local 7-11. Pours a very pale yellow into my pint glass. Aggressive pour produced a nice frothy head, but it dissipated almost immediately and provide only minimal lacing.
Smells a little like grassy grains, but has a "medicinal" scent to it. Not very pleasant or inviting.
Taste is a lot like the smell. Not very good.
Mouth feel is thin and fizzy.
Easy to drink, but why would you want to?
Will not purchase again.
455 characters
2.3
/5
rDev
+30.7%
look: 2 | smell: 2 | taste: 2.5 | feel: 2 | overall: 2.5
Label says Ice Ale underneath name
Poured into Stone Ruination pint glass
A - bubbly white head, disappears quickly, transparent straw color, lots of bubbles
S - bready, very light hops
T - maltier than the GD light I just had, aftertaste has a slight dry bitter hop flavor, alcohol is ever so noticeable
M - bit more bodied than GD light, way carbonated
D - this is Busch level maybe just below Bud Light or Miller Lite, much better than the Light version, still dont think id purchase it even if its cheaper than other BMC like beer
539 characters
1.63
/5
rDev
-7.4%
look: 2 | smell: 1.5 | taste: 1.5 | feel: 1.5 | overall: 2
Big brother to the newly contracted 7-Eleven beer, Game Day Light. To sum this beer up...now there's a third wheel in the crappy American "Ice" beer category to compete with Natty Ice and Beast Ice. And accordingly it tastes just as bad. Game on!!
247 characters
Game Day Ice from City Brewing Company, LLC
1.76
out of
5
based on
47
ratings.