Silver Stallion Draft Beer
| City Brewing Company, LLC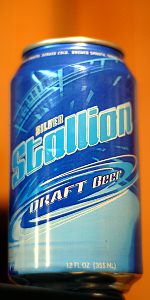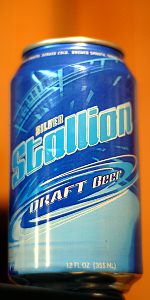 BEER INFO
Brewed by:
City Brewing Company, LLC
Wisconsin
,
United States
citybrewery.com
Style:
American Adjunct Lager
Alcohol by volume (ABV):
not listed
Availability:
Year-round
Notes / Commercial Description:
No notes at this time.
Added by woemad on 09-11-2011
HISTOGRAM
Ratings: 6 | Reviews: 6
Reviews by djeucalyptus:
2.21
/5
rDev
+18.8%
look: 3 | smell: 2 | taste: 2 | feel: 2.5 | overall: 2.5
figured i'd give this the best chance and cracked it into a sezoens snifter. pours a generic golden straw hue, a hint darker than the average 'bmc piss yellow'. a decent head has surprisingly fair retention but leaves only a dot or two of lace.
the snifter concentrates the pungently funky aroma. stale corn, ethanol, a hint of mint. smells like river. or pond water with a spritz of lemon. reidrover isn't kidding on the 'rainwater' note.
taste is as expected... generic cereal grains, cornbread, cream of wheat, and grits. with some lemon citric notes. a touch fruity. pear. a bit too funky for the style, honestly. if it were a bit cleaner and grainer, i might actually like it a touch more.
mouth is average and expected... thin, carbonated like whoah. a touch of sweet slickness.
about what i'd expect out of a 2.99 sixer with such stunning graphics. mediocre at best, even for the style. at the price, it's even a touch disappointing. not one I'd buy again at any price.
981 characters
More User Reviews:
1.71
/5
rDev
-8.1%
look: 2 | smell: 1 | taste: 2 | feel: 1.5 | overall: 2
The blue can was very simple, not too eye catching.
The beer has a sweet hint and leaves a slight tropical after taste.
This Beer smells of chicken because thats what im eating, from what i smell its a hint of bananna and apples.
This brew was bubbly.draft
Over all I feel it was worth 1.99 for a six pack.
307 characters

2.18
/5
rDev
+17.2%
look: 2.5 | smell: 2 | taste: 2 | feel: 2.5 | overall: 2.5
Cheapo 6 pack from Grocery Outlet,Salem. $2.99 Poured into a glass..pale yellow..frothy white head that lasts longer than i thought it would. Aroma of carboard and corn, drenched in. some rainwater. Actually not as horrific as it sounds. Taste is just sweetish cereals and a hint of apple juice. Average palate..to style. Cheap lager..what do you expect for the money?
368 characters

1.03
/5
rDev
-44.6%
look: 1.5 | smell: 1 | taste: 1 | feel: 1 | overall: 1
A- Yellow, exactly like piss.
S- Metallic, white wine/champagne.
T- Wow, this tastes just like white wine/champagne with a metallic taste. No beer taste at all. Not sweet. No hop bitterness. Fermented apple.
M- Bubbly. Very slightly slick.
O- I wouldn't even call this beer. I bet wine drinkers would love this beer. I personally hate wine.
This was $1.99 a sixpack at Grocery Outlet, but it's not worth it.
411 characters

1.59
/5
rDev
-14.5%
look: 3 | smell: 1.5 | taste: 1.5 | feel: 1.5 | overall: 1.5
12oz can from a 6-pk picked up at a local Grocery Outlet for $3.59. "Brewed and bottled by SF Brewing Company, La Crosse, WI." Really? This can was bottled? Apparently this comes from the City Brewery in La Crosse, despite the "SF Brewing" remark on the can.
Poured a golden amber color with initially a big, fizzy white head that drops very quickly, leaving the occaisional spot of lace on the sides of the glass.
Big, crude aroma like grain and cooking oil.
Tastes pretty much like it smells, which is unfortunate. Pretty corny flavored, best
experienced at a very cold temperature.
Fairly watery body and mouthfeel.
Ugh. The only redeeming feature of this beer is that it's super cheap. Save this one for the day you find PBR or Oly too expensive.
766 characters
2.46
/5
rDev
+32.3%
look: 3 | smell: 2 | taste: 2.5 | feel: 3 | overall: 2.5
Appearance pours straw yellow in color with a crisp head that hangs for awhile. Smell of light malt and "select grains" having overall a very light aroma. Taste is not terrible, it's sweet, corny with a mild hop that leaves a mild cloying sweetness. Mouthfeel is light with a good spike of carbonation. Overall it's not as bad as I expected, especially for the price.
367 characters
Silver Stallion Draft Beer from City Brewing Company, LLC
Beer rating:
1.86
out of
5
with
6
ratings