La Crosse Amber Lager (Session Series)
| City Brewing Company, LLC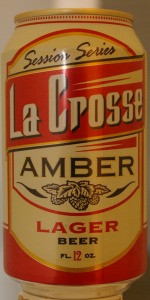 BEER INFO
Brewed by:
City Brewing Company, LLC
Wisconsin
,
United States
citybrewery.com
Style:
American Amber / Red Lager
Alcohol by volume (ABV):
4.50%
Availability:
Year-round
Notes / Commercial Description:
No notes at this time.
Added by slimpickens101 on 07-03-2013
Ratings: 14 | Reviews: 4
Reviews by TheQuietMan22:

3
/5
rDev
-2%
look: 3 | smell: 3 | taste: 3 | feel: 3 | overall: 3
Serving type: 12-ounce can. No freshness date.
Appearance: Poured into a pint glass. The color is clean, clear, ruddy amber (as promised). A finger of off-white foam left a spotted skim and ring around the edge.
Smell: Caramel, a little toffee, lightly toasted malts, and musty adjunct grains.
Taste: It kind of tastes like a bohemian pilsner with a couple ingredients added. The mouthfeel is very bready and imparts the flavor of pale and lightly toasted malts. Overall it is relatively sweet, though it does offer a nice crispness at the end. Sweet caramel, toffee, apple, and a little strawberry licorice.
Drinkability: As part of La Crosse's Session Series, it is a very sessionable beer. It will not blow anybody socks off but it is a tasty brew that would fit nicely into a cooler for camping.
805 characters
More User Reviews:

3.43
/5
rDev
+12.1%
look: 4 | smell: 3.5 | taste: 3.25 | feel: 3.5 | overall: 3.5
A big shout out to woodychandler for yet another canned beer. Poured from a 12 oz. can. Has a light caramel color with a 1/2 inch head. Smell is malty, a little bit on the sweet side. Taste is crisp, malts, some grains, a touch of sweetness, refreshing. Feels medium bodied in the mouth and overall is one of the better beers from this brewery.
344 characters



3.51
/5
rDev
+14.7%
look: 4 | smell: 3.5 | taste: 3.5 | feel: 3.25 | overall: 3.5

2.46
/5
rDev
-19.6%
look: 4 | smell: 3 | taste: 2 | feel: 3 | overall: 2
If memory serves me correctly, I bought a couple of La Crosse CANs at Riley's Wines of the World in Madison, WI during my annual trip to the Great Taste of the Midwest and search for CANned beers in support of The CANQuest (TM). If I am incorrect, local in-person trader, tone77, brought them by for me, but he has not reviewed them, so I am dubious.
The Crack released a little spritz of beer across my fingers! Time for an inverted Glug. This resulted in two-plus fingers of fizzy, tawny head with limited retention. Color was a beautiful coppery-amber (SRM = > 17, < 22) with NE-quality clarity. Nose had a sharp, molasses-like sweetness. Interesting. Mouthfeel was medium and the taste was sort of off for the style. It was sweet, starting out almost maple syrup-like, but then that odd sharpness took hold and it got sort of unpleasant. Finish was still sweet with that same lingering sharpness of an unknown origin. I would probably chalk this up as a one-and-done. There was a brilliant "Brevity" comic strip today, in which a bottle of Pale Ale walks into a tanning salon and announces, "And I'm not coming out of there until I'm Amber!" Ha! Maybe this one stayed in the tanning booth a little too long ...
1,221 characters

2.7
/5
rDev
-11.8%
look: 3 | smell: 3 | taste: 2.5 | feel: 3 | overall: 2.5
Aroma wasn't bad, mostly malty. But the flavor was cloyingly sweet. Body is ok. Much more sweet than bitter in an unpleasant finish.
132 characters


3.41
/5
rDev
+11.4%
look: 3 | smell: 3.25 | taste: 3.5 | feel: 3.5 | overall: 3.5
This beer was sampled while at Fort McCoy and this review is from memory (I guessed at the ABV, it seems to be required). I found Lacrosse Amber Lager at Fast Eddie's Liquor and Gas Station in Sparta, WI and the price caught my eye (~$6.50 per six pack). When I was finally able to sample the product, it was mostly cool. It had a nice malt smell and taste with just a tease of hops. The mouth feel was a tad toward creamy and very smooth. I thought this beer to be very balanced and with enough flavor to keep me going to the cooler for more. I was not equipped, unfortunately, to view the beer (I drank it from the can, being at FT. McCoy and all). Overall, I thought this a tasty beer. Not spectacular, but a very solid offering from City Brewing. If it was sold in Tennessee, I would most definitely visit this one again, and again. I am including a brief excerpt from a May 2013 La Crosse Tribune article written by Matt Hoffman (I tried this beer in mid-June 2013).
"City Brewery is pumping almost 500 barrels of new, craft-brewed life into the La Crosse brand name.
La Crosse Session Series Amber Lager will hit area shelves and bars over the next week. The beer represents the re-entry of City Brewery Brands — owned by one of the brewery's owners, Ralph Morello — in the craft market.
"We're trying to be a little innovative," brand sales director Don Morello said. "This is a whole new adventure for us."
The amber lager will be a year-round offering that will likely be joined, eventually, by two other flagship craft brews, plus seasonal offerings."
Read more: http://host.madison.com/business/la-crosse-s-city-brewery-launches-new-craft-beer-series/article_c7ad5242-b89f-11e2-a310-001a4bcf887a.html#ixzz2Y1ifJRmB
1,746 characters
La Crosse Amber Lager (Session Series) from City Brewing Company, LLC
3.06
out of
5
based on
14
ratings.