The Kissers' Monday Night Special Oatmeal Double Stout (Bourbon Barrel Aged

Tyranena Brewing Company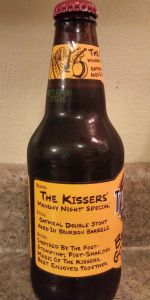 Write a Review
Beer Geek Stats:
| Print Shelf Talker
Style:

ABV:

8.5%

Score:

Avg:

4.13

| pDev:

5.08%

Reviews:

12

Ratings:

From:

Avail:

Rotating/Seasonal

Wants

Gots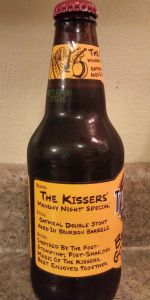 Notes:

TheSSG from Illinois
3.48
/5
rDev
-15.7%
look: 4 | smell: 3.5 | taste: 3.5 | feel: 3 | overall: 3.5
Pours a modest, tan head. Acidic, toasted malt in the nose, with a touch of oak. Black. Starts with a super deep, rich toasted malt flavor. There is a sweetness as bourbony vanilla notes break through. This all clarifies into some lingering hop bitterness blended with sweet malt. The finish is acidic, toasted malt and sweetness.
This is pretty good. It's way, way sweeter than I was expecting, and the bourbon barrel aging is very subtle; it adds vanilla and oak notes, but it doesn't dominate at all. I would have liked a thicker mouthfeel, and more robust bourbon flavor.
Mar 17, 2018

connecticutpoet from Connecticut
4.41
/5
rDev
+6.8%
look: 4 | smell: 4.25 | taste: 4.5 | feel: 4.5 | overall: 4.5
Appearance – Thin layer of head on a very dark brown clear body.
Aroma – Strong roasted barley, dark coffee, a little oak and booze but not much.
Taste – Coffee, dark roasted barley, dark fruits, slight sweetness, deep oak tannins, a little boozy alcohol warmth at the
end.
Mouthfeel – Full bodied and creamy.
Overall – A very well put together beer that I would have again.
Feb 28, 2018

mdfb79 from New York
4.15
/5
rDev
+0.5%
look: 4 | smell: 4 | taste: 4.25 | feel: 4 | overall: 4.25
Pours a dark brown color with two inches of brown head. Nose has a lot of milk chocolate, roasted malts, light coffe, toasted nuts and malts. Taste is more complex and a lot more bourbon, some coconut and oak too. A little boozy and hot. Full bodied stout and moderate carbonation.
I mlike this one overall but it's a bit hot; if you don't like a strong bourbon taste you may want to skip this one but I dig it.
Jun 25, 2017

mac31 from California
4.21
/5
rDev
+1.9%
look: 4 | smell: 4.25 | taste: 4.25 | feel: 4 | overall: 4.25
Bourbon, roasty, slight vanilla, and booziness in the entry. The bourbon is noticeable, but not pushy. The bourbon is sweet and boozy; wonderful. From there the soft chocolate, cooked caramel, minor coffee, and that familiar oat flavor kicks in. This is one smooth and balanced brew. The bourbon is present from start to finish, never crossing the boundary and keeping in its place. Vanilla accompanies the bourbon as well. The booziness is ever present. This is the one of the most palatable boozy beers I've had in a long time. I've encountered The body is on the thinner side. I like it. It keeps a bold beer like this drinkable. Any more body and the bourbon notes would probably be too much. There are some acrid notes in the finish that dissipate as you drink on. The bourbon and vanilla are there in on the finish also. I love that this beer is balanced, a sure sign of true skills. First beer I've have from these guys. They did a mighty, fine job.
May 24, 2017

Stevedore from Oregon
4
/5
rDev
-3.1%
look: 4 | smell: 4 | taste: 4 | feel: 4 | overall: 4
On tap. Served in a snifter glass. Dark black body, one finger mocha head, short retention, bits of lacing. Smell is mildly harsh bourbon and oak, milk chocolate, light espresso, cocoa, light earth. Flavour is milk chocolate, cocoa powder, a bit of astringent coffee bean, with a slightly astringent and aggressive bourbon and oak finish. Mouthfeel is medium bodied, creamy, nicely carbonated, with a mildly astringent finish. This seemed more bitter and aggressive than Carnal Knowledge in the Wood, side by side.
May 15, 2017
Greywulfken from New York
4.4
/5
rDev
+6.5%
look: 4.25 | smell: 4.25 | taste: 4.5 | feel: 4.25 | overall: 4.5
Solid entry into the bourbon barrel imperial stout crowd, this being an oatmeal stout, aged in bourbon barrels. Soft aromas of chocolate malt, molasses, vanilla, and bourbon-soaked wood. Smooth up from with that oatmeal vibe, light airs of wood and sweet bourbon on top, delivering tastes of sweet chocolate and coffee. Medium-weight feel, very soft and quick across the tongue, mild carbonation, lingering coffee and bourbon aftertaste. Very nice. 8.5% abv based on sites like RateBeer, Untappd, and the like.
Apr 29, 2017

maximum12 from Minnesota
4.11
/5
rDev
-0.5%
look: 4 | smell: 3 | taste: 4.5 | feel: 4.5 | overall: 4.5
Bless Casanova's in Hudson, WI for getting so much bloody good beer we can't grab here in MN. This among them, most of a case of BGW came home with me last week. 12 oz. stubby.
Black Gate black. Touch of malt & chocolate in the nose, but few particles of either. Weak.
The Kissers Monday Night Special is intense. After the faint nose, & given the traditions at Tyranena, the wet-fish slap of bourbon greeting the palate is as shocking as the transformation of Will Hunting into Jason Bourne. Big bourbon inundates the palate, along with sweet, swirled chocolate. Adds are vanilla extract, graham cracker, marshmallow, chocolate shake, mild roast. Oak looks through the peephole at the end. Ridiculously creamy & smooth. If I were a St. Bernard, this beer would be my toiler bowl.
If Tyranena ever decided to challenge Alesmith or The Bruery & make big, bruising beers that removed your ability to operate heavy machinery or a bra, they could do it. Instead, they do lovely things like this. Another excellent beer from Lake Mills.
Nov 23, 2016

bound4er from Wisconsin
4.18
/5
rDev
+1.2%
look: 4.25 | smell: 3.75 | taste: 4.25 | feel: 4.75 | overall: 4.25
Nearly black appearance with a one finger tan head. Smells like a mixture of chocolate and vanilla fudge ... if there is such a thing. Taste is more complex than the nose with more chocolate, vanilla, some oak and bourbon influences and a hint of coffee. Offers just a kiss :) of roast on the finish. Mouthfeel is thick and creamy - likely from the oatmeal. As always another very well made barrel-aged beer from Tyranena.
Apr 02, 2016
4DAloveofSTOUT from Illinois
4.25
/5
rDev
+2.9%
look: 4.25 | smell: 4.25 | taste: 4.25 | feel: 4.25 | overall: 4.25
draft pour at Tyranena brewpub.
Appearance: black body with thin cap that stuck around for a long time.
Smell: bourbon and chocolate malts. Pretty much what you would expect for a bourbon barrel oatmeal stout from Tyranena.
Taste: Same as the nose: bourbon light roast, and chocolate malt. Nice balance of barrel aging and stout base beer; also as expected by Tyranena. Little more sweet than roasted character present.
Mouthfeel: medium bodied beer with low carbonation. Creamy carbonation with silky and light oily feel. No booze from this at all.
Overall: Another great barrel aged stout from Tyranena. I imagine this is beer is Doubly Down and Even Dirtier without any of the adjuncts (vanilla and cocoa nibs). This beer is an example of what Tyranena is all about. The make some of my favorite local barrel aged oatmeal stouts and porters. Glad I finally got to try this; another home run for the BGW series!
Apr 02, 2016
jwc215 from Arizona
4.44
/5
rDev
+7.5%
look: 4.25 | smell: 4.5 | taste: 4.5 | feel: 4.5 | overall: 4.25
12 oz. bottle - Bottled on 17 Feb 16:
Pours very dark brown to black. A creamy light brown head lasts for a bit of time and through a few sips before settling to a lasting wispy cover. Thin lines of lacing stick.
The smell is of rich chocolate and molasses with bourbon/oak/vanilla. Robust.
The taste is of chocolate, anise, some coffee, rich bourbon/vanilla. Oak in the finish. Warming alcohol comes through in a pleasant, peppery way.
It has a velvety/silky smooth full body.
A wonderfully rich, strong oatmeal stout. Bourbon barrelling done well - it stands out and enhances without overwhelming.
Mar 18, 2016

Ri0 from Wisconsin
4.14
/5
rDev
+0.2%
look: 4.5 | smell: 4.25 | taste: 4 | feel: 4 | overall: 4.25
Poured 12oz bottle poured into a Tyranena snifter. It is a deep brown/black with a 2 finger tan head. Head stays for a while and forms a thin cap around the glass with splotches of lacing. Big bourbon smell, with oak, vanilla and some dark chocolate. The smell is fantastic. The taste is a nice vanilla and big bourbon flavor. I get oak and some bitter chocolate with roasted malt. I also notice a slight hint of toasted coconut, which is pleasant. Mouthfeel is medium, but it is very velvety. Carbonation is soft and bubbly. A delicious and tasty chocolate oatmeal stout with good amount of bourbon and vanilla. Thanks for making these available more frequently.
Mar 13, 2016
mjpolzin from Wisconsin
4
/5
rDev
-3.1%
look: 4 | smell: 4 | taste: 4 | feel: 4 | overall: 4
Had a small pour at the brewery. Wanted to buy a four pack but they were sold out. Another solid barrel aged beer from Tyrenena. Decent mouthfeel and base stout support a nice smooth bourbon taste. Only criticism of these Tyranena BA beers (and I have mentioned it before) is they all more or less taste the same to me.
Mar 12, 2016
The Kissers' Monday Night Special Oatmeal Double Stout (Bourbon Barrel Aged from Tyranena Brewing Company
Beer rating:
89
out of
100
with
61
ratings