Dirty Old Man Imperial Rye Porter
| Tyranena Brewing Company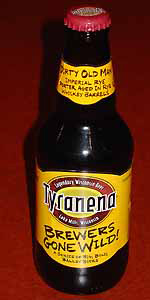 BEER INFO
Brewed by:
Tyranena Brewing Company
Wisconsin
,
United States
tyranena.com
Style:
American Porter
Alcohol by volume (ABV):
7.90%
Availability:
Rotating
Notes / Commercial Description:
Aged in Rye Whiskey barrels.
Added by Atron67 on 02-10-2008
Reviews: 353 | Ratings: 580
3.95
/5
rDev
-3.9%
look: 4 | smell: 4 | taste: 4 | feel: 4.5 | overall: 3.5
Solid bodied, the darkest mauve-brown possible. In simpler terms, it's black unless held to a light source. The head is small and brown, and resides for most of the time as a collar.
Fudge brownie aroma, with a persistence of toasted grain, which only slowly hints at rye. Traces of cappuccino, as char and the vanilla barrel-aging traits arise. It smells very Italian-desert-y, and delicious, but on the whole, the rye-whiskey barrel thing seems somewhat impotent, scent-wise, aside from this and some intermittent peppery wafts.
It rolls across the tongue a liquid fudge bath, stayed from a dooming sweetness by a prickly graininess...but only partially. It's like rolling a wet Tootsie Roll in flecks of rye. The peppery, spicy qualities of the grain are ultimately usurped by the sweet chocolate fudginess of the candy. And so it is here. Rye is a bit player, both grain-wise and whiskey-barrel-wise. The fudge is so dense and bullying as to not let anything else play. The barrel shows up late with heavily toasted coconut, caramel, and hazelnuts. Rye Whiskey and Bourbon are very closely related, and this does not tease out the subtle differences, other than it is marginally drier than Who's Your Daddy. The close is a continuation of fudge, inching towards chocolate milk, and a groping oaky vanilla woodiness. If you are looking for hops, you'll need to recalibrate your GPS system.
Full bodied, and basically obese in the mouth. Carbonation is virtually nil. For what it is, it fits perfectly. This is liquid dessert. Like sucking tiramisu through a straw. It's a great nightcap, but drinking it in succession might be asking too much.
As a fan of Rye in both its beer and whiskey forms, I was hoping for more of it in the profile. This is a blend of 40% Rye whiskery barreled beer and 60% unbarreled. Who's Your Daddy remains better because the barrel adds more, and I'd wager the blending percentages are vastly different.
As it stands now, the rye doesn't live up to its billing. It fails to show up in the grain bill, and the barrel hues lack complexity. I'll probably never say this again, but it needs more barrel influence to tease out the rye subtleties. For instance, take a sip of Sazerac Rye (6 or 18 year old, or better yet, the barrel-proof Thomas H. Handy), and ponder what any of those barrels would do to the profile and complexity here. It needs more unique aspects, not just rote barrel aged approximations. I can't wait to try the straight, unblended version at the taproom in Lake Mills in hopes to achieve something of the sort, because I have a suspicion the blend might be a culprit.
That's all nitpicking, obviously. This is very good, no question. As a big, gooey sweet imperial porter, it hits all the notes with general precision. If you liked Who's You Daddy and The Devil Made Me Do It, you'll like this, as it sits right in the middle.
But it's press description fits my personal preferences so well that anything less than remarkable is a failure.
I want the rye to shine much brighter in all its forms.
Oh...I want to love this, and it is soooo close...
★
3,105 characters
3.83
/5
rDev
-6.8%
look: 4.5 | smell: 4 | taste: 4 | feel: 4 | overall: 3
On tap at the Local in Madison, WI. Served in cheap stemmed red wine glass - the sort you would get your basket of Chianti served in if you were dining in a little Italy. Not really appropriate for beer but I was glad that I didn't get a whole pint of this as it is a rather intense brew and I wasn't really prepared for it.
Appearance: Dark brown, near black and nontransparent with a swirly tan head that resembles the Doppler of a hurricane.
Aroma: Sugary booze, powerful roasted malt and twangy rye notes, hints of oily cheese, Irish coffee, and mocha syrup.
Taste: Sweet and boozy. Lots of chocolate in a syrupy or Godiva liquor sort of way. Coffee comes on luscious and mouth coating too with some pretty fresh bean flavor to boot. Rye offer some twang. There is a general fruitiness that I can't yet place but might after more servings.
Mouthfeel: Robust and full bodied. Warming in a major way. Gives off the quality of being thick like a chocolate malt. Mildly biting coffee/oat bitterness offers some balance but not much. This puppy is rich and sweet with lingering sugar notes and lasting alcohol avidity.
Drinkability: This is a treat but I can't see myself having more than one in a sitting.
Style: This doesn't fit any category. I would have called it an American Porter since that American precursor seems to translate as experimental half of the time. Still, Baltic Porter fits alright since this brew is certainly big enough to be one.
★
1,460 characters
4.2
/5
rDev
+2.2%
look: 4 | smell: 4 | taste: 4.5 | feel: 4 | overall: 4
A- came to the table a dead black at the bar today, tannish brown head and clear for a dark beer.
S- roasted flavors were pretty strong, malty and a light scent of rye, balanced with hops.
T- first off a very strong malty dark flavor with a chocolate scents and the rye undertone. The rye is surprizingly light for how much they say they put into it, however it is clearly there and blends in spectacularly with the rest of the porter style. very smooth and delicious flavor
M- pretty thick as an imperial porter with rye in it, lingers on the tongue pretty well, and leaves a nice aftertaste. medium carbonation
D- very smooth and i think a great heavy beer.
★
671 characters
Dirty Old Man Imperial Rye Porter from Tyranena Brewing Company
4.11
out of
5
based on
580
ratings.