Tyranena Brewing Company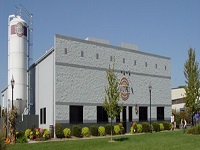 PLACE INFO
Type:
Brewery, Bar, Eatery
1025 Owen Street
Lake Mills
,
Wisconsin
, 53551
United States
(920) 648-8699 |
map
tyranena.com
Notes:
No notes at this time.
Added by BeerAdvocate
Reviews: 37 | Ratings: 86
4.14
/5
rDev
-2.6%
vibe: 4 | quality: 4 | service: 4.5 | selection: 4
Off the highway, turn left at the first light (Road V), pass Road A, and turn right into onto Owen St. (Its an industrial park kind of area). The brewery is a large boxy warehouse building. You pass the "tin beersman" on the way from the lot. The tasting room is inside the front door on the right.
The room doesn't have much ambiance per se, but what it does have are super friendly people and an impressive tap selection for such a small operation. I think there were 6 or so regular beers on plus 2 specials -- Hop Whore and Oktoberfest. The Rocky's Revenge was a decent brown with a nice bourbon layer. The Oktoberfest was also nice, maybe a little more hop than I like (and definitely not as malty as Spaten which is my favorite, but not many are...).
Unfortunately we *just* missed the Spank Me which blew an hour before we arrived. Too bad. Sounded impressive.
This a great little place to hit on the way into Madison or Milwaukee. And a GREAT VALUE.
(note: No food. Although they do offer free pretzels, and some folks got pizza delivered to the brewery which seems like a good option for eating in this town).
1,132 characters
4.36
/5
rDev
+2.6%
vibe: 4.5 | quality: 4.5 | service: 4.5 | selection: 4
Stopped into Tyranena for the first time recently. After passing by the crazy robot statue outside the door, I entered and was greeted by a couple of friendly brewery dogs. Hang a right and you're in the tasting room, which has a really cozy feel to it. Nicely decorated, it's a nice place to come and just relax. Bar runs across one side of the room and then tables with big windows are on the other. A door at the back opens to a little patio/beer garden, too bad it was rainy while we were there!
Sat down and noticed the bourbon barrel Spank Me Baby Barleywine from 2003 on the menu and I just couldn't help myself. At only $4 for an imperial pint, you can't find a much better bargain. Regular pints only ran $3 a pop. Man, this beer was so tasty and I dunno the abv on it, but it definetly put me in my place! There were about 8 or 9 brews on tap, inlcuding Hop Whore, Oktoberfest, and the regular Tyranena lineup. Waitresses here were very attentive and always kept our glasses full, as well as bringing us out some pretzels and tasty spicy mustard.
The brewery tour was a lot of fun, I highly recommend it if you stop here. I was amazed at how much brew they produce with the space they have. Two open top fermenters were really cool to see as well. We were there while Rob was brewing some Pale Ale and it was fun to watch him run around and take care of business!
After the tour we came back and ordered the sampler for $8. If you drank this sampler yourself, you'd be pretty good to go, as it includes the Hop Whore and Barleywine. I really enjoyed some Rocky's Revenge on tap, the Pale Ale, Alt, and Honey Blond were all tasty as well. Overall, Tyranena is definetly a place to check out, good atmosphere, great beer and prices that let you indulge. A designated driver might be good to have on hand as well :-)
1,833 characters
4.44
/5
rDev
+4.5%
vibe: 4 | quality: 4.5 | service: 5 | selection: 4
Stopped in for a tour and a pint and ended up having four simply because the staff was such a pleasure to chat with. Tyranena's beer hall is small but well done with a nice bar that seats about a dozen, a few tables, and a great big patio. Pints are 3 bucks, growler fills are 7.50. Tap selection includes the entire line of their brews, their current seasonal/s, and three specialty beers that aren't available outside the brewery. I greatly enjoyed their Poor Richard's and their Wee Heavy but found the Bourbon Porter to be to sweet, boozy, and just too bourbony. Also enjoyed some Chief Black Hawk (always solid) and the APA, which makes for a great session brew on a warm day. Perhaps the best thing about Tyranena, besides the beer, is the staff. The two bartenders were friendly in the sense that they treated us like we were regulars even though we had never been in before. The owner was there chatting with customers, and Stacy, a.k.a. Hopwhore on BA, sat with us for an hour telling stories about the beers, the town, and the brewery. I really felt welcomed and will return regularly from now on. I got the sense that everyone else in place felt the same way. Tyranena has really established a dedicated local following. There were families hanging out with their kids, locals stopping by to fill a couple growlers for the week, and three cute Labradors/Retrievers playing with a tennis ball. The tour, given by a local home brewer and volunteer was short but very detailed and geared for real beer drinkers. It was better than a lot that I've been on, in no small part because everyone had a pint in their hand. I really recommend Tyranena. It's less than 5 minutes off of 94 smack dab between Milwaukee and Madison. For anybody coming to Madison from Chicago or Milwaukee, there's really no excuse not to stop in.
1,832 characters
4.44
/5
rDev
+4.5%
vibe: 4 | quality: 4.5 | service: 4.5 | selection: 4.5
nice place! the bar is really small, maybe 10 seats or so, and they have a couple tables, but you're not really concerned with your surroundings, you came for the beer, right? well, on to the beer.
they had at least 10 beers on tap when i visited. all or almost all of their year round bottled products, and a few beers that don't get bottled, including an oatmeal stout, a barleywine and a wee heavy. growler fills are a very reasonable $7.50, tho from what i hear they do require you to use tyranena growlers that they are more than happy to sell you. pitchers are $10, pints are $3. they carry a ton of merch, including a few tshirts on sale for $10, and a cool cycling jersey.
all in all, good atmosphere, cheap and delicious beerstuffs, and the lady bartender was very friendly and did a wonderful job filling a couple growlers for me. very recommended, especially cuz it's just a hop skip and a jump off i94 between madison and milwaukee. check their website for a fairly up to date listing of what's on tap.
1,021 characters
4.5
/5
rDev
+5.9%
vibe: 4.5 | quality: 4.5 | service: 4.5 | selection: 4.5
Just a few words to correct what the other contributors said about Tyranena. It's a microbrewery, not a brewpub. What you visited was the (smokefree!) tasting room for the brewery (which does operate like a pub on Wednesdays through Saturdays--in the evening, except that it does open earlier on weekends). There's no food served (unless you count the pretzels) but they allow customers to get deliveries from outside the brewery. Live music on Saturdays, outside in the beer garden in the summer, inside the rest of the year.
There's not a bad beer on tap in the place! Yes, Bitter Woman IPA is among this hophead's favourites, but I'll drink almost anything there but the honey-wheat thing (well made for what it is, but unexciting). The brown ale was originallly much hoppier, true to the AMERICAN Brown style, but now is closer to the English brown ale style.
Beer Ambassador (i.e., sales rep) Grant hosts a Hop Luck Dinner the second Thursday of the month. Bring in your beer-inspired dishes to share; food is to be prepared using a Tyranena beer in the recipe.
Be sure to say hi to Brewmaster Rob's favourite barmaid, Stacey!
1,140 characters
4.64
/5
rDev
+9.2%
vibe: 4.5 | quality: 4.5 | service: 5 | selection: 4.5
I had the pleasure of sharing a visit to this spectacular brewpub with cokes. The decor inside was very quaint. Homey. A chalkboard listed the beer options and I was quite pleased with the selections. Many of their standards plus others that are not available in bottles (like the Black Stout, Bourbon Barrel Stout and Honey Wheat). The service was very friendly and prompt. The beer was outstanding. And cokes and I were treated to an impromtu brewery tour by Grant. The brewery was everything I expected. Spotless. Pristine. State of the Art. And small. (But with room to expand.) They pay attention to detail and brew beers to their style. For example, their oktoberfest IS brewed in March, and thus a true marzen. And their Alt is "lagered" for 6 weeks. I was very impressed to say the least.
796 characters
4.44
/5
rDev
+4.5%
vibe: 4 | quality: 4.5 | service: 5 | selection: 4
This place is tucked away in the middle of an industrial park right off I94. The brewpub is a small room consisting of a bar, a couple tables and a leather chair or two. No big frills, but cozy and comfortable with that indescribable small town charm.
No smoking.
All of Tyranena's year round brews were on tap. Plus their seasonal and four draught-only brews. Roughly eight or nine total choices.
No food beside the complimentary bowl of pretzels. (though we were told of the "Hop-Luck Dinners" that occur every other thurs)
I stopped there with Bighuge on my last visit. We were given an off-hours brewery tour by Grant. It was friendly, thorough, informative, and very impressive. Not to mention hugely appreciated.
This place prides itself on great beer and it is reflected in the pristine facilities and attitude.
Simply top of the line.
862 characters
Tyranena Brewing Company in Lake Mills, WI
3.96
out of
5
based on
8,281
ratings.