Big Rock Saison St. Clair
| Big Rock Chop & Brewhouse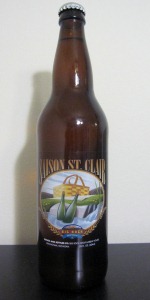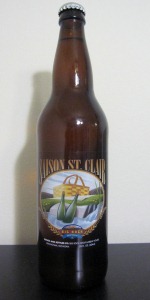 BEER INFO
Brewed by:
Big Rock Chop & Brewhouse
Michigan
,
United States
bigrockchophouse.com
Style:
Saison / Farmhouse Ale
Alcohol by volume (ABV):
not listed
Availability:
Rotating
Notes / Commercial Description:
No notes at this time.
Added by ClockworkOrange on 12-15-2008
This beer is retired; no longer brewed.
HISTOGRAM
Ratings: 13 | Reviews: 10
Reviews by Rostie:

More User Reviews:

3.95
/5
rDev
+0.3%
look: 4 | smell: 4 | taste: 4 | feel: 3.5 | overall: 4
Bottle shared by Mark – thanks!
Pours a slightly hazy golden color with a white head that leaves decent lacing.
Smells of crisp light malts with good amounts of white pepper and lemon peel. Also present are mild amounts of funk and very slight hints of phenols.
Tastes similar to how it smells. Light malts up front are joined quickly by lemon peel and bright citrus hops. Midway through slight funk and slighter spices dry things out a bit, fading out into a moderately bitter ending. Mouthfeel is OK, with a light body and solid carbonation.
Overall this beer grew on me over the course of the glass but it still seemed rough around the edges. A few tweaks and this could be a very good beer.
700 characters
4.22
/5
rDev
+7.1%
look: 4 | smell: 4.5 | taste: 4 | feel: 4 | overall: 4.5
pours a surprisingly light golden yellow with aggressive, airy foam. smells strongly of fresh sliced apples and honey... maybe some hay and a mild brett note as well. very carbonated is the first thing i notice. next is the amazing levels of refreshment and drinkability.. two A-B words, whattyaknow.
i pick up some interesting flavors here.. definitely some green, slightly bitter herbals.. reminiscent of fresh parsley. lemon notes for sure, and a strange resemblance to sparkling white wine. for this reason, and the pleasant neutrality, i'd wager this would be an excellent food beer.
the finish is dry and slightly doughy, but each sip leaves you wanting another. this is a real gem of an extra, thanks D.
oh, and original entry guy- my bottle doesn't have an E on the end of clair, fyfi.
797 characters
3.82
/5
rDev
-3%
look: 3.5 | smell: 4 | taste: 4 | feel: 3.5 | overall: 3.5
Appearance: A bit of a gusher, with way too much foam atop the cloudy straw colored liquid; decent lacing
Smell: Very tart, with lime, Brett, biscuity malt and pear
Taste: Tart, from the outset, with a metallic, Brett influenced lemony character that sits atop the fruity pear and biscuity malt flavors; lots of grapefruit pith in there as well; after the swallow, the pith and tart flavors dominate through the finish
Mouthfeel: Light to medium body but overcarbonated
Drinkability: The flavors are there but the mouthfeel is not; certainly a good effort (and I had a great meal at the restaurant)
602 characters

3.64
/5
rDev
-7.6%
look: 3 | smell: 4 | taste: 3.5 | feel: 4 | overall: 3.5
Sampled March 2009
This is quite well carbonated as a carefully pour fills my 25cl tulip glass with four-fingers of pale white, fairly large bubbled foam. The head dissipates pretty quickly and doesn't leave any lacing what-so-ever. The beer is a light gold color that shows an almost brilliantly clear, bright yellow-gold color when held up to the light (as well as showing a mess of madly streaming bubbles). As I pour this an aroma of freshly pressed pear / apple cider is quite noticeable. A bit of a more focused inspection of the nose reveals a touch of flint, a subdued mustiness, some moldy cotton notes and really just a fairly spicy funkiness that pairs pretty well with the up front fruit aromatics. Other aromas of honey, spicy wildflowers, as well as a muskiness that I usually associate with Brettanomyces (though I am not sure this isn't just the yeast character).
Quite fizzy feeling still and this beer is also quite dry and effervescent. It does have some similarities with a sparkly, farmhouse Cider. This has a flint-like metallic character that is actually pretty nice and towards the finish there is a funky, phenolic character that reminds me of Brettanomyces. This is really quite bone dry, which masks much of the fruitiness that was found in the nose; this does have an herbal character to it as well as enough fruitiness to remind me a bit of a bone dry Cider. My second pour reveals just how effervescent this beer can be, it foams up quite a bit as it rolls across the tongue, while not quite vaporizing, it really is quite lively. Coupling this with the very light body makes this beer quite quaffable and refreshing; this is definitely a hot weather beer, though I think it has a touch more alcohol than the body might suggest. The carbonation provides a peppery flavor to this beer that couples with the herbal notes and other flavors of ginger, a hint of sage, a touch of clove, plus this also has a solid hop bitterness to it. As the beer warms up a bit a hint of malt sweetness does start to become noticeable, but it is quite slight in influence.
Now that I have gone back and read the brewers description, this beer was "refermented with a wild yeast strain", so there is a reason it tastes like it has a Brettanomyces influence. It is quite interesting that the aroma can actually smell quite sticky sweet at times (much like honey), despite the flavor of this beer being bone dry. This is definitely a nice beer, but I feel that it is missing a bit of complexity (especially in the flavor) and despite the perfect Brettanomyces influence, it does seem to be lacking a touch of rusticity some how. This is still quite enjoyable though and is definitely a beer worth seeking out.
2,718 characters

4
/5
rDev
+1.5%
look: 3.5 | smell: 3.5 | taste: 4.5 | feel: 3.5 | overall: 4
This really nice saison was poured from an unlabeled bottle at our beer club holiday party over the weekend. The bottle had a hand written label on it. Hazy yellow color with a healthy two fingers of white foam. Smells and taste is mild for a saison, but there is a pleasant spiciness to it. Medium bodied with moderate carbonation. Very tasty stuff. Delicious and quite drinkable.
381 characters
3.92
/5
rDev
-0.5%
look: 3.5 | smell: 4 | taste: 4 | feel: 3.5 | overall: 4
22 ounce bottle thanks to hoppymeal, thanks again Derek for sending this one my way, drank a few nights ago, reviewed from notes, poured into my Duvel tulip glass, color is a light golden yellow, 1 1/2 inch fizzy white head, minmal retention, light lacing, aroma consists of funkiness, lemons, wild yeast, oranges, limes, and flowers, starts off with a crisp sourness, lemon and yeast in the middle, finish is a little earthy and dry with some tart, warms up with more sweetness than sourness, yeasty, dry, and funky mouthfeel, medium bodied, way too much carbonation, taste does not last long, easy to drink at first but warms up with sweet citrusy fruits causing it to bee a little more heavy, still pretty good drinkability, nice tarty interpretation of this style, have not been disappointed with either of the beers I have tasted from this brewery, would drink again, recommended
884 characters

3.92
/5
rDev
-0.5%
look: 4 | smell: 4.5 | taste: 3.5 | feel: 4 | overall: 4
Thanks to FlandersNed for this limited Michigan offering. A sticker (presumably put there by Steve) denotes this is Batch 4 - not idea when that happened though. Served in a pint glass at Dave & Wu's 5th Homebrew Party.
A - Big quick-dissolving white foam that settles to a thin cap and thicker collar, leaving behind a little bit of lace. Hazed peach flesh body.
S - Big bretty tropical fruit aroma, pale buttery malts, stone fruits, and a light lemony and sour vinous note. Quite nice!
T - Unfortunately the taste is a little boring and understated. Mostly stone fruit and pale malt sweetness, along with some dough and yeast character. What happened to the brett?
M - Zesty carbonation, medium body, and a dry clean finish. Very refreshing.
D - It's a nice, slightly funky Saison that is very easy to drink. No idea on the alcohol, but it can't be much. If the flavor were as good as the aroma this would be an A beer. As it stands it would make a delicious table beer to pair with a hearty meal.
1,004 characters

3.8
/5
rDev
-3.6%
look: 4 | smell: 4 | taste: 3.5 | feel: 4 | overall: 4
Huge thanks to hoppymeal for the opportunity to try this beer, my first one from Big Rock Chop and Brew House.
Pours a pale yellow with a massive, rocky, foam but little to no lacing left on the glass. Effervescent body keeps a good inch of foam on top of the beer.
Lemon, spices, white pepper, apricots, nectarine, light pineapple, toast, crackers, biscuit malts, hints of caramel, and a touch of earthy hops as well. Pretty solid and interesting so far in this department. There's a deep cracker and biscuit malt profile that is very interesting, along with some caramel sweetness. Some seltzer water as well. A touch of crabapples too.
Herbal, spicy notes, and again lots of biscuit (I'm guessing a lot of Munich malt in this one), caramel, and a bit of lemon and orange leafs. A bit of tartness in the finish and medium dry. Quite fruity initially and in the middle with a biscuit, cracker, and caramel finish. There are also some herbal and vegetal qualities in the finish (I don't know why I'm thinking squash, I rarely eat it, but it came to mind). Old or stale bread flavor in the finish and aftertaste. The more I drink this the more it seem like a Biere de Garde, the malt character is just a tad too present. Now I get a musty and "cellar" like flavor, caramel, old rotten fruit.
Mouthfeel is very effervescent at first, highly carbonated but quite decent for the style. Bubbly on the palate and finishes quite clean.
Very interesting beer that I really enjoyed. The taste is actually pretty enjoyable but I just had to penalize it for not being to style, too much malt and caramelization for a saison.
1,618 characters
3.72
/5
rDev
-5.6%
look: 3.5 | smell: 4 | taste: 3.5 | feel: 3.5 | overall: 4
thanks to flandersned for the trade
22oz bomber. no date found. tasted in early june 2009. poured into tulip. BIG gusher though :-(
gushy cloudiness, w/ lots of particles. golden yellow, deep straw color. 2-finger fizzy head, fades to wisps, then just ring, then nothing. no lacing ever sticks either.
aroma: mild brett funk upfront, almost "footy". overripe apple, hay and barn aromas. bready malt and euro hops underneath. mild phenols and perhaps faint spice? quite footy again, especially in back.
taste: tart, mild acidity upfront, some farmhouse fun and leathery, woody brett. bready malts present though perhaps slightly watered down. yeasty with overripe apple esters. mild to moderate bitterness from hay-like hop. mild phenols with trace of spice again. acidity remains predominant, despite being mild/moderate overall.
light to medium body, some smoothness, but then the quite crisp and fizzy carbonation takes over, along w/ the acidity.
not great, but an interesting attempt that will keep me curious about the brewery.
1,038 characters
3.73
/5
rDev
-5.3%
look: 4.5 | smell: 4 | taste: 4 | feel: 3 | overall: 3
Poured into a duvel tulip from bottle.
Huge pillowy white head that doesn't hold, clear yellow body. Ring of foam around the glass is persistent after the head falls. Sweet nose, some funk. Low flavor, mildly sweet, medium body, funk, pepper. Highly drinkable despite, great soothing mouthfeel.
295 characters
Big Rock Saison St. Clair from Big Rock Chop & Brewhouse
Beer rating:
3.94
out of
5
with
13
ratings