B-Line Barley Wine
| Big Rock Chop & Brewhouse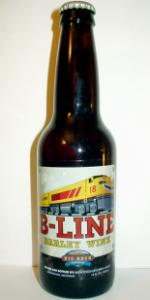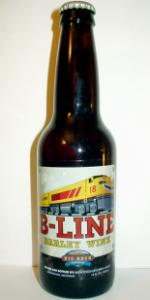 BEER INFO
Brewed by:
Big Rock Chop & Brewhouse
Michigan
,
United States
bigrockchophouse.com
Style:
American Barleywine
Alcohol by volume (ABV):
10.00%
Availability:
Rotating
Notes / Commercial Description:
No notes at this time.
Added by scottoale on 01-24-2009
This beer is retired; no longer brewed.
HISTOGRAM
Ratings: 5 | Reviews: 5
Reviews by BigMcLargeHuge:
3.32
/5
rDev
-2.6%
look: 3 | smell: 3.5 | taste: 3.5 | feel: 3 | overall: 3
Thanks to markwise, during a ratebeer tasting for opening this well aged barleywine. Pours murky brownish copper with super tall white head. The big aroma has apricot, apples, malts, cardboard and cold deli meat. The taste is a bit bright with carbonation enhanced pine hops, spicy hops, sweet malts and some soapiness. Somewhere in there I seem to be getting pork chop too. Odd stuff but really enjoyable to be able to capture the experience here.
448 characters
More User Reviews:

4.23
/5
rDev
+24%
look: 4.5 | smell: 4 | taste: 4.5 | feel: 4 | overall: 4
12oz. brown long-neck with screen printed clear plastic label. Poured into a chalice, a nice coppery-red with a thin 1/4" off-white head that dissipates quickly. Very mild carbonation is evident by the sparce micro bubbles rising from the bottom of the chalice, none the less, a fine looking ale.
The nose is somewhat faint with rich malt and toffee, a bit of earthiness and hops through to the end. Mildly sweet and floral like peat moss, or shall I say vegetal. Interesting smell, not as much alcohol as I was expecting, virtually none with my sense of smell.
Sweet and fruity malt upfront with the alcohol really coming into play here. Toffee and light ripe fruits, honeysuckle and fusals really grow as the brew warms. A fair dose of hops pull through mid way, along with the alcohol and give it a peppery, warm bitter finish. The flavor really grew on me as it warmed, it kind of reminds me of the Behemoth Blonde from FFF. Tastes damn near as strong, as well.
The body is fuller that it seems...it grows to some fluffiness and even gets slightly chewy at times. The clarity is pristene and the carbonation looks mild, which is deceiving, making it look not as viscous as it really is. It's a big brew, but by the same token also very drinkable. I like it.
A big fat thanks to hoppymeal for this fine BW, hope too try it again one day!
1,352 characters

2.79
/5
rDev
-18.2%
look: 4 | smell: 2.5 | taste: 2.5 | feel: 3.5 | overall: 3
Thanks for this one, Derek.
A: The beer pours amber in color with a small off-white head.
S: Smells a bit sour. Cherries and green apple, perhaps a touch of lemon. There is a definite barleywine character to the beer, but it's sort of hidden. A bit of booze and some sweet caramel malt notes.
T: Sort of a mix of sweet and sour flavors. Sour cherries and lemon but sweet toffee and caramel. A bit of toasted bread and a definite booze note giving a bit of warmth.
M: Medium bodied with moderate carbonation.
O: The sourness just wasn't something I was expecting to get here. Sort of ruined it for me.
605 characters
2.73
/5
rDev
-19.9%
look: 3.5 | smell: 3 | taste: 2.5 | feel: 3 | overall: 2.5
A- Pours a translucent orange reddish color with little to no head. Fizzy carbonation bubbles are visible.
S- Smells seems fairly faint, hints of apricot, possibly some lighter fruit notes.
T- Sweet malts, some light hints of fruit and an off flavor I can't put my finger on on the back end.
M- Thick with quite a bit of carbonation.
D- I really didn't find this one all that drinkable. I would definitely like to see how this one ages.
440 characters
3.97
/5
rDev
+16.4%
look: 3.5 | smell: 4 | taste: 4 | feel: 4 | overall: 4
A - Not bottle conditioned? Hmm. Pours a deep, clear amber with a soap bubble white head into the snifter.
S - Big citrus, American hops, coupled with a sweet, fruity malt. Both a little flowery and fruity. Subdued nose, yet works.
T - Actually really nice. Citrus fruits up front, and a nice sweet back end. The hops balance it out well. Booze notes add to the complexity.
M - Big bodied and light on the carbonation.
D - It's a big brew but it's pretty easy to drink. My glass is fading faster than I originally thought it would.
Notes: Proved to be better than my last offering from this brewer. Not the best barleywine I've ever had, but it's an easy-drinker. Also, the price is a little outta my league when you consider what else is available for $8.
763 characters
B-Line Barley Wine from Big Rock Chop & Brewhouse
Beer rating:
3.41
out of
5
with
5
ratings