Pioneer Lager
| Sand Creek Brewing Company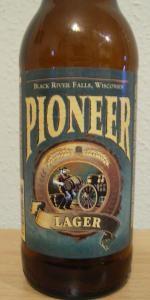 BEER INFO
Brewed by:
Sand Creek Brewing Company
Wisconsin
,
United States
sandcreekbrewing.com
Style:
Vienna Lager
Alcohol by volume (ABV):
5.00%
Availability:
Year-round
Notes / Commercial Description:
No notes at this time.
Added by BuckeyeNation on 04-29-2007
This beer is retired; no longer brewed.
Ratings: 7 | Reviews: 5
Reviews by tgbljb:
4
/5
rDev
+25%
look: 4 | smell: 4 | taste: 4 | feel: 4 | overall: 4
Poured a medium copper color with moderate off-white head.
Dinstinct tones of caramel aound in the nose.
Taste has shows some nice caramel with an added crispness.
Very nice taste retention with a nice crisp caramel finish.
Easy to drink. Very refreshing. Good session beer.
278 characters
More User Reviews:
3.13
/5
rDev
-2.2%
look: 3.5 | smell: 3 | taste: 3 | feel: 3 | overall: 3.5
a: pours a medium copper color with about an eigth inch of head that dissapears fairly fast leaving a very very thin ring of lace around the edge of the glass
s: a strong aroma of pale malts with hints of floral hops towards the end of the aroma
t: caramel, floral bitter hops, the caramle malts flavor is deffinatly stronger than the hop taste however neither one really comes out or finishes strong kind of a watery finish
m: light to medium bodied beer with little carbonation
overall, this isnt too bad of a beer but it seems to be lacking in some things
559 characters

3
/5
rDev
-6.3%
look: 3 | smell: 3 | taste: 3 | feel: 3 | overall: 3
A - Poured a light copper color with a thin off white head that leaves spotty lacing
S - Is of grainy and caramel maltyness
T - Follows the smell starts slightly grainy then finishes with a dry caramel flavor
M - This beer is a little thin and watery with medium carbonation to it
D - This isn't a bad beer its just not very exciting everything about it is average if it had a better taste it could be sessionable
418 characters
3.38
/5
rDev
+5.6%
look: 3.5 | smell: 3 | taste: 3.5 | feel: 3.5 | overall: 3.5
Highly polished tangerine peel with honey colored accents. The creamy crown has a faint orangish tint, but is probably closer to ecru. Although it tops out at a slim two fingers, it persists nicely due to a slow rate of bubble poppage. Not a bad looking beer.
The nose tells me that Pioneer Lager probably contains a mixture of pale and caramel malts and is sparingly hopped. I wasn't sure what style to list it under. The words 'Bavarian-style lager' on the brewery's website pushed me to choose Munich helles lager. It's an okay nose, but it's nothing even remotely special.
There's a good bit of toasted maltiness on the palate that puts me in mind of a relatively light Oktoberfest. There must be a small amount of Munich malt present. To be more specific, the beer tastes like well-toasted bread spread with a thin layer of nut butter. That sounds like my breakfast yesterday.
I can also appreciate an earthy, musky fruitiness that I would attribute to ale yeast... if this wasn't a lager. German hops have their say as well and can be said to balance things out fairly well in the end. Although I'm not thrilled with what I'm tasting, this is solidly constructed beer.
The mouthfeel favors the light side of medium, edging farther in that direction as the mouthful progresses. More bubbles might have helped a little, but I'm okay with what has been provided.
I'm still not happy with my style choice. A quick review of 'Beer Styles' tells me that Vienna Lager is a much better option. Pioneer Lager is another Pioneer Brewing Company beer that has been resurrected by Sand Creek. It's a decent version of the style and went down easily enough.
1,657 characters
2.88
/5
rDev
-10%
look: 3 | smell: 2.5 | taste: 3 | feel: 3 | overall: 3
Appearance: Pours a faint, light copper body with a thin, white ring of bubbles.
Smell: Weak, displeasing aroma of pale malts with a touch of mustiness and floral hops.
Taste: Thin, sweet pale malt flavor. Faint hint of caramel. The floral hops and the bitterness they kindly impart are definitely on the lighter side of things. Finishes watery.
Mouthfeel: Thin-bodied. Medium carbonation.
Drinkability: First of all, in this world WAIT...Just read the final thoughts of the review below mine, I don't believe I could've put it any more sweetly than BuckeyeNation did.
573 characters
Pioneer Lager from Sand Creek Brewing Company
3.2
out of
5
based on
7
ratings.