Oleator Dopplebock
| Sand Creek Brewing Company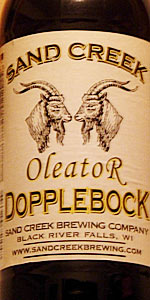 BEER INFO
Brewed by:
Sand Creek Brewing Company
Wisconsin
,
United States
sandcreekbrewing.com
Style:
Doppelbock
Alcohol by volume (ABV):
9.00%
Availability:
Limited (brewed once)
Notes / Commercial Description:
No notes at this time.
Added by cokes on 03-15-2008
This beer is retired; no longer brewed.
Reviews: 14 | Ratings: 16
3.78
/5
rDev
-8%
look: 4 | smell: 3.5 | taste: 4 | feel: 4 | overall: 3.5
Pours a nice brown color which glows reddish. Medium sized fine head.
Smells strongly of boozy malts. The taste carries of kick of alcohol which actually isn't that bad as it doesn't overwhelm the aftertaste and is surprisingly tame given the 9% abv. This doppelbock if authentically German. As the alcohol taste clears out, the malts shine through sweet but not too sticky.
A nice book although definitely not a session pour.
428 characters
4.35
/5
rDev
+5.8%
look: 4.5 | smell: 4.5 | taste: 4.5 | feel: 4 | overall: 4
12 oz. bottle into a pils glass
Pours a deep chestnut brown color with a two inch tan head that retains very well. Thick lacing left on the walls of the glass.
Aroma is sweet with lots of caramel and a good dose of toasty melanoidins. Rounded out with some dark fruit character of raisins. Cot damn this one smells as good as the German versions!
Taste has lots of caramel up front but it's not quite as sweet as the aroma. Still a good amount of melanoidins are present and make it seem bready and toasty. Again some raisin and a bit of black cherry as well. Finish brings about a very slight chocolaty taste with lingering malt and fruit.
Mouthfeel is medium bodied, nice and creamy consistency, a good level of carbonation for the style.
This is definitely one of if not the best American versions of a Doppelbock that I've had. A very nice surprise, pick this one up if you can.
887 characters

3.5
/5
rDev
-14.8%
look: 2.5 | smell: 2.5 | taste: 4 | feel: 3.5 | overall: 4
This is apparently Sand Creeks best brew. I'll be the judge of that...
This brew pours up an Indian red color with a yellow-tan head. the nose is sweet malts, toffee, caramel. the taste is caramel, sweet malts, red fruits, artificial cherries. medium to full bodied, low carbo. Awww Mr Dobalina Mr Bob Dobalina....
315 characters
4.5
/5
rDev
+9.5%
look: 4.5 | smell: 4.5 | taste: 4.5 | feel: 4.5 | overall: 4.5
Poured into a pint glass.A nice deep mahogany color with a small (half finger) off white head. Smells strongly of malt and some vanilla. Taste is strongly malt, with some toffee, vanilla and dates. It is sweet,but not cloyingly sweet. Has a good ethanol flavor and it is 9% so you feel it too. Overall, it is very pleasing and reminds me of a good Bavarian Dopplebock.
368 characters

4.42
/5
rDev
+7.5%
look: 4 | smell: 4.5 | taste: 4.5 | feel: 4 | overall: 4.5
Pours nice and dark like it should, leaving little head.
Smells of dark fruit, I guess malty.
Taste is quite rich of malts and darkness. Not sure what that darkness is, but it is quite good. Alcohol is completely hidden - good job!
Mouthfeel stands up even after it warms up a bit. Nice and creamy, not going flat at all after it sits (I like these brews to warm up a bit)
It is moderately thin for a dopplebock, but it works.
Very easy to drink.
A recommended beverage, especially if you want the flavor in a less heavy than usual drink.
544 characters

3.48
/5
rDev
-15.3%
look: 4 | smell: 3.5 | taste: 3.5 | feel: 3 | overall: 3.5
A vigorous pour into my 25cl tulip glass produces a four-finger thick, darkly tanned head. The beer is a deep, concentrated, murky amber-brown color that shows a clear, red color when held up to the light. The aroma smells of concentrated malt, caramel glazed dark fruit, with lots of toasty grain notes. Specifically aromas of toffee, raisins, lightly roasted grain, toasted whole grain bread, a touch of warming alcohol, a touch of cola, concentrated sweet browned malt and a touch of brandy are noticeable.
Somewhat dry as it first hits the tongue, the texture then gets a bit fizzy and watery before it settles in to a viscous, fairly thick bodied brew that sticks to the palate. The beer does have a chewy, malt sweetness to it as well. It is well carbonated and a bit fizzy, but some vigorous swirling rids it of excess carbonation. Touches of dusty cocoa, a touch of spicy cola, a hint of roast grain bite and lightly burnt toffee attempt to add some complexity to this brew. The finish has a light astringent grain character, a touch of bitter dark malt character and a hint of hop bitterness all of which linger just a bit on the tongue.
A little bit simplistic in the end (towards the sweet side of simplistic), despite showing touches of depth around the edges. Still quite tasty and drinkable, but seems to be lacking a malty complexity and richness that I like in a good Bock.
1,391 characters
4.25
/5
rDev
+3.4%
look: 4 | smell: 4 | taste: 4.5 | feel: 4.5 | overall: 4
I enjoyed this beer from the comfort of my own living room. Went nicely with some leftover pot roast. From the 12oz bottle to a standard pint glass.
Appearance: Pours a nice dark reddish brown with a billowy off white head that stuck around for awhile.
Smell: Sweet caramel malts.
Taste: Sweet malts, bread and alcohol. Very tasty.
Mouthfeel: Smooth and medium-bodied. Coats the throat real nice.
Drinkability: Fairly drinkable beer. Surprised this is 9%. If I had another one, I would drink it right now. The sweetness would hold me back from having a 3rd though.
569 characters
4.42
/5
rDev
+7.5%
look: 4 | smell: 4.5 | taste: 4.5 | feel: 4 | overall: 4.5
Deep reddish auburn, jewel-tone clarity. A puff of tan foam tops off the flute glass, with a few clinging bubbles of CO2.
Apple cinnamon, pears, apple pie and flaky bread crust. Sweet but not overly so. First sips are rich and packed with bready malt flavors and spicy, fruity esters. Sticky brown sugar traces left on the rim of the glass. Later the alcohol makes itself known slightly, but at 9% it's still deceptively easy to drink.
This is probably the best thing Sand Creek has put out, and made me do a double take. Seek it out...
540 characters
4.12
/5
rDev
+0.2%
look: 4 | smell: 4.5 | taste: 4 | feel: 4 | overall: 4
Oleator was a surprise extra from a long ago trade, sorry for not recalling who provided me with this
There is not much head on this darkly hazed amber/brown creation.
I love the way this smells, I had high hopes for a tasty doppelbock and the aroma puts me right at ease. No denying the dark brown sweet smell of malts and molasses, a little toasted caramel as well.
This doppelbock has now made my night. The palette of this one in particular is bittered just right for the amount of malty attributes present as well. Again, toasted sweet nutty flavors. It definitely coats the mouth with its goodness.
Wish I had another, and 9%? Really? Didn't notice just yet, atleast not in the taste thankfully.
707 characters

4.58
/5
rDev
+11.4%
look: 5 | smell: 4.5 | taste: 4.5 | feel: 5 | overall: 4.5
A- Very deep reddish mahogany, one and a half finger head.
S- Wonderfully sweet caramel malt, with strong hints of vanilla.
T- Sweet malt, notes of caramel and vanilla. Just enough roasted malt flavor comes in to bring balance and keep the sweetness in check.
M- Smooth, rich, wonderful.
D- Me likey.
Truely a hidden gem. Honestly I didn't expect a brewery to make both a great hard lemonade and a great dopplebock.
420 characters
4.37
/5
rDev
+6.3%
look: 4 | smell: 4.5 | taste: 4.5 | feel: 4.5 | overall: 4
Pours a ruddy cherry wood stain color with bright garnet highlights. Very quick chestnut head, very pretty, but left pretty fast. The aroma is malty wth a clear note of cocoa powder, and red grapes. Pretty malty sweet stuff. The taste is very drl malty. Plenty of plum, and dark cherry flavors with some strong toffee and cocoa notes. Very sweet yet juicey palate. Lots of awesome flaors going on.
397 characters
4
/5
rDev
-2.7%
look: 3.5 | smell: 3.5 | taste: 4.5 | feel: 3.5 | overall: 4
Quick dissipating head, doesn't last long. Looks like a root beer, clear color.
Not much smell here, just a bit of malt. The taste is very nice, solid malt, a bit of a sweet aftertaste, as this style should. No telling of the 9% abv, easy drinker, a bit light on the mouthfeel, good carbonation, but otherwise very nice. Want some more of this, don't know if it's available any more.
384 characters

4.45
/5
rDev
+8.3%
look: 4 | smell: 4 | taste: 4.5 | feel: 4.5 | overall: 5
My first BA review!!
This is a very tasty brew. My only other dopplebock reference is Sprecher's, which is good but is a little heavy-handed with its alcohol. This beer carries its 9.0% ABV very nicely.
It sets up nicely in your glass and has a fairly one-dimensional nose - an appealing sweet caramel smell (like the little square candies in clear plastic wrap). On the palate, this stuff is incredibly "quaffable" with a good toastiness from the malt. I was amazed how fast it disappeared from my glass. I will be going back to the store for some more.
557 characters
4.15
/5
rDev
+1%
look: 4.5 | smell: 4.5 | taste: 4 | feel: 4 | overall: 4
Special Reserve #2 (following Imperial Porter). Sold in 4-packs.
Pours to a dark and clear, maroon-brown, with ruby glints. The head is modestly high and beige at first, then collapses to a collar and skimming.
Black cherry, liquorice, and alcohol (specially brandy) prevail on the nose, and, yes, it does suggest Nyquil for second, that is assuaged by cocoa powder, roasted grain, and vanilla.
It's curious that it is prominently sweet in the nose, but much, much drier in the mouth. Once that initial shock is overcome, it's pretty rewarding. Full of toasted grains, and lots of them, intermingling cocoa, carob, and coffee. It sweetens towards hazelnuts, and further toward prune and black cherry. There are a few smokey tendrils lurking around along with some minor inappropriate milky yeast flavors . It has a brief lagered interlude of brisk and clear water, but the notions of syrupy dark fruit are not washed clean. The finish sees a resumptive toostie-roll chocolately and brandy-boozey sweetness join the fray, along with a small black tea bitterness.
And while all these sweet things are spoken of, they are suggested more than implicit...including the 9% of alcohol, as it is noted in flavor, but not in burn. Realistically, it's a moderately dry doppel, but not because it's lacking in the malt or depth. Toastiness rules on the surface, but this goes much deeper.
Medium to medium-full in the mouth, with a creaminess cut by a certain jaggedness of carbonation...it's not overly carbonated, but it lacks a bit (and only a bit) of lagered smoothness.
Overall, I really like it, and is far and away the best Sand Creek product I've tasted. This shows no sign of being overproof by doppelbock standards as it is drinkable in scary amounts. Though it seems that a bit more lagering might be in order to fully smooth it out, but that's very nitpicky, as this is more than alright as it is.
As a first run this is very promising, and shows that the Imperial Porter was no fluke; These Special Reserves are well worth seeking out.
2,043 characters
Oleator Dopplebock from Sand Creek Brewing Company
4.11
out of
5
based on
16
ratings.