Ulrich's Authentic Dopplebock
| Sand Creek Brewing Company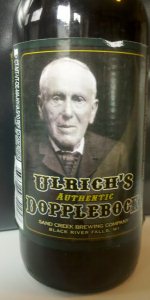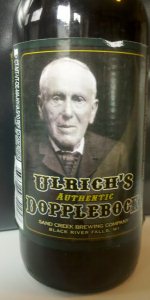 BEER INFO
Brewed by:
Sand Creek Brewing Company
Wisconsin
,
United States
sandcreekbrewing.com
Style:
Doppelbock
Alcohol by volume (ABV):
not listed
Availability:
Spring
Notes / Commercial Description:
No notes at this time.
Added by drpimento on 04-14-2010
This beer is retired; no longer brewed.
Ratings: 9 | Reviews: 7
4.28
/5
rDev
+3.6%
look: 4 | smell: 4 | taste: 4.5 | feel: 4.25 | overall: 4.25

4.42
/5
rDev
+7%
look: 4 | smell: 4.5 | taste: 4.5 | feel: 4 | overall: 4.5
A- Pours a thin, off-white head atop an opaque dark brown/black beer. Head retention minimizes to a ring around the glass, very good lacing.
S- Dark fruits and some booziness. Made me say "ugggh"...you know, in a good way.
T- Follows the nose. Mouthwatering booziness kepps you (me) coming back for more. Black licorice, dark fruits, low hop presence.
M- Tingles on the tongue. medium mouthfeel, maybe even a touch on the syrupy side. Good carbonation.
D/O- With no ABV listed, I'd have to guess this one to be around 8 to 9% just the way the alcohol presents itself. This kid doesn't mind (read: enjoys most of the time) beers with booze in the forefront so this was a big hit with my tastebuds. Definitely pick up this rare(r) beer if you can, especially if you enjoy your dopplebocks.
791 characters

4.52
/5
rDev
+9.4%
look: 4 | smell: 4.5 | taste: 4.5 | feel: 4 | overall: 5
Picked up the last 4-pack at Discount Liquor.
A. Hazy reddish brown appearance with a light tan 2-finger head. Laces very nicely.
S. Rich nose of caramel, nuts, brown sugar and molasses.
T. Tastes much like it smells - this is an excellent dopplebock. Caramel and molasses dominate with some nuttiness poking through. I also get a hint of iron.
M. Medium bodied with low carbonation.
O. Sand Creek really knows how to do dopplebocks. I like this beer as much as I liked their Oleator Dopplebock. I wish they would release both of these beers every year. Worth trying if see any hanging around.
602 characters
4.52
/5
rDev
+9.4%
look: 3.5 | smell: 4 | taste: 5 | feel: 4.5 | overall: 4.5
Poured into a Peace Tree pint.
A: Pours a dark brown with copper hints, nearly opaque. Thin, pale tan head. Minimal lace.
S: Dark fruit, molasses, some toffee.
T: Leads with a lot of spice, followed a full dose of stewed fruits. Sweet finish allows the spice to re-emerge. This is fantastic! As the beer warms, some bread pudding joins in. Alcohol is well-integrated, but you know it's there. Persistant spice balances full sweetness and prevents the sweetness from becoming cloying.
Each sip takes the flavor higher than the previous one-- really remarkable.
M: Good, full-bodied, a bit of oil and cream.
O: A very fine brew indeed. There is no date, and I assume this is left from last spring. If so, this one has great aging potential. Can hold its own with the best of them. Will definitely buy this one again.
820 characters
4
/5
rDev
-3.1%
look: 4 | smell: 4 | taste: 4 | feel: 4 | overall: 4
"The not-giving-a-fuck meter is as far into the red-zone as ever before."
--Lars Ulrich
Dark pumpernickel brown that becomes dark blood red when backlit with early morning sunshine. An appealing looking chunk of light brown sugar colored foam lasts and lasts, laying down a respectable array of lace when it finally fades.
The aroma could be bolder. Even so, it's darker than most beer of this style, with hints of roasted malt and black licorice. No appreciable alcohol is a plus. This must be Sand Creek's version of stealth beer, because a Google search turned up almost no information.
Ulrich's Authentic Dopplebock won't be everyone's cup of grog, especially those who are doppelbock purists. Since I'm not one of those, and since I like big, boldly flavored beer... this is pretty good stuff.
Think doppelbock mixed with classic European Russian Imperial stout. The incredibly anise-like Hercule Stout from Brasserie Ellezelloise comes to mind. This beer isn't that good, but it's along the sames lines in terms of flavor and feel. Not a bad beer to emulate... if that's what the brewers did.
Flavors include dark chocolate-covered caramel, black licorice, black tea leaves, and figs soaked in Sambuca. Each sip is like a controlled explosion that is backed by what has to be an ABV of at least 9.0%. Maybe even a little higher.
The mouthfeel isn't huge, nor should it be. It's at least medium for the doppelbock style and is impressively lagery smooth and supple. Well done bubbles too.
It's a shame that Sand Creek didn't get more mileage out of this 2010 spring seasonal. They definitely need to release it again next year, because there's nothing else quite like it being brewed in America today. Grab a few bottles if they're still out there, because it's drinking mighty fine right now.
1,806 characters
4.12
/5
rDev
-0.2%
look: 3.5 | smell: 4 | taste: 4 | feel: 4.5 | overall: 4.5
A - Dark amber and ruby color. Smaller than average sized head with a very creamy, smooth, frothy, khaki colored head. Decent retention with a nice creamy layer of lace.
S - Good amount of dark roasted malt with plenty of dark fruit (plum, fig, date). Some burnt brown sugar and licorice. A bit of spiciness as well.
T - Similar to the nose. A lot of dark fruit with plenty of plum, fig, and date flavors. Some chocolate-covered and rum soaked raisin comes out a bit. A bit of a tart, sweet plumy taste. A bit of a spicy earthiness, but not much. Some burnt brown sugar is also present.
M - Medium body with a good amount of carbonation. Very smooth and creamy feel.
D - Pretty easy to drink beer with a nice sweetness, but not cloying. Body definitely helps it go down easy.
Notes: A nice doppelbock, maybe not world class, but pretty flavorful. Nice mix of sweet and a slight tartness along with a slight bitterness. Full of dark fruit flavors. Definitely worth a try.
975 characters
4.65
/5
rDev
+12.6%
look: 4.5 | smell: 4.5 | taste: 5 | feel: 4 | overall: 4.5
The Ulrich's Authentic Dopplebock is a big ass beer! First time I had this about two months ago it was very boozy. But now it is smooth as can be! Love it...
Appearance is beautiful dark brown that almost fades to black in the right light. And a wonderful nice two finger khaki colored head on it.
Smell is on a wonderful spicy, malt goodness...as this beer warms it really opens up! WoW!
Taste is of that same spicy thing going on in the aroma. bursting with malts and with this being such a huge abv(10) the booze is hidden really well...
Job well done by the SandCreek boys! Keep cranking out these brewmaster special reserve brews!
Two big thumbs up from this guy...
671 characters
2.7
/5
rDev
-34.6%
look: 3 | smell: 3 | taste: 2.5 | feel: 3 | overall: 2.5
I'm giving this one the benefit of the doubt as I like most of the Sand Creek beers so much. Poured with a small tan head that mostly faded and no lace. Color is a dark mahoganey brown. Aroma is malty roasty, a bit hoppy and dark ripe fruit. Flavor is really dominated by licorice. Also has the above aroma characteristics. Body and carbonation are to style. Finish is fairly long and like the flavor. Too much licorice for me. Not a session.
442 characters
Ulrich's Authentic Dopplebock from Sand Creek Brewing Company
Beer rating:
0
out of
100
with
9
ratings