Hotel Oregon (McMenamins)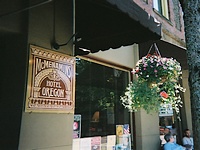 PLACE INFO
Type:
Bar, Eatery, Beer-to-go
310 NE Evans Street
McMinnville
,
Oregon
, 97128
United States
(503) 472-8427 |
map
mcmenamins.com
Notes:
No notes at this time.
Added by weefisheads
Ratings: 10 | Reviews: 7
Reviews by beercollector:
4.05
/5
rDev
+1%
vibe: 5 | quality: 4 | service: 4.5 | selection: 3.5 | food: 3.5
On my trips through McMinnville on a sunny day, I always find time to stop at the roof top bar. Lunch at Golden Valley and evening on the roof top at Hotel Oregon. With dinner just up the street toward City Hall at the japanese resturant Kame. And if you get too much sake or Terminator, then just rent a room.
From the roof top you can see a lot of the wine country. Breakfast at the roof top is great although it can arrive a bit cool.
And if you want dark there is the cellar bar. In both cases they are small and the beer tenders are great at conversation. I sit and wait for friend to get off work and then plan an evening of food and beverage. Hotel Oregon is central for this.
The main bar and dining area have a good selection and the typical McM's food. Like most of the empire, the weekly specials are somethng to check out. And if you are into UFO's this is a place that celebrates them.
Just a fun place to visit.
937 characters
More User Reviews:



3.7
/5
rDev
-7.7%
vibe: 4.5 | quality: 4 | service: 4 | selection: 3 | food: 3
The rooftop patios make this place special. Decent wine by the glass selection; 6 beers on tap, my IPA was very good. Burger was average. Service really friendly and attentive. The hotel itself is very cool with tons of character. Get a pamphlet that explains all the very cool artwork and funky history of the Hotel. $75 for a nice simple clean room with shared bathroom/showers down the hall - GREAT deal! Convenient downtown location. A regular stop for us when in McM. WARNING: Happy Hour Garden burger may sound like a good deal at $3 off but you don't get any side tots or salad. That's cheap when your Happy Hour specials are not the same as the item with the same name on your regular menu.
698 characters
3.46
/5
rDev
-13.7%
vibe: 4.5 | quality: 3 | service: 4 | selection: 3
I would always hit up this place with my friend after some Linfield football games. The atmosphere, like at almost all McMenamins establishments, is fabulous, and this might be the best. The rooftop patio is beautiful and fun on a crisp fall day. The beers, like at all McMenamins, is average and boring, but crowd pleasing to the non beer enthusiast. Our servers there were always wonderful and would give me giant pours of things just to taste without charge. Very cool. I just wish they would have some special stuff on tap once in awhile.
542 characters
5
/5
rDev
+24.7%
vibe: 5 | quality: 5 | service: 5 | selection: 5 | food: 5
grat spot for local mac people and those from the outside world, a good selection of place to drink and be hoppy in this place, they have a rooftop bar that has the best view of yamhill county.
a basement that has the worst view in the county, ha ha.
the beer is great, the menu is the standard mcmennimens fare, a bit unsual take on the standard bar food menu, but the only problem is the food is very inconsistent, never the smea temp or quality, stick with the beer and maybe an appetizer.
the people are cool, but how can you not be in oregon
549 characters
4
/5
rDev
-0.2%
vibe: 4.5 | quality: 4 | service: 4.5 | selection: 3.5 | food: 3.5
I've stayed and visited the Hotel Oregon on many occasions, considering it the ideal place to stay during the wonderful (but rather expensive) International Pinot Noir Celebration. I've also been here for the fun and hilarious UFO festival.
As I recall, this was an old run down hotel that the brothers purchased and spruced up. The place is pretty fun, with the wine cellar bar in the basement and always popular UFO bar on the roof. The upstairs bar is a paticularly good place to hang (if you can get a seat - it's very, very popular), with its great views of the town and surrounding hills and valley. On most weekends there is live music in the wine cellar. There is sort of a wine theme going on at the hotel, located as it is in the heart of the Oregon wine country. Aside from the basement wine cellar (really just a bar with a few more wine selections then you'll usually find in McMenamin establisments), a couple of floors have wine reviews and quotes from Michael Broadbent, Robert Parker, etc., scrawled on the walls. It makes for good reading as you wander around the hotel, glass of Oregon pinot in hand.
Quality is good I guess, with the usual McMenamin cusine and beer. There is no brewery on the premises here (unlike Edgefield and Kennedy School), but the downstairs restaurant carries all the standard McMenamin line-up. Service is also pretty good here, I've never had any problem in that regard.
As noted above, the food is the typical McMenamin menu with a few specials thrown in for good measure. One thing I have noticed, after having eaten many meals at quite a few McMenamin establishments, is that the quality of the food coming out of the kitchen here is not quite up to snuff when compared to Edgefield and Kennedy School. I don't know what it is, whether they have difficulty getting the same quality ingredients or what, but it just seems as if the food here is a bit subpar. It's still not bad, but it's also nothing particularly special either.
Nevertheless, this is a fun place to visit, a place I invariably visit while in the Willamette Valley wine country. Already made my reservations here for next year's IPNC! :-)
2,158 characters
4.05
/5
rDev
+1%
vibe: 4.5 | quality: 4 | service: 4.5 | selection: 3.5 | food: 4
I'm a big fan of all things McMenamins. They infuse much artistry and style into their projects. Collectively, the McM's empire forms a "chain" of highly individualized restaurants, bars, hotels and brewpubs, most of which were born of refurbished historic landmarks.
The Hotel Oregon is typical for its displays of quirky, semi-ghoulish or psychedelic artwork in the context of an old historic building with modern renovations. There are no less than three bars on site with a ground level restaurant and a full service hotel. The Cellar Bar is downstairs in a cozy nook that showcases live music from nationally touring songwriters and acoustic performers. At street level is the restaurant with another bar featuring two antique pool tables. Both bars offer wines produced at McMenamins Edgefield winery.
Moving up, there are three flights of hotel rooms. I'm told the rooms are small (never stayed in one) but I know McMenamins offers some enticing tour packages that include a room, dinner, and tickets to the flight museum for about $120. And that's for two people. (The flight museum houses the Spruce Goose -- largest seaplane ever built and a freakish sight to behold. It's three miles from downtown.)
But my favorite part of the Hotel Oregon is the Rooftop Bar, which has spectacular panoramic views of the Yamhill and Willamette valleys. The bar is tiny (a trademark McMenamins attribute) and features year round outdoor seating. This is the heart of Oregon wine country and the scenery is breathtaking. Throw in a good sunset and you've got a perfect place to propose marriage, which is what the guy at the table next to me did on the night I visited.
Beer is not brewed on premises but I might consider the Hotel Oregon to be a brewpub in that it is an outpost of the McMenamins empire and pours McMenamins beers and Edgefield wines. If you're looking for beer brewed in town however, you need only walk two doors down to the Trask Brewpub or five blocks further to Golden Valley.
McMinnville itself is a nice place to visit. People are friendly and the town has lots of charm along with fine beers and wines.
2,142 characters
3.85
/5
rDev
-4%
vibe: 5 | quality: 4 | service: 3.5 | selection: 3.5 | food: 4
What can I say - just another brilliant idea amongst many in the McMenamins Empire.
First of all, don't let the name fool you. Yes, it is a hotel, and as such you can spend the night if you so choose. And yes, McMinnville is in the heart of the Willamette Valley, known mostly for it vineyards and bustling wine industry. But just like Edgefield or The Kennedy School, it's also a destination for anyone looking for some good beers and a really great atmosphere.
The hotel itself is located on the main street in downtown McMinnville, and if I may say so myself it's quite a cute old downtown. As in many of the McMenamins establishments, it's a historic building that was renovated so it has a great deal of old time charm along with artwork and décor is typical McMemamins – kinda psychedelic with lots of tile-art and disturbing paintings.
But what brings people to The Hotel Oregon (besides those looking for a place to spend the evening) are the 3 different places you can go to enjoy some of the McMenamins beers and / or wine. The first, and the biggest draw, is the rooftop bar, which, not surprisingly, is located on the top floor of the hotel. Also in line with many things McMenamins it's very cozy, with only a few tables inside and a few seats at the bar. But there are also tables outside, and on a mild summer evening there is no place like.
The second option in the hotel is the Cellar bar, located in the basement. It, too, has a very cozy feeling as the ceilings are pretty low and the space is on the small side, though without much of a view. And lastly, there is the pub on the main level of the hotel, which is also a restaurant for breakfast, lunch, and dinner. If you've been to any other McMenamins, then this will look familiar as there's nothing terribly unique here. but the advantage to the pub is you have the largest selection of beers here – about 5 or 6, I think.
The food is nothing exceptional, though I've never had anything I didn't like – mostly burgers, sandwiches, and the such.
Whether you're staying overnight or your there just to get a few beers, I can't say enough about The Hotel Oregon. Though it doesn't rate exceedingly high in some categories, the overall atmosphere is one that any beer lover would enjoy.
2,290 characters
Hotel Oregon (McMenamins) in McMinnville, OR
4.01
out of
5
based on
10
ratings.