The Triple Rock Social Club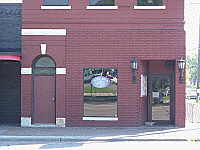 PLACE INFO
Type:
Bar, Eatery
629 Cedar Ave
Minneapolis
,
Minnesota
, 55454-1220
United States
(612) 333-7399 |
map
triplerocksocialclub.com
Notes:
No notes at this time.
Added by feloniousmonk
Ratings: 14 | Reviews: 10
Reviews by feloniousmonk:

4.21
/5
rDev
+8.5%
vibe: 3.5 | quality: 4 | service: 4.5 | selection: 4.5
Years ago, this spot was an ordinary bar among many others at the edge of the eclectic West Bank neighborhood, before being transformed by members of a local punk rock band. So why should a jazz nut like me choose to hang where punk blares from the jukebox? The beer, of course!
Once in the door, you get the idea. Signs and posters for Duvel, La Trappe & Guinness alternate with images of the Sex Pistols and the Ramones. Step up to the bar, and check out the 12 taps, biggest lineup in the area. Cheap stuff, cider, and the usual suspects (Bass, Blue Moon, Newcastle, Sierra Nevada), but there's always some surprises and good stuff. Currently, Bell's TwoHearted and Maredsous 8, and I have fond memories of La Trappe Quadrupel, and Wittekerke. I love the right side of the bar, where underneath an cool Delirium Tremens lit sign (I believe I had my first D.T. at the T.R.S.C.) hangs an old poster for Colt 45 featuring Billy Dee Williams. Actually, someone once told me that those who ordered that beer received it in a velvet-laden ice bucket, served with champagne glasses. You've got to love the service with sarcasm angle!
Speaking of service, that's one of the things I love this place for. Your server may have the oddest hairstyle you've ever seen or possess numerous facial perforations, and countless tatoos, but I've never seen bad service. And when I order a good, Belgian-style beer, I get it in a nice, Belgian-style glass, without fail. My Gulden Draak doesn't get dumped into a pint glass or plunked on the bar without any, nossir! Bottle selection is good, too, and I've often wondered if the like of Skullsplitter and La Fin du Monde are chosen for their apocalyptic feeling, but I know they're there because they love 'em.
As for the food, I've never eaten, but I know that the kitchen goes beyond pub grub and has gotten recognized for offering vegetarian/vegan fare.
I also haven't been near the new live music stage, but you coulda guessed that.
And I gotta hand it to them for keeping the good beer going, despite that cheap, boring stuff is more in line with the rock'n'roll lifestyle. Though there are plenty bottles of Old Style on the bar, I know I can always count on a Duvel or a Bell's.
If you want to try a great beer in a unique spot, rubbing elbows with rockers, East African immigrants, and dedicated beer freaks like me, Triple Rock's the place. Wanna see this unfortunately cramped room packed to the gills?
Tuesday 2-for -ones.
2,486 characters
More User Reviews:
4.23
/5
rDev
+9%
vibe: 4.25 | quality: 4 | service: 4 | selection: 4.5 | food: 4.75
4
/5
rDev
+3.1%
vibe: 4 | quality: 4 | service: 4 | selection: 4 | food: 4


4.25
/5
rDev
+9.5%
vibe: 4.5 | quality: 4 | service: 4.5 | selection: 4 | food: 4.75
I love this place. I went twice in two days, on a Friday night, and a Saturday afternoon.
Atmosphere: Look, it's a punk rock bar, attached to a punk rock music venue. If you don't like this, you won't like Triple Rock. If you do like loud music, fantastic vegan food options, and a solid beer selection, you'll love this place.
Quality: the beer selection, as various others report, isn't world class, but it's really solid. Several Surly beers, including Furious on draft, and Hell and Cynic in tall boys, several other Minnesota and upper Midwest options. Great Lakes Erie Monster on tap. And a bunch of hipster garbage in cans and tall boys. Other than to be ironic, I just don't get why people would drink FYB at close to the same prices as excellent, local, and craft options.
Service: It was truly fantastic both times. Friendly, fast, pleasant, attentive, efficient.
Selection: as noted, solid. See other folks review for more specifics.
Food: I loved the food. It's comfort/junk bar food, and it's damn well done. I'm vegan, and they have a bunch of explicitly vegan options (as well as a bunch of dead animal for the omnivores.)
Value: it's not cheap, it's not expensive. Food, and a couple beers, ran me $25 with a generous tip (30%+) both times.
Convenient that it's basically on the same street as Town Hall Brewery (Decar turns in to Washington.) Transit is easy enough: take the light rail to the Cedar-Riverside station, and either walk a few blocks on city streets, or parallel the tracks south through The Cedars, a multi-building high rise housing project (don't worry, it was perfectly safe when I walked and rode through several times.)
I'll absolutely be back!
1,697 characters
3.98
/5
rDev
+2.6%
vibe: 4 | quality: 4 | service: 4 | selection: 3.5 | food: 5
Although I don't go here as often as I have in the past, this is still one of my favorites in the cities for food and a beer or two...if you make it during happy hour, it's downright awesome.
nice, laid back, and before it becomes to crowded - inviting vibe. great juke box if you are into punk,hardcore, metal, etc. and the food....oh, the food. whether looking for vegan friendly (which I am) or meat heavy you will not be disappointed. it's good ol' fashioned, stick to your guts bar food.
the beer selection is fine, but certainly nothing outrageous. they'll have summit, two hearted, and a couple surlys as well as schlitz, bud, guiness, etc....
the real value comes at happy hour where they do a buck off apps and $3 beers...nothing like a giant plate of nachos for 6 bux and a couple 3 dollar surlys....crazy value.
when i was training for my first marathon, we would come here after a long run on Sunday to eat an amazing vegan brunch and pound coffee-benders....it was just perfect.
995 characters
2.59
/5
rDev
-33.2%
vibe: 3 | quality: 3 | service: 2.5 | selection: 2
My wife and I did a pub crawl and hit the three beer bars on Cedar that show up on Beer Advocate and are in close proximity. We started with these three on our day to try and be "fair" for the purposes of the site.
Triple Rock was our first stop. As a previous reviewer mentioned the pierced and tatted crowd is present. The atmosphere is still pretty laid back and cool. The service was okay, but we kind of lingered a little and tried to make ourselves seen to be helped. It seemed they couldn't decide who would wait on us and that delayed things. We weren't in a hurry and so we didn't care. This is just kind of a hole in the wall place and they were cooking, serving and kind of doing it all.
The quality is decent. Most of the beers that are on tap are your standard beers for this area. We had Summit Winter because there was nothing else on tap or on the bottle menu that we hadn't already tried and so we went with the Summit seasonal. While this place is superior to average everyday bar, there are other bars along Washington Avenue that have just as much selection and are not listed as "beer bars." We didn't have anything to eat as we were working our way downtown.
The selection I think I already covered. Its fine because the beers are all good, but there is nothing here that you can't find elsewhere. I would go back, but there are other venues I might choose first.
1,390 characters

3.83
/5
rDev
-1.3%
vibe: 5 | quality: 3.5 | service: 4 | selection: 3.5
First, my head Minnesota contact, Bill Caperton, a fellow Pitt alumnus, had me meet him here on a Friday night, then FeloniousMonk told me that beeradvocate.com needed a picture for their site and that I would have to go back. No problem there. I really like that this place exists on BeerAdvocate.com – it was like a double-plus bonus, since I would have come here anyway.
First, some perspective – if you are cool with a place like Delilah's in Chicago, IL, you will be kosher here. However, if the tattooed and pierced crowd make you break out in a sweat, then you should probably give both places a wide pass. Me, I'm good.
As I entered, there was a pool table to the immediate left with a line of booths along the right wall, as well as a CD jukebox, a Golden Tee machine, and a pinball game. In the back right corner was a coat closet; one such as you might see in a kindergarten classroom. The washrooms were straight aft on the centerline. The bar was a simple, straight, dark wood affair that ran the left length of the space from the pool table aft. Next-door was a live music venue that had its own bar. We were all invited in with the cover being waived on my second visit when the air conditioning failed.
Past the bar, in the overhead, was a suspended chalkboard that detailed "Tap", "Domestic", and "Import". They had twelve taps, the best of which were Surly Bender; Bell's Two-Hearted Ale and Oberon; Summit EPA; and Goose Island IPA. The lowlights were Bud and Stella Artois. They had a lousy domestic bottle selection, but the imports included Czechvar; Maredsous; Duvel; and Delirium Tremens.
A neat idea that I wish more places ran was called "F**k Hallmark. Leave a drink. You buy it and we'll make sure that they get it." The idea was to buy someone a drink, especially if they were not there, which would be recorded on a chalkboard and they would drink on you on the occasion of their next visit. I left one for Sailor Chelsea, a hot redhead in a mini-skirt, fishnets, high heels, and a sailor's Dixie Cup hat cocked rakishly on her head. She and I had a nice conversation before she had to go.
Speaking of conversations, Bill Caperton and I were talking when I finally showed up, dripping wet with sweat from the inescapable humidity. He asked where I had been and I thought that he meant the whole shot, not just that evening. Once I finished outlining my trip, up to that point, for him, he sat back, astonished.
"Geez, Woody, don't you own an atlas?"
"Sure, I've got an atlas right here in my backpack. Why?"
"Well, Christ, man, I've been out on tour with indie bands that seemed to have a better sense of direction than what you're coming up with."
Beautiful.
2,746 characters

4.4
/5
rDev
+13.4%
vibe: 4.5 | quality: 4 | service: 4.5 | selection: 4.5 | food: 5
Anyone who walks into a bar along Cedar Avenue expecting to find a world class beer bar will be disappointed1, but having walked the avenue with the same folks that now own this bar, I can testify to the fact that the Triple Rock's vibe is more than just a way of life, it's an example of how both community and entrepreneurial spirit have helped a business to thrive. And yeah, the beer selection ain't half bad, either2.
While it's easy to peg the Triple Rock as a "punk rock bar" due to its propensity for hosting punk gigs, plenty of regulars attribute their 'regular' status to more than just the venue's overhauled-dive-bar atmosphere and emblematic musical genre. Two reasons that spring immediately to mind are "2 for 1 Tuesdays" and the weekend breakfast menu, which is sort of like classic American casual and pub grub but with a twist – more on that later.
First let's look at 2 for 1's and the beer selection in general. By now 2 for 1 Tuesdays are by no means a secret, but neither is the place constantly wall-to-wall: the cat was already out of the bag before it was satirized by hip-hop outfit Atmosphere, and in recent years this 9 to 11 PM feature has evened out. But imagine if you will, two-for-one Maredsous, Two Hearted Ale, Summit Extra Pale Ale, Left Hand Sawtooth, Old Speckled Hen, and now Surly3 - all of these and more have made the tap lineup here worth watching, and at the very least it makes for a fun alternative to Taco Tuesdays and other T-themed nights at neighboring sports bars and college-boy dens of iniquity4. The beer list itself is on the far (East) wall as you walk in, and changes both with the seasons and according to certain distributor's promotions. Craft offerings currently on draught include two each from Bell's and Summit, one Surly, and one Goose Island. With 12 draughts total, that leaves it split evenly between craft brands and big-volume brands of the import and domestic variety. The domestic bottle and can list includes "retro" and premium brands (Grain Belt and Lone Star among the former, the Bud family comprising half of the latter) along with Sierra Nevada and now Surly Furious – 12 brands total, not to mention Smirnoff Ice! Imported cans and bottles include Gulden Draak, Maredsous, and Wittekerke, along with Strongbow and Tecate – 14 total, as well as two N.A. options for those who choose not to imbibe..
Now on to the menu. Yes, of all things food is actually a draw for this dive bar-cum-performance space, and from four o'clock onwards you'll find patrons here for more than just the killer tunes in the jukebox: the $5 "Burger and a Beer" special, which although recently curtailed (4-6 PM rather than 4-8), remains a great option. And speaking of options there are more vegan and vegetarian options here than at most other restaurants in town, and with portions that won't leave you hungry. This brings to mind the 'American casual and pub grub' that I mentioned earlier: not only are there folks who swear by TR's buffalo wings, there are others who swear by their vegetarian chicken wings, and this is what I meant by "twist", the fact that most of your classic bar appetizers are available here in a vegetarian version. The weekend breakfast menu is served from 10 to 3 on Saturday and Sunday, and again offers an exceptional range of traditional favorites alongside vegetarian and vegan renditions, including Triple Rock's original creations and the infamous Chef's Revenge. All this with Great Bloody Marys, a highly entertaining menu, and Darn Good coffee, too. And just like The Replacements, you too can have Beer for Breakfast.
Finally -and you'll have to trust me on this- 629 Cedar Avenue is now a far cleaner (in more ways than one) establishment than it was as "Blondie's on the Ave.", just one of the many *very* divey dive-bars on the West Bank throughout the late 20th Century. For a rare taste of those days, belly up to the bar at Palmers, just down the street – if you dare!
1. They'd also be in the wrong town, but hey, we're getting there!
2. Even better selections are available at both The Blue Nile and Minneapolis Town Hall Brewery, both of which are about half a mile in either direction. Decisions, decisions . . .
3. In the past five years 2 for 1 offerings have included Boulder Hazed and Infused, Weihenstephan Helles, Widmer Hefeweizen, and both Red Hook and Boulevard seasonals among many more. A great way to sample new brews!
4. Bullwinkle's. Ahem.
4,519 characters

4.25
/5
rDev
+9.5%
vibe: 4 | quality: 4.5 | service: 4 | selection: 4 | food: 5
I really enjoy going to Triple Rock, though I haven't been there for a concent yet. Others in their reviews have given a good sense of what it is like, so I'll focus on my reasons for continuing to go to the Rock.
A friend recommended the Rock for the beer a few years ago. 'The number of beers have narrowed recently, but not a lot. I've had Maredsous 8, Bell's, Left Hand, La Trappe, Wittekerke, and more over the last few years, including my first Surly Bender. There's always enough good beers to keep anyone entertained, one of the few places that has a balance between micro and macro that can truly work for a wide range of people.
But, I'm not sure if I'd go back just for the beer. I show up for the food and the attitude. First, almost everything on the menu can be made vegan, and large number are various forms of vegetarian. More importantly, the vegetarian food is spicy and good. They really get it. Most restaurant offer a lot of dead animal on a plate, and the veggie food is so bland it's like baby food. If you have a couple of friends who need some dead animal, they can do that as well. The weekend breakfast is really good, huge meals that will get you through til dinner. My favorite dish is Chef's Revenge. You can to specifiy meat, veggie, or vegan, and you get what you get. I've gotten everything from burritos to chili type dishes to sandwiches to stuff I'm not sure what to call it but it was all fantastic. I've never once been disappointed in the food at Triple Rock. And, the World's Best Vegetarian Sandwich (their name) truly is the best veggie sandwich I've ever found. Friends who just have to kill something, can have meat added to many dishes and several freinds have reported liking the Big Ass Meatwich.
Finally, I really like the attitude. I'm a high school teacher, and unfortunately look like one, especially when I show up after work. On several occasions, I'm the only person in the bar w/o a tattoo and/or a piercing of some sort. And, no one gives a damn. My wife and I can walk in, be the only ones who don't look punk, and on one will even turn a head. Love it. Whereas, in an upscale restuarant, the beer is bad and the company seems to always be checking the competition, giving mental approval and disapproval. Plus the anti-establishment attitude is where I'm at now in life even if I look like "the man."
Along with Town Hall Brewery, Triple Rock is the place I bring friends and family when they come to town, including my retired in-laws for breakfast last Sunday and they loved it.
2,554 characters
3.78
/5
rDev
-2.6%
vibe: 3.5 | quality: 4 | service: 4 | selection: 3.5 | food: 3.5
I wasn't sure what to expect from the outside of this building that was a bit run down with 3 big diamonds panted on the front door. When I got inside it had the feel of a local watering hole right out of Chicago. It had the big long wood bar with mirrors on the back and a wall of booths on the other side with a pool table parked in front.
It was a lot of collage age kids drinking and they had 12 taps with 11 domestic bottles and 12 European bottles to chose from. They had a paper sign taped to the glass behind the bar that said cash only but they had another sign down a bit further that said credit card purchases must be over 10 dollars. They had a 3-dollar cheeseburger basket for happy hour, which was a full meal not the mini-slider that I'm used to for happy hours.
They had a good range of music and it looks like another room for bands to play just on the other side of the bar. This place looks like a good place to hang out with a group of friends and take advantage of the happy hour food.
1,015 characters
4.2
/5
rDev
+8.2%
vibe: 4.5 | quality: 4 | service: 4 | selection: 4.5
What a great place to grab a pint of good beer in the Twin Cities. Beer selection was amazing. Two Hearted Ale, Bell's Pale, Surly Bender, Gulden Draak, plus more Belgians and Germans. Went here on a Saturday afternoon, and this place seemed unused to that much natural light. Employees were very friendly and genuine. The entire place does lookl like it hasn't gotten a thorough cleaning in many years, but that probably just added to the interesting atmosphere here. We did not have anythnig to eat, and I don't know if I would ever come here for the menu. Good music on the jukebox. A good stop on a pub crawl in between the Blue Nile and Town Hall.
652 characters

3.05
/5
rDev
-21.4%
vibe: 3 | quality: 1.5 | service: 3.5 | selection: 4.5 | food: 3
I used to go here from time to time years ago after playing hockey games or practice down the street at Augsburg College because it was close. Not sure if was named Triple Rock though back then. But this is definately the place. Its still drab as ever, just different decor and has a better load of beers to choose from. Different look back then, now its more of a punker/hippie/record store First Ave clone.
Don't get me wrong, it has a certain charm about its fifth and rundown look, but its a place I wouldn't frequent all that much, even given its solid line up of beers. Its a step up form a stingy corner bar, but not by much. The beers are really the only thing keeping this place open I think. Small, creepy, and dark with all sorts of riff-raff hangin' out here. The tables, chairs, and bar are sticky. I'm not even gonna guess why that is.
Went on a Sunday night while some friends were performing on a small stage near the back. It was pretty busy, so the service was a bit subpar and slow, but extremely nice and knowledgable about the beers. Spilt up some appetizers for grub and those were a bit lack luster and perhaps a bit too simple and plain for my tastes. The menu is largely vegetarian with a mix of Mexican, Africian, and American fare and the prices seemed about right.
The beers are lined up on a chalk board by catagory, quite a bit to choose from with some Bell's, Summit, SN, and a couple Belgains on-tap. More yet in bottled form too with some more micros that are fairly easy to come by and more Belgians. Some other imports from England, Germany, & Czech make the list too. They serve the Belgian beer in the proper glass ware - so thats kinda cool that these people you see being all tattooed, pierced, and smelly know what it means to enjoy a good beer. Or at least I hope so?
This place needs a big time cleaning. I don't smoke but I swear I smoked a case of cigs and felt slow and drab all the next day from it. Only had 2 beers in about 2 hours, that was about all I could take before thinking too much about my sticky chair and table. I had to get out of there before wondering how clean my glass was, the food, oh the horror...
2,178 characters
The Triple Rock Social Club in Minneapolis, MN
3.88
out of
5
based on
14
ratings.