Tally Ho Tavern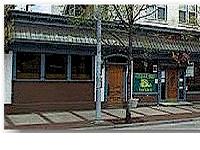 PLACE INFO
Type:
Bar, Eatery
205 W 4th St
Bethlehem
,
Pennsylvania
, 18015-1501
United States
(610) 865-2591 |
map
Notes:
No notes at this time.
Added by NeroFiddled
Ratings: 15 | Reviews: 12
3.56
/5
rDev
+1.7%
vibe: 4 | quality: 3.75 | service: 3.5 | selection: 3.25 | food: 3.5


2
/5
rDev
-42.9%
This place used to be amazing a few years back. Had over 100 bottles to choose from and 30 different taps on the main bar with a few side bars as well. It has really gone downhill over the years with ownership changing hands a few times. They still have a lot of taps, but its a selection that I'm not too fond of and the bottle selection has since gone away. Haven't tried to food in a few years so I'm not sure how it is now. Definitely a college dive bar, with DJs on weekends and sometimes during the week. They have karaoke sometimes and bands as well. The deck out back is pretty sweet during the spring and summer seasons.
635 characters


3.25
/5
rDev
-7.1%
vibe: 3 | quality: 3 | service: 3.5 | selection: 3.5 | food: 3
Stopped in here this past weekend with some friends who were doing a Bar Crawl in Bethlehem.
The atmosphere is that of a college bar. Theres a jukebox always playing, theres booth seating all over besides the bar, and theres a "dance floor" to the left hand side as you walk in the entrance. The place isn't the dirtiest place in the world, but previous visitors have left their mark as carvings, and names are written all over the tables and walls.
The service was slightly above average. I could tell the bartender didn't know all that much about beer, but he did fill up the glass quick. The selection I am giving slightly above average, and this was hard for me to do. This place has about 10 taps running at all times, I had a Dogfish Head Aprihop on this occassion, and SHOULD have over 100 bottles to choose. There are mugs that hang above the bar that have numbers on the bottom indicating how many beers that person had tried at the tavern. Unfortunately this selection was not there on my visit, and "should be by the end of the month".
The food was your standard pub grub, I got a cheesesteak and the lady friend got chicken fingers and fries. It was pretty good. Everything is priced reasonable, your craft beers on tap are about 4.50. I might go back here once I know about all the different bottle choices they have, unfortunately theres no site for here that really updates when they have this though.
1,422 characters

3.8
/5
rDev
+8.6%
vibe: 4 | quality: 3.5 | service: 4 | selection: 4 | food: 3.5
Ah the Ho! One of the few bars on the Southside that I enjoy. I guess I just like the name of it. Anyway...
The Tally Ho is a bar that almost resembles a saloon and a pub mixed into one. The smokey air and the wooden tables remind me of something out of a movie. The bar is quite long taking up just about the entire right hand side of the bar. There is a good assortment of beers on tap here and in bottles. The Ho's service is pretty quick, usually at bars like this you can end waiting forever to get your next drink.
The tables here are all covered with key carvings of peoples names and profanity of all sorts, I don't mind this because it's a bar and I feel that it adds an element of intrigue to the place. Every time I've been there it's been busy, but always managed to find a seat either near the bar or outside on there raised deck area in the back of the building. There also a lame little dance club thing they have on the left side and walking through a small hallway. If that's what your into go for it but I'm just there for the beers.
I love going to grungy bars sometimes and this one is near perfect. There is usually some good tunes too on the jukebox.
1,177 characters

3.48
/5
rDev
-0.6%
vibe: 4 | quality: 3.5 | service: 3 | selection: 3.5 | food: 4
I was staying at the hotel right down the street from here so decided to make this place my dinner destination.
Sat at the end of a long wooden bar. The surroundings are that of an irish pub...lots of dark woods, brass rails and plaid. They allow smoking here, so take that for what it's worth.
The bar is pretty long, so lots of people can crowd around it...thus making it difficult for the barkeeper to get from end to end.
They had a decent draft selection and a cooler full of bottles to pick from. They would benefit from a list of some sort because most of the bottles were well hidden and/or hard to read.
The food was good...I have the wing special, which was really tasty and inexpensive!
Pretty decent place...just about what I was expecting.
759 characters
3.66
/5
rDev
+4.6%
vibe: 3.5 | quality: 4 | service: 3 | selection: 4
Walked into this place at around 10 or 11 on a Friday night and it was packed to say the least. There was hardly standing room around the main bar so we had to cut into a back room where there was luckily another bar. The smaller bar had all macros except a Victory brew I had never heard/seen before, Donnybrook Stout. As usual from Victory, a solid beer.
We moved a bit closer to the main bar and I got to have a look at their taps, which there must have been at least 30. Back behind the bar to the right side there was a fridge with a wide selection of bottles as well. I spotted Troegs Mad Elf (didn't even know it was out at the time) and grabbed a pint.
One thing that surprised the hell out of me was the prices for this place. I believe the charge for a pint of Mad Elf was either $4.00 or $4.50 which is at least a couple bucks cheaper than I would have found near the DC area back home. We didn't try any food as we could barely even move in there but I'd definitely want to come back during the day (as some other reviews have mentioned) and have a couple more pints when it's quieter.
1,099 characters
4.38
/5
rDev
+25.1%
vibe: 4 | quality: 4 | service: 4.5 | selection: 5 | food: 4
A: It depends on when you walk in..If you come at 11pm on a Friday night, it's usually filled with college kids, but if you come at a reasonable hour of the day, say for dinner or shortly after that, the place seems rather calm and inviting. There is some nice wood-work throughout the place, and even a deck out back for sitting outside! This is a good place to go and get away from the smoking crowd - my only gripe about the place.
Q: The overall quality of your experience there really depends on the time and day you come. Like I said earlier, if you come at a reasonable hour it's not too crowded and you will likely get a bar seat for yourself.
S: The service is always great there, most of the bar tenders are well informed regarding their selection on any given night and can help you make a decision on a beer based on what other beers you have liked in the past. If you have any problems just ask for Scottie, he's in charge of the beery aspect of things.
S: Their selection is great. I was there last night and they had a wonderful tap list. To name a few: Bear Republic Racer X, Southern Tier Unearthly, East End Monkey Boy Hefeweizen, Stone Russian Imperial Stout, Founders Backwoods Bastard, etc. In the past they've had Avery Maharaja, Founders Breakfast Stout, Bell's Oberon, etc. Their bottle list last night was pretty decent as well, it included: KBS, Bell's Two Hearted Ale, 90 Minute, etc. Their selection is always the best in Bethlehem.
F: Their food is slightly above average. On Wednesday you can get 10 wings for $2.50 and a nice sized burger for $3.00, both taste fantastic. Other than those two menu items, I haven't had anything else there.
Overall, this place is a must if you live in, live near, or are just passing through O' Little town of Bethlehem!
1,789 characters
4.18
/5
rDev
+19.4%
vibe: 3.5 | quality: 4.5 | service: 3.5 | selection: 5 | food: 3.5
Four years ago I had some beers at the Tally Ho and left unimpressed. This time was much different.
Tally ho is full of dark wood everywhere, lots of character. Would've scored atmosphere higher but they still allow smoking (I'm biased).
Tap list was amazing. They had kegs from East End (Pittsburgh) that isn't even distributed around here. After talking to the owner, he plans trips to the brewery every couple of weeks to replenish his kegs. Partner ordered a scotch ale and it was served at the proper temp (50-55ish). Very impressed.
Service was good, not great. Would've probably been quicker if we had sat at the bar not at the tables, but wanted to get away from the smoke.
So back to the beers, 20 or so craft beer taps with two sheets of bottles. Everything I had tasted fresh and was served either in a shaker pint or a large red wineish glass. Good enough for me. Really glad this place stepped up their beer.
Food was typical bar food. Much more "homecooked" then most brewpub type bar food. Things were greasy and they used cheeze wiz on the cheese fries, but it worked. Didn't seem like a TGIFridays attempt at barfood.
Prices were great.
If you havn't been here in years, give it another shot! Great to have this intown.
1,247 characters
4.08
/5
rDev
+16.6%
vibe: 3.5 | quality: 4 | service: 4 | selection: 4.5 | food: 4
I found this place over a year ago while taking a walk around Bethlehem of a "First Friday" waiting for my son's band to perform.There is a Rogue sign placed prominently at the front entrance, so that boded well. The place was crowded, though I had no problem getting the barkeep's attention. I had a quick look at the taps and several were unfamiliar to me, so I asked for an IPA. I don't recall what it was but, I quaffed two while reading. I left quite satisfied. That was then...
This afternoon, while driving with aforementioned son, on the way to JFK airport, we decided to find this watering hole. We did so without much difficulty, and were greeted upon entering as the bar was all but empty; the time being 3 PM. My son had a stout of some kind, while I enjoyed a Bear Republic Grandma' Homeade Ale. We both had Bleu Burgers and fries. The food was quite good and substantial. The fries were fresh and brought out promptly, separate from the burgers.
While I agree with some of the previous reviews, after engaging the bartender in conversation, I came away with the knowledge that there was a genuine commitment to expanding the variety and number of quality craft brew offered, they still had to face the economic reality of having to stock, Bud, Coors, Millers, and Yuengling. One has to realize that this is still by and large a blue collar town in a predominantly rural area. The fact that the majority of twelve taps were not the aforementioned corporate brews speaks volumes.
1,491 characters
4.28
/5
rDev
+22.3%
vibe: 4 | quality: 4.5 | service: 4 | selection: 4.5 | food: 4
2010/2011 Update: Ignore my following review, under new management, etc.
This and McGrady's are the staple bars for Lehigh students (I'm not counting Leon's or Starters, etc because they don't exactly deal in good beer) in Bethlehem so that tells you in general what you're dealing with.
A: College bar and you can tell it has been for a long time. Old high back wood booths in the main room and decor of old Lehigh paraphernalia. Smoke isn't as suffocating as McGrady's typical because there aren't as many people here. Another room has a smaller bar and typically karaoke, a band or a dj. Front room has some pool tables. Last review mentioned a cover, however for past few years they no longer have one..
Q: Never really had an issue here with the quality of the beer like McGradys. Pint glasses are the norm, but some beers served in appropriate tulips, snifters or flutes. Later at night you might want to specify you want a glass, not plastic.
S: Same deal as McGrady's don't expect most of the staff to know anything about the beer although the wait for beer and food is not as epically awful as it was a few years ago if you're sitting down (however some of the staff is extremely knowledgable).
S: Smaller tap selection, maybe 20 total but has been improving lately. Among the BMC fare you can currently find Bear Republic's Racer 5 and Big Bear Stout (yes, 2!), Troegs Nugget Nectar, and Bell's Winter White among a few others. Also a nicer selection of bottles than McGradys though I've never really explored them. They have a new mug club that involves sampling a beer from every brewer in their cooler/on tap....not something I'm interested in, but it makes me less concerned about the turn over of the bottles as a lot of people seem to be into that.
Update: 1/09 - Now have 29 taps and have continued to improve. Currently has Choklat, Oaked Arrogant Bastard, Celebration, Samiclaus, OSA, Southampton Espresso, Breakfast Stout, etc.
F: Great bar good, at least much better than McGradys. Wings are much better and burgers are pretty well known among Lehigh and alums. Currently go on Wednesdays (all day and night) for a 3 dollar burger with whatever you want on it.
Same deal as McGrady's with $7 micro/import pitchers on Tuesday nights. I highly recommend checking out the Ho if you're in the area, especially if you haven't been here for a while and assume it has nothing to offer someone looking for better beer. On par, if not exceeding Liberty St Tavern in Allentown for american micros. Do not overlook the Ho if in the Lehigh Valley!
2,561 characters
3.4
/5
rDev
-2.9%
vibe: 3.5 | quality: 3 | service: 3.5 | selection: 3.5 | food: 4
This is the college bar of Lehigh, at least it was until McGradys opened down the street. Plaid wallpaper on the ceiling. Bar room, Dining room/dance floor and a pool room.
True, it is not the connesseur's beer bar but they do have a decent selection. On-tap there is Pyramid Apricot, SA and SA Seasonal, Guinness, Stella, Hoeggaarden but mostly macros. Bottles offer a little more depth, they include Sam Smiths, Lindemans, some Victory and Weyerbachers and a few others. Nothing "rare."
Specials include weeknight cheap coors products (Killians, Original and Light.) A few other cheap deal thrown in. PBR is always $1 a pint, which is exactly what it should cost. I would stick with the "Lager" (Yeungling) here, it must be the most fresh because it is probably the most popular. I have been going here for years and only seen a handful of "craft beers" leave the cooler so buyer beware on freshness.
The food is really good pub fare. Solid burgers, wraps and sandwiches. Also there is some type of food special every weeknight.
Beware, this is a college bar during the week (Karaoke, Djs, Senior Nights, Trivia Nights) and mostly townies on the weekend. It always gets loud after 930. Sometimes on the weekends there is a cover, which is never worth it even at $1-3 bucks.
1,288 characters
3.33
/5
rDev
-4.9%
vibe: 4 | quality: 3 | service: 3.5 | selection: 3 | food: 4
The Ho. I essentially live at this place. A BA's dream? Far from it. The Tally Ho has been a staple of Lehigh University for quite some time and it doesn't seem to be going or changing anytime soon.
The Tally Ho is a great bar. It's not a beer connoisseur's joint. They have a "good" selection of taps, but really nothing great. You'll find a few locals (Stoudt's, Fancypants), a couple bottles (Lindeman's, Victory, Sam Smith, Anchor--I doubt their freshness though) and a typical "variety" (Guiness, Bass, Harp, Boddingtons, Blue Moon, Stella, etc). The crowd is pretty much all college kids like myself. Older folks frequent for dinner and some townies crawl in on weeknights, but it is obviously a college bar and has been for the better half of a century. Pretty good pool tables if that's your thing. Nice place to sit and reflect over a pint or watch the game. It can be really irritating when it's crowded. It's a bar. About the only one worth sitting in in Bethlehem. Not a place to seek out, but worth stopping in for drink if you're in town.
1,055 characters
3.18
/5
rDev
-9.1%
vibe: 3.5 | quality: 3 | service: 3.5 | selection: 3 | food: 3
Hmmm...
What to say about the Tally-Ho...
Well, this place is, yet again, at the epicenter of Lehigh University...well, basically in the backyard of Lehigh University, but you get the idea. However, the Tally Ho is predominantly nothing more than a college bar. The selection is average, at best, with the regular offerings being nothing more sexy than the usual macro swill and, of course, "Lager," which is Pennsylvania college student-speak for Yuengling Traditional Lager.
Service can vary and, as expected, is generally comprised of local college students and perhaps some townies. I have never had a problem getting a beer there, however.
The food is, well, typical pub grub. No bells and whistles here. Just straight-forward bar food. Nothing exciting, nor is there anything that sets their food offerings apart from anyone else.
Bottom line, this place is worth a visit if you are in the mood to hang with some college kids and throw back some brews...
Zum wohl!
988 characters
Tally Ho Tavern in Bethlehem, PA
3.5
out of
5
based on
15
ratings.