The Shanty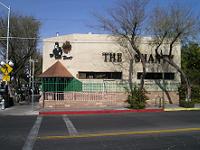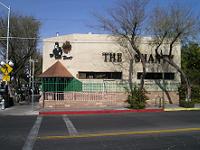 PLACE INFO
Type:
Bar
401 E 9th St
Tucson
,
Arizona
, 85705-8521
United States
(520) 623-2664 |
map
Notes:
No notes at this time.
Added by Gueuzedude
Ratings: 5 | Reviews: 4
Reviews by bennetj17:
3.21
/5
rDev
-21.5%
vibe: 4 | quality: 2 | service: 4 | selection: 3.5
The Shanty is a pretty laid back place to relax and enjoy a brew. It's an old school place with a few pool tables and a nice outdoor patio section also if you feel like enjoying the Tucson weather. The few times I've been there was at night and it has never been very busy. The bartenders are usually pretty friendly with a decent knowledge of brews. They have 10-12 taps and quite a few bottled brews. I would say they focus on alot of imports from around the globe. They have an extensive list, although occasionally they are out of some beers. My concern is that on more than one occasion I have been served outdated beer which was a real downer. They need to improve on this, perhaps they have too many styles and not enough willing customers to try different things? As for the food, I've never tried it, but they do have some delicious popcorn served up free at the bar anytime. Last time I was there taps included Sierra Nevada Celebration, Spaten Oktoberfest, and Deschuttes Black Butte Porter in additon to the basics. I would recommend trying this place if you are on 4th Avenue, just check the date on any bottled beers first...
1,139 characters
More User Reviews:

4.13
/5
rDev
+1%
vibe: 5 | quality: 4 | service: 4 | selection: 4
Located at the NE corner of 4th Avenue and 9th Street, it was accessible by going up a handicap accessible ramp where the copper-jacketed (!) front door was fenced in and aligned to the corner. As I entered, a popcorn machine was to the immediate left. The copper-topped, ¾ of an octagon-shaped bar was at a right oblique to the entryway with a long mirror followed by a Victorian-era nude oil painting along the left wall. The far (open) end of the bar culminated in three coolers full of beer. Further right were a bunch of restaurant tables, all clad in copper, along with standard chairs. Beyond that were four (4) green-felt pool tables which were in front of the doors leading to the patio area. The middle doors were flanked by a few more nude oil paintings, although of a more modern vintage. The lighting fixtures were all evocative of converted gas lights and coupled with the ceiling fans and the big band/crooner-era music playing, I felt as though I had inadvertently stepped into the WABAC machine, c. 1947. Yow! Lavs were off to the left, headed out to the patio, past a foosball table, a cigarette machine, and an ATM, then down a short corridor overlooking the patio. That patio was gorgeous - like something from The Secret Garden with a fountain and a sea of wrought-iron patio furniture. A sign declared this place "AZ's oldest continuously licensed bar" and it was all business. A sign advised employees "Do NOT Overserve!" but there was little chance of that. I got the feeling that the slightest misstep would result in getting flagged/86'd/black balled (and if you do not know the difference, Beer Mail me. I've been subjected to all three.)
1,666 characters
3.75
/5
rDev
-8.3%
vibe: 2 | quality: 4 | service: 4 | selection: 4
I've been to the Shanty a few times over the years, and I think the beer selection actually keeps improving. I stopped by there about a month ago for my annual visit. What they have is a LOT of import bottless, England, Germany, Belgium, you name it, they've got a beer from there. The beer menu is an impressive trifold list that probably goes 6" by 9" and has print on both sides (I'm going from vague memory at the size). I don't doubt another reviewer's count of 231 different bottles. What they don't have is American micros. There are few good domestic offerings, which is a tremendous disappointment to me. The service is usually pretty good, I go when its not busy and sit at the bar, but the tables appear to get good service most of the time too. The reason my visits here are sporadic is mainly the crowd that frequents the place. The Shanty is located at 4th Ave. and 9th St., across the street from Maloney's and O'Malley's, generic (non) Irish bars that are frequented by University students. The bars of this corner are where to go if you want to se a lot of kids with their collars turned up getting drunk. So, I stopped in on a Tuesday (or was it a Wednesday?) night, had two Anchor Liberties, and left. I'll be back next year.
1,244 characters
4.88
/5
rDev
+19.3%
vibe: 4 | quality: 5 | service: 5 | selection: 5
I can't tell you how many times I drove/walked past this place and never even noticed it. Nothing more than a sign a bit too high up on the building, screened by sometimes well-leafed trees, marks it with its name. The fact that it was on BA without a review, though, peaked my interest, so I decided I had to go. So I found some free time from working downtown one day and headed over to the corner of 4th Ave. and 9th St.
What I found as I walked through the small metal and glass front opening was, immediately in front of me, a dark wood bar that sat 20-30 people. To the left was a wall with a mirror, to the right a room of tables for sitting and playing pool. There was a door that lead to an outdoor patio, but it was 105 that afternoon so I stuck to the A/C. I imagine it would be quite nice on a cool night during the summer or a nice cool afternoon during the rest of the year.
Beer on my mind, I had a seat at the bar. First thing I noticed was the tap selection, with the handles about two feet from my face. Not large, only six or seven, but decent stuff. Stella, Bitburger, Skinny Dip, Raison D'etra and a few others…no macro on tap. They also had Guinness that they poured properly (several pulls, letting the head die down some between each, rather than pouring it all off in one pull).
A friendly gentleman in his perhaps 50's asked if I would like something. I was quite hot from a walk in the sun so my first was a Skinny Dip. Served colder than I tend to like but it hit the spot. I munched on some complimentary pop-corn and people watched, as well as peeking at the dismal Suns vs. Mavs semi-finals game 5. Now cooled off and refreshed, I ordered a Raison. Very tasty as well, served a bit warmer if I wasn't mistaken. The downside? Price. Every tap was $5. I can get similar tap beer, and have a wider selection to choose from, at a few other places around town for cheaper...more like $3. Not the end of the world, though. At least it's served with a smile, unlike a few places.
What was the real shining star was their bottle selection. I was given a menu to take home and counted (perhaps not totally accurately, but close) 231 bottled beers. Many of which I have never heard of…heck, some were from countries I haven't thought about since high school geography. Not all were necessarily available, and were marked as such with an asterisk, but most were. This is easily the best bottled beer selection of any bar in Tucson, and probably comes in second for overall bottled selection of any store. What I wanted to know, though, was if they sold bottled beer to go. So I asked. And they said "Yes." Score...
So the coolers and storage room are behind the bar and you aren't allowed back, but one of the friendly tenders will happily take your order from the menu. It was the younger of the two guys who started me off. I went down the list and asked if a few of the *'d beers were available, and chose the two that were that day. Then he saw some new thirsty folk come in and asked if I would mind browsing the list while he helped them, promising to return quickly. Before he could, however, the older gentleman slid in again and took another beer choice of mine down. Then I asked him if he could tell me about a certain beer and the flood gates of information and service opened. He gave me a suggestion he thought I would like better (and I believe he turned out right) then walked me through my next few beers (aiming for a six pack). He actually showed me a row of beers not on the menu that he thought I might like, the star of which was the Kulmbacher Eisbock, which is waiting for me to drink as I type this.
We chatted beer for a few, with him giving me a few more suggestions, and then I asked "So, that makes six, yah?" He counted them, and then said "Yup. Now pick one more that we can comp". Whoa now, free beer? I missed my horoscope that morning but it must have been a five-star prediction. So I picked another, then he asked me if I preferred hats or shirts. I like fitted hats and assumed it would be adjustable, so I said shirts...then chose a color and a size (large and green) and paid up a grand total of only $13 (not including the taps, of course, which I had paid by cash each beer). He boxed it all up in a New Belgium Fat Tire 12 pack box. I shook hands with the man, who if I remember right introduced himself as Bob. I have merely dubbed him as "The Beer Guy". Ask for him if you are there and want someone who knows his stuff.
Boy am I glad I took a chance on this place.
Just as a note: not to ruin the fun, but please, anyone who reads this, don't go rushing in asking for free beer and clothing. I can't say why he did this for me, only that I appreciated it very much, and it would be a shame if people tried to take advantage of a little bit of generosity.
That said, go and enjoy some tasty beer and talk to Bob if he's around. I don't think you'll regret it.
4,956 characters
The Shanty in Tucson, AZ
Place rating:
-
out of
100
with
5
ratings