Imperial Barley Wine
| Ridgeway Brewing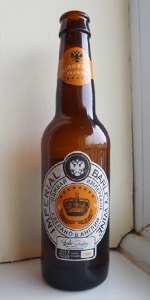 BEER INFO
Brewed by:
Ridgeway Brewing
England
,
United Kingdom
ridgewaybrewery.co.uk
Style:
English Barleywine
Alcohol by volume (ABV):
10.00%
Availability:
Rotating
Notes / Commercial Description:
No notes at this time.
Added by DIM on 10-07-2013
Ratings: 12 | Reviews: 6
Reviews by DIM:
3.63
/5
rDev
-6%
look: 3.75 | smell: 3.75 | taste: 3.5 | feel: 4 | overall: 3.5
2012 vintage #6785. I am surprised this had not been added yet. Am I missing something?
a: Clear, pale golden copper color; pours with a short lived head.
s: Roasted, nutty toffee; kind of sugary. Muted leafy hops. Weak tea and faint alcohol.
t: Still a fair amount of hops thankfully, this is a sugar bomb. Definitely one to drink fresh I say. Very sweet toffee and some faintly fruity tea with leafy bitterness. Lingering sugar.
m: Not as substantial as one would expect from a beer this size. Gently carbonated.
o: An okay sweeter barleywine, not one to revisit.
570 characters
More User Reviews:
4.29
/5
rDev
+11.1%
look: 4.5 | smell: 4.25 | taste: 4.25 | feel: 4.5 | overall: 4.25
Poured from the bottle into a large snifter glass. Vintage 2015, Bottle 00041. Lot 264
Crystal clear body with a glimmering amber orange, touches of yellow and to a polished shine. Head is fluffy white, a minor one finger head, to a whispy top and creamy and bubbly collar. Great looking barley wine.
Excellent aroma. Fruit orange, slightly marmalade, with some dry grains and almost bakery flour. A minor touch of alcohol and sharp honey.
A nice soft and fruited palate. Honey lip coating smacks of orange and marmalade. Slight pitted cherry with dry barley and nearly stout like creamy mouthfeel. Rich sensing thick grape as well, nearly into white port.
Flavors feel a little muted and aged out, but a real tasty brew.
735 characters
3.95
/5
rDev
+2.3%
look: 3.75 | smell: 4.25 | taste: 3.75 | feel: 4 | overall: 4
Poured into tulip from a 12oz. bottle. Just enough head to cover the glass and dissipated quickly. Smells of caramel, toast, and oak. I'm tasting golden raisins, caramel, whiskey? Good carbonation and not too syrupy for a barley wine. Overall it was enjoyable but I don't know that I would seek it out again.
308 characters
3.75
/5
rDev
-2.8%
look: 4 | smell: 4 | taste: 3.5 | feel: 4 | overall: 3.75
3.37
/5
rDev
-12.7%
look: 3.75 | smell: 3 | taste: 3.5 | feel: 3.75 | overall: 3.25

4.4
/5
rDev
+14%
Bottle no. 1629.
Mine's a 2012 vintage so at least a year and 11 months old.
A: Bright light amber body with a healthy off-white head.
S: Very scenty. From the bottle it has a Belgian yeast headiness, but in the glass it's all caramel and dried fruits.
T: Very full flavoured and sweet, with hoppy caramel at the forefront. It's actually hop-forward, with orange marmalade in place of the usual dried fruits. It's also hoppy bitter and there is a slight whisky burn which I like. Nice and muddy towards the end and a bit of an ashtray-like hoppyness in the aftertaste. Some orange rind towards the end of the glass.
M: Velvety and sticky with a nice level of effervescence.
O: A good one. Definitely going to stock up next time I'm in Beers of Europe and set them aside to age.
778 characters

3.11
/5
rDev
-19.4%
look: 3.75 | smell: 2.75 | taste: 3 | feel: 3.75 | overall: 3.25
Clear amber beer with a HUGE four finger high, fluffy, white head.
Nose: Orange marmelade, caramel malt, dried fruit, sweet syrup and raisin.
Taste: Caramel, orange, apple, vanilla, pine, alcohol and toffee.
Body: Medium to full body. MEdium carbonation. Smooth, soft texture. Boozy.
It's an ok Barely Wine but nothing I'm going to look for again.
354 characters
4.08
/5
rDev
+5.7%
look: 3.5 | smell: 4.25 | taste: 4 | feel: 4 | overall: 4.25
Poured from a 33cl bottle from 2015 vintage, so fairly new.
A: Pours into a dark golden color. Clear, and with just 2 small lines of bubbles going up. Very small, dirty snow white head of half a finger. Not very thick, and it melts within seconds. After a minute, there was just a whitish thin layer of foam.
S: The smell is very citrussy, and fresh. Grapefruit, grass. There is a hint of strawberry bubblegum. Really powerful, complex and pleasant.
T: The taste doesn't follow the smell that much. It certainly starts with some grass and grapefruit, mixed with some slight tartness that reminds of wine. Also, there is a very subtle hint of bubblegum. Then, in the middle, is clearly malt. It is so strong it's like chewing malt. Finally, it ends with a faint bitterness. I like how powerful the tastes are. You just go from one to another, in a very clear way.
F: Full of flavors, medium carbonation. The feeling in mouth is very pleasant. Again, I love how the feeling changes during the time.
O: This was my first experience with barleywine, and so far, I have enjoyed it a lot. Will buy again!
1,104 characters

4.25
/5
rDev
+10.1%
look: 4.25 | smell: 4.25 | taste: 4.25 | feel: 4.25 | overall: 4.25

3.83
/5
rDev
-0.8%
look: 4 | smell: 4 | taste: 3.75 | feel: 3.75 | overall: 3.75
3.38
/5
rDev
-12.4%
look: 3.5 | smell: 3.5 | taste: 3.25 | feel: 3.25 | overall: 3.5
Imperial Barley Wine from Ridgeway Brewing
3.86
out of
5
based on
12
ratings.