Pickled Santa
| Ridgeway Brewing
BA SCORE
77
okay
79
Reviews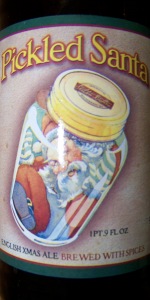 BEER INFO
Brewed by:
Ridgeway Brewing
England
,
United Kingdom
ridgewaybrewery.co.uk
Style:
Winter Warmer
Alcohol by volume (ABV):
6.00%
Availability:
Winter
Notes / Commercial Description:
No notes at this time.
Added by scottoale on 11-04-2008
Reviews: 79 | Ratings: 124
3.68
/5
rDev
+11.5%
look: 4 | smell: 3.5 | taste: 3.5 | feel: 4 | overall: 4
Pours a slightly dark orange with a nice big white head. Within a minute or two the head is reduced to almost nothing though still leaves decent lacing down the side of the glass. The first thing I got from the smell was hops, not in your face like an IPA but it was very upfront. The hops were kind of earthy smelling. The other main aromas were fruits and malt. There are hints of spices but nothing really sticks out a lot. The taste is slightly bitter and ends with a mild sweetness. Spices in the background but not as apparent as I was hoping for. Also had sort of an English ale type smell and taste to it that I've noticed in some other beers from England. The mouthfeel is very smooth and medium bodied. A bit lower ABV makes it drinkable. Pretty good tasting, not as spiced up as I was hoping for a Christmas beer but it's definitely isn't bad. Next holiday season I will be thinking about picking another one up.
★
923 characters
3.57
/5
rDev
+8.2%
look: 3 | smell: 3.5 | taste: 3.5 | feel: 3.5 | overall: 4
Poured a yellow amber with an off white head move than two fingers died to light covering quickly, beer was clear.
Smell of coriandor spice and cinnamon. Taste mimiced the aromas and no bitterness to speak of.
The mouth was light and spicy but not in a heavy way. A nice Christmasy beer not too high grav and enjoyable without being over the top.
★
348 characters
1.34
/5
rDev
-59.4%
look: 3 | smell: 1.5 | taste: 1 | feel: 1 | overall: 1.5
This was, by far, the strangest beer I'd ever had. It poured to a medium head and a copper color. Now this is where it got weird. Upon tasting it, there was a slight hop bitterness that hit my tongue and then nothing. I didn't taste any spices, any malt, any other hops. It actually felt like the beer disappeared in my mouth. Extremely disappointing and hallow.
~Jonathan Passow
★
380 characters
3.85
/5
rDev
+16.7%
look: 4 | smell: 4 | taste: 4 | feel: 3.5 | overall: 3.5
A- Light copper/caramel color with a decently thick head that stayed until I started drinking
S- Cinnamon, paprika, nutmeg, and other spices with a kind of a cookie scent that seems fitting
T- Strong cookie taste with a little cinnamon but it has a nutty aftertaste
M- Bold at first and crisp at the finish. It's almost like a dessert or pumpkin beer
D- Since it's only going to be around for a bit, I've got to get more. It's pretty darn good
★
447 characters
1.56
/5
rDev
-52.7%
look: 3 | smell: 2 | taste: 1 | feel: 3 | overall: 1
Served in a bottle
I picked this up during the Christmas season just to try one of the many seasonal types of beer that were available. Once I popped this open and took a smell of the beer inside it smelled a little strange to me. The smell reminded me more of a vinegar- esque flavor and once I took a sip my mouth was taken on a journey that I never want to recreate again. Now don't get me wrong, this isn't that bad of a beer, the flavor just was not something that I myself could truly enjoy. It started off tasting of spices like nutmeg, Dill, and possibly Ginger, but then took a complete 180 and to me it actually tasted like a pickle. The flavor then faded away to leave a strange dill like taste. For those looking for an interesting take on a beer I would suggest this particular brew but I just did not like the feel of the pickle taste in my mouth after awhile.
★
875 characters

3.83
/5
rDev
+16.1%
look: 4 | smell: 3.5 | taste: 4 | feel: 3.5 | overall: 4
Had this at The Kitchen in Boulder, CO.
A-nice rusty brown color, faint head that quickly dissapates, almost no lacing.
S-Smells really bright, some citrus, even a bit of juniper and white pepper. Wasn't sure if I liked it, but didn't not like it either.
T- Tastes very different than it smells. The closest I could come to describing it was rye toast with orange marmalade, fresh ginger and fresh cracked black pepper on top. It finishes dry with a slight sweetness and bready spice.
M-Not a lot of body, a very light and crisp beer.
D-I found this to be very easy to drink, and had two. It was nice after a long shift, and a pleasant break from the usual.
★
664 characters
3.13
/5
rDev
-5.2%
look: 3.5 | smell: 3 | taste: 3 | feel: 3 | overall: 3.5
Beer/Brewery - Pickled Santa/Ridgeway Brewing
City/State- South Stoke, United Kingdom (England)
STYLE –Winter Warmer
ABV – 6%
IBU – 60
DATE – 14 DEC 2011
SERVING TYPE – 1 Pint 9 oz bottle
GLASSWARE – Imperail Pint Glass
APPEARANCE – The color of honey with lots of big bubbles and a thin snow white head nice lacing
AROMA- Barley and light floral hops, touch of fruitiness as well
TASTE – Green Apple and grain with a hint of orange
MOUTHFEEL – Very light and over carbanated
CONCLUSION – It is a good brew to try but nothing exta special.
-JH-
★
565 characters

2.84
/5
rDev
-13.9%
look: 2 | smell: 3 | taste: 3 | feel: 3 | overall: 2.5
First off the name of this brew and the label puts me off. It is hard to take this beer seriously with a picture of santa stuffed into a jar... This was part of a gift pack and this one has been sitting a while in the back of my fridge. I guess I shouldn't complain being that it was a gift.
Poured it into an attractive tulip glass. It was a cloudy orangeish and somewhat fizzy looking. No head retention at all, looked rather flat after it was poured actually. The color is fine but the fizzyness and labeling is not attractive. That is why I give it a slightly below average ranking for appearance. The choice of glassware probably helped here.
smell is ok, some spices and sort of a hefeweizen scent.
Taste, Belgian yeast or Hefe Banana tastes mixed with spices. First sip was not great but halfway through the drink I got used to it. Better than a couple pumpkin ales I have sampled.
Mouth feel. light bodied but smooth.
Drinkablilty... I wouldn't recommend more than one. Overall not impressed, about what I expected.
★
1,029 characters
1.82
/5
rDev
-44.8%
look: 3.5 | smell: 1.5 | taste: 1.5 | feel: 2.5 | overall: 2
Let me say first, I think is a terrible beer. If you love Bubblelicious gum and shots that mix cherry and chocolate, you'll probably enjoy the Pickled Santa.
However, if you like real beer that doesn't taste like expired candy from the back of the corner store, you will not like this beer.
At first the Pickled Santa seems pleasing enough. It has a humorous label and the color is a nice golden brown with a decent retention and a fluffy, sensitive head.
But then there is the faint whiff of chemically-enhanced pink chewing gum of the kind that stales quickly within the plastic wrap of trading cards and one wonders where this beer went very, very wrong.
The taste continues the theme I've already latched onto. I searched my palette for the spiciness one assumes would exist in an English X-mas ale, but they mostly alluded me with the exception of way, WAY too much coriander, which I'm not altogether certain should be in a beer to begin with and certainly not this one.
I'd give the mouthfeel a decent score mostly on the benefit of the doubt. It's hard to be sure with so much false sweetness to contend with. Seriously, did they put Splenda in this thing?
Don't pay for this beer. Buy Bud Lite before you dole out your hard-earned money for this sugarless gum of a beer.
★
1,286 characters
Pickled Santa from Ridgeway Brewing
3.3
out of
5
based on
124
ratings.