De Brabantse Aap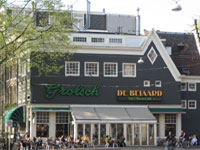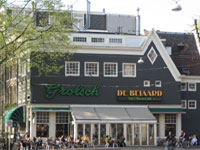 Bar, Eatery
Spui 30
Amsterdam
, 1012 XA
Netherlands
+31 (0)20 622 5110 |
map
debrabantseaap.nl
Notes:
Reviews by Beerandraiderfan:
Beerandraiderfan from Nevada
3.45
/5
rDev
-4.2%
vibe: 4.5 | quality: 4 | service: 3 | selection: 3 | food: 3
Very cool part of the city, wide open, statues abound and all the history to take in. Easily accessible to tourists, lacks the clausterphobic tendencies of this cramped city in places.
Can't really recall any of the beers by name other than Grolsch, wasn't really in the area for a drinking trip. Asked for hoppy ales & lagers (the ugly west coast american). Wasn't disappointed, but then again, didn't come away with anything to recommend or worth seeking out either. Really enjoyed the voluminous amount of white tables and cobblestone, really was a nice backdrop for chillin' over a couple of beers and being real mellow.
Very pricey. But that's everywhere in Amsterdam. We didn't plan on stopping here, it just seems that if you're there for a week, you'll see all paths lead to this part of town. Check it out.
Jul 13, 2010
More User Reviews:
Yetiman from Wyoming
3.81
/5
rDev
+5.8%
vibe: 3.5 | quality: 4 | service: 3.25 | selection: 4 | food: 4.5
First, understand that this place is short walk from the museums in Amsterdam. Based on that, the food wasn't all that expensive, and everything we tried (ate here twice) was excellent. A little slow on service.
The beer selection is decent, with plenty of good stuff to choose from. If we're ever back in Amsterdam, this will be a go to for a good lunch and a couple of beers.
May 16, 2014

joedon from Minnesota
3.93
/5
rDev
+9.2%
vibe: 4.5 | quality: 4 | service: 3.5 | selection: 4 | food: 4
Very popular beer-cafe located on Spui Plein. Lots of locals as well as tourist traffic.
Good beer vibe on the inside and the outdoor tables make for great people watching. A bit noisy when the tram rolls by.
Good service considering the amount of business ongoing here.
The bartenders are helpful and talkative. I like the tap beer selection but have not tried anything in bottles. Have had the Palm, de Konnick, St. Louis Kriek, and Heineken on tap. Properly served and fresh.
Typical bar food but well prepared and tasty. It seems a bit pricey but I'm still reeling from the weak dollar vs. Euro.
Jul 25, 2009

Onslow from Texas
3.44
/5
rDev
-4.4%
vibe: 3 | quality: 3.5 | service: 4 | selection: 3
I enjoyed this place, seeing as it was so bitterly cold, the Grand Prestige and Beiaard Winter went down beautifully!! The waiter/bartender was a friendly bloke and gave me good directions to a couple of beer hot spots... The view was also very nice, overall, worth a visit if walking by!! Their own beer is quite nice, because when its about 2 degrees outside a nice 9.5 golden strong ale can really hit the spot. Worth a quick stop if in the area to try some of their beer. Make sure to sit by the big window in the back for some good people watching (we even saw a tram vs truck wreck!)
Feb 15, 2008
Dukeofearl from California
3.83
/5
rDev
+6.4%
vibe: 3.5 | quality: 4 | service: 4 | selection: 3.5 | food: 4
My wife and I enjoyed dinner here in April, 2007 during our Netherlands/Belgium holiday. I'm just now catching up on reviews.
This was a few blocks from our very nice hotel, located on a very popular "corner" of Amsterdam, where trams, canals, and sidewalks all merged- a good location. Due to the weather in April (cool), we ate inside with some smokers, but even so, enjoyed a nice view of life in the big city.
A nice dinner of English stew accompanied by Westmalle Dubbel and Palm (among 6 others on tap) and a bottle list of about 20 including the ever famous Grolsch and Bud (OK, it also had Achel, Orval, Chimay, and several others "better beers" in bottle). For this part of the world, a bit pedestrian, but still overall good. Not the best in town, but the food was pretty good, and the beer choices were enough to get one through.
A nice, accessible dinner stop or choice for a quick beer, but there are much better beer choices not too far away.
Jan 31, 2008
YankSubSomerset from England
3.73
/5
rDev
+3.6%
vibe: 4 | quality: 4 | service: 4 | selection: 3
This place always seems fairly busy, but I've never had to wait long for a beer. I would choose this place more because of its cheery, busy people watching atmosphere rather than for serious beer tasting. Get a window seat, or something outdoor and watch Amsterdam stroll, bike, drive, or tram by. If you have a crew of people then is good choice as well with an inviting seating area inside.
The staff is young and energetic and freindly.
The Spui area has lots of atmospheric brown cafes to choose from if you just want nice bar. If you want some nearby serious beer tasting, try Gollem.
Oct 22, 2007
De Brabantse Aap in Amsterdam, Netherlands
Place rating:
3.6
out of
5
with
7
ratings