Drifter Pale Ale
| Widmer Brothers Brewing Company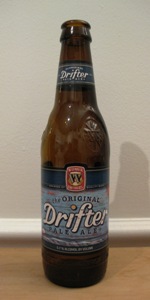 BEER INFO
Brewed by:
Widmer Brothers Brewing Company
Oregon
,
United States
widmer.com
Style:
American Pale Ale (APA)
Alcohol by volume (ABV):
5.70%
Availability:
Year-round
Notes / Commercial Description:
availability: year-round
bitterness: 32 IBU
alcohol by volume: 5.7%
original gravity: 14.0° PLATO
malts:
Pale, Caramel 20L, Caravienne 20L, Caramel 80L, Carapils
hops:
Bittering: Alchemy
Aroma: Summit, Nelson Sauvin
Dry Hopped: Summit, Nelson Sauvin
Added by madtappers on 12-23-2008
Reviews: 408 | Ratings: 962
2.62
/5
rDev
-30.7%
look: 3 | smell: 3.5 | taste: 2 | feel: 2 | overall: 3
Poured from 12oz Bottle into Pint glass. Beer is deep orange with some foam and a thin head. Decent lacing that fades to thin.
Aroma is similar to bourbon without the alcohol scent - an oaky base - on top of which are pine, raspberry, grapefruit and apple peel. So far so good.
First sip brings moderate hops, piny and slightly citrusy. Not a whole lot of depth here, the bittersweet bite fizzes out with the carbonation and leaves just a sensation of bitteness on the tongue. I had some brie on hand while drinking, and it didn't enhance the experience much beyond bringing out a cayenne pepper aroma. The grapefruit and oak flavors in the nose come out in the taste as the beer warms, and the beer gains some depth with caramel coming through.
Mouthfeel is thin and fizzy, and the carbonation fades fast. The beer is easily drinkable. Definitely a laid back brew that will go with just about anything. Unexceptional, though that can be a good thing if you're not looking to overwhelm your tastebuds.
1,004 characters

2.57
/5
rDev
-32%
look: 2.5 | smell: 3 | taste: 2.5 | feel: 3 | overall: 2
Drifter is a clear orange amber with a thick... froth is a good word considering it looks like a bad cappaccino. It has a fairly nice floral hop aroma. A good spicey hop taste is quickly muted by the malts. It's a slightly watery taste but it is smooth and fairly balanced. Easy drinking but almost too much.
This is definitely good for a summer night but the taste was a little too muted for me. I'll have to try it on tap sometime if I see it.
446 characters

2.53
/5
rDev
-33.1%
look: 4 | smell: 3.5 | taste: 2 | feel: 2.5 | overall: 2
I'm not a fan of this ale. I kept getting this tasted of body odor while drinking it. It looked nice in the glass- a pretty amber color with carbon bubbles rising. Interestingly it didn't smell of body odor; it has a sweet hoppy aroma. The mouthfeel was kind of thin. I just cannot get over the body odor flavor to it. I poured it into a glass to let it breathe thinking that the BO like flavor was from bottle skunk but the flavor didn't change much. I would not recommed this ale to anyone.
492 characters

2.53
/5
rDev
-33.1%
look: 3 | smell: 2.5 | taste: 2.5 | feel: 2.5 | overall: 2.5
33cl brown glass bottle with standard pressure cap served into a hefeweissbier glass in low altitude Los Angeles, California. Reviewed live.
A: One finger head of good cream, good thickness, and good retention. Textbook copper colour. Generally appealing.
Sm: Unwelcome bittering hops, light unexpected orange, barley, and cream. A moderate strength aroma.
T: Light caramel and very light orange ester first act, with a barley foundation, and a slight bittering hop climax. The aftertaste suffers under the burden of the badly chosen bittering hops, which feel obligatory to satisfy fans of the style. It's unnaturally built, yet manages to remain balanced. I don't fancy it.
Mf: Smooth and wet, but a touch too thick. The texture isn't tailored to the flavours by any stretch.
Dr: Easy drinking for one or two bottles, but beyond that it suffers from those damned bittering hops. It's overpriced - especially for the quality.
936 characters
2.42
/5
rDev
-36%
look: 3 | smell: 3.5 | taste: 2 | feel: 2 | overall: 2
Reviewed 04/03/2009 (Bottle dated Jan2109):
Pours a clear brownish red color body with a small off-white head, quickly diminishing. Aroma is dry grapefruit. Some bitterness too. But pretty weak overall. Somewhat watery dry taste. Some malty nuttiness. Some hoppy bitterness. Weak bland taste.
293 characters

2.38
/5
rDev
-37%
look: 3 | smell: 2.5 | taste: 2 | feel: 3 | overall: 2.5
A: Hazy amber with a silky, creamy off-white head.
S: Slight citrus hops and a heft dosage of caramel malts.
T: The taste starts off with a tongue coating of thick and rich caramel, which becomes ever-so-slightly cut with citrus bitterness, but not to an extent that prevents the beer from being cloying. I really didn't enjoy this. Looking up the malts on Widmer's website, it says, "PALE, CARAMEL 20L, CARAVIENNE 20L, CARAMEL 80L, CARAPILS." The fact that they use three caramel malts doesn't surprise me.
M: Medium bodied
D: I finished it, but moved on to other selections after the first one. Maybe this would be a good beer to have in the fall or winter, but on a hot summer day, I needed something with more bitterness or less caramel.
745 characters
1.8
/5
rDev
-52.4%
look: 4 | smell: 1.5 | taste: 1.5 | feel: 4 | overall: 1
I had high hopes for this beer as I love Broken Halo and their hefe. But this on just didn't work out for me. The amount of bitterness is perfect for an american pale ale but the type of hops they used disagrees with my palate 100%. Their website said they used summit, nelson sauvin, and alchemy hops in this beer. I'm assuming its the summit or the Nelson Sauvin hops because I like their IPA and it has alchemy hops in it. Would be a great beer if they used something like cascade instead. But then I guess it'd probably just taste like Sierra Nevada.
554 characters
1.12
/5
rDev
-70.4%
look: 3 | smell: 1 | taste: 1 | feel: 1 | overall: 1
Wow, This is a Horrible Beer.It tastes like it was Fermented in Dirty Socks,with Body Order added for Flavor.The Date on the side says Feb 10 09.I don't know if thats the "Born on Date" or "Expiration Date".? Widmer Dropped the ball on this one.I liked everything else they produced.
283 characters
Drifter Pale Ale from Widmer Brothers Brewing Company
3.78
out of
5
based on
962
ratings.