Drifter Pale Ale
| Widmer Brothers Brewing Company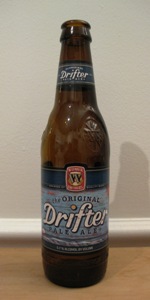 BEER INFO
Brewed by:
Widmer Brothers Brewing Company
Oregon
,
United States
widmer.com
Style:
American Pale Ale (APA)
Alcohol by volume (ABV):
5.70%
Availability:
Year-round
Notes / Commercial Description:
availability: year-round
bitterness: 32 IBU
alcohol by volume: 5.7%
original gravity: 14.0° PLATO
malts:
Pale, Caramel 20L, Caravienne 20L, Caramel 80L, Carapils
hops:
Bittering: Alchemy
Aroma: Summit, Nelson Sauvin
Dry Hopped: Summit, Nelson Sauvin
Added by madtappers on 12-23-2008
Reviews: 407 | Ratings: 962
4.61
/5
rDev
+22%
look: 3.5 | smell: 5 | taste: 4.5 | feel: 4 | overall: 5
following my tasting of the Dundee IPA...
beautiful orangey pale ale...little lacing...little head.
my oh my, nice oily citrusy nose on this. amazing and sweet-bitter promise!
very strange in a good way....the thin-ness of this keeps the oiliness at bay (that is hinted at in the nose), but it's still got some interesting complexity and unique. it's no Smuttynose, but rather similar.
in a sense, this is an intensely hoppy pale (not a IPA?) that is everything except bitter. weird, but i'd sit down with these for an evening.
★
532 characters
4.64
/5
rDev
+22.8%
look: 4 | smell: 5 | taste: 4.5 | feel: 4 | overall: 5
A-Deep bronze color...very nice look.
A-Top notch...one of the best aroma's for a pale ale I have smelled. Juicy citrus...oranges, tangerines, sweetened grapefruiit, pinneaples and more...Better than Itasca Pale Ale from Rock Bottom which to me was always the standard.
T-Bright citrus jumps out at you....same fruits...great hop burps...I love the use of hops in this beer. Just a hint of caramel malt backing evident...it lays down a nice firm but not big backbone for this.
M-Medium bodied at best...not a big beer but not watery at all.
D-This is an awesome pale ale...maybe the best I have had.
★
603 characters
4.65
/5
rDev
+23%
look: 4 | smell: 4 | taste: 5 | feel: 4.5 | overall: 5
At Champps sports bar in Indianapolis on tap.
More of a red/amber color than I expected from a pale ale.
Tasted great, surprised me with the flavor in a good way.
Was easy to drink and was very smooth. Was through a 20 oz in literally minutes.
Ordered several and will be looking for six paks at my local Friar Tucks.
★
321 characters
4.72
/5
rDev
+24.9%
look: 4 | smell: 4.5 | taste: 5 | feel: 5 | overall: 4.5
12oz bottle into pint glass.
Pours a medium-light amber color with a slight amount of haze, one finger creamy off-white head.
Nose gives off juicy mango and pineapple hop notes with slight grassiness and sweet but light honey malt presence.
Taste is also very tropical with a slight grassy/dank bite. Present but not too sweet malt backbone that perfectly balances the hops.
Moderate carbonation with a nice crisp finish. Overall an incredibly fresh, well-balanced, and interesting beer. This one went down fast! Will definitely drink again, and will likely become a fridge staple.
★
588 characters
4.92
/5
rDev
+30.2%
look: 4.5 | smell: 5 | taste: 5 | feel: 4.5 | overall: 5
Presentation: Draft in a chilled "pounder" pint glass.
A: Clear amber. Poured with a half-inch head that dissipates quickly but leaves lacing all the way down the glass.
S: Sharp odor of piney, flowery hops. Very fresh. Sweet, malty undertones... way-undertones.
T: Primary flavor is fresh, piney hops, very floral. Sweet maltiness nicely counterpoints this flavor without diminishing it. This beer is for hops lovers. The local availability of fresh hops would account for the very bright floral character of this beer.
M: Light mouthfeel, medium carbonation.
D: As a hoppy pale ale lover (note beer-style bias disclaimer) I consider this a session beer. Those that do not share a similar taste for lots-o-hops may strongly disagree. I would expect this beer to compliment many foods with shellfish topping my list.
O: Excellent Pale Ale. The fresh, bright quality of the predominant hops flavor makes me envision the Widmer brothers harvesting the Oregon Cascade hops right outside the brewhouse.
★
1,004 characters
5
/5
rDev
+32.3%
look: 5 | smell: 5 | taste: 5 | feel: 5 | overall: 5
At 12 bucks for 12 u cant go wrong here. An awesome IPA,
I drink these between the more spendy beers in my cellar (victory storm king, bells expedition stout, founders breakfast stout...). Widmers Bros (aka Brewmasters Bros : ) have created a niche - bringing an excellent beer to the masses while keeping cost down. Bravo!
★
323 characters

5
/5
rDev
+32.3%
look: 5 | smell: 5 | taste: 5 | feel: 5 | overall: 5
This has been one of my favorite beers for the past 4 years. Since it is going away I decieded to write down some notes while I still have a relatively fresh one in front of me.
This pale ale is not pale in any way. Closer to a light copper in color. Perfectly see through with a little bit of white foam on top. Occasionally I get a few small floaties (perhaps hop particles) but none in this glass.
The smell isn't overwhelming but is really enjoyable. You get both biscuity malt and citrus zest in the same whiff.
The taste is glorious as usual. This is not a hopped up pale ale that borderlines an IPA. It is well balanced, but the hops do slightly shine through. This pale ale definitely has a distinct taste. You get some tangerine flavor that eventually is balanced out by caramel malts. It finishes a bit drier than you would expect. When people say they taste onions I can kind of understand where they are coming from, but only after specifically looking for it. This is not a distraction for me, I think the taste of this beer is perfect. It doesn't leave me wanting anything else. There is a reason why I have purchased so many cases of this over the years
Overall this beer is very drinkable but yet distinct. I'm not the greatest at putting words to flavors so I will just say that I wouldn't change this beer in any way. For years it has been my favorite pale ale. It is also very affordable at $6.99 per six pack and $26 dollars after my case discount. I have always thought its the best beer for the money. RIP Drfter…. You're a legend as far as I'm concerned.
★
1,591 characters
Drifter Pale Ale from Widmer Brothers Brewing Company
3.78
out of
5
based on
962
ratings.